Mobil Murah, Ahok Dibujuk Wapres Boediono Dukung Mobil Murah
Ahok was Persuaded by VP Boediono to Support Low-Cost Car
Reporter : Rahmat Kartolo
Editor : Ismail Gani
Translator : Novita Cahyadi

PUBLISHED: Jum'at, 20 September 2013 , 02:20:00 WIB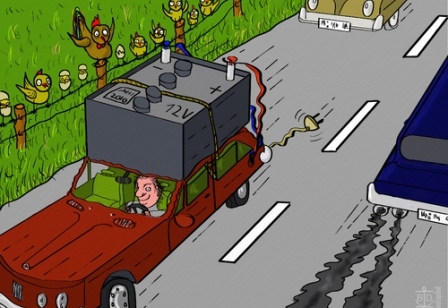 Ilustrasi: toonpool.com
Jakarta (B2B) - Wakil Gubernur DKI Jakarta, Basuki Tjahaja Purnama yang akrab disapa Ahok akhirnya ´mengalah´ dalam menyikapi kebijakan pemerintah memberi insentif mobil murah ramah lingkungan setelah bertemu Wakil Presiden Boediono. Keduanya bertemu pada pembukaan Indonesia International Motor Show (IIMS) di Kemayoran, Jakarta Pusat, Kamis (19/9).

Saat pembukaan IIMS, Boediono merespons secara lisan surat dari Gubernur Joko Widodo (Jokowi) tentang kebijakan mobil murah tersebut. Pasalnya, Jokowi menyatakan keberatan karena kebijakan mobil murah bertentangan dengan upaya Pemprov DKI Jakarta mengatasi kemacetan di ibukota.

"Wapres Boediono mengaku telah membaca surat dari Gubernur DKI Jakarta, kata Ahok di Balai Kota Jakarta, Kamis (19/9).

Menurutnya, pemerintah pusat pemerintah pusat berjanji akan membantu mengatasi kemacetan dengan cara membangun elevated loop line kereta di Jakarta, begitu juga dengan proyek MRT. "Pemerintah pusat kan menanggung hutang lebih banyak dibandingkan dulu."

Pemerintah pusat, katanya lagi, melalui Bappenas juga sudah memberi rekomendasi soal pengadaan alat untuk Elektronic Road Pricing. Menurut dia, Wapres Budiono juga mengatakan bahwa pertambahan mobil akibat adanya mobil murah itu diperkirakan tak akan lebih dari 3% kendaraan yang ada saat ini.

"Masih bisa diatasi dengan kebijakan pembatasan usia kendaraan," ujar Basuki. Mengutip pernyataan Budiono, dia juga mengatakan sebagian besar komponen mobil murah itu merupakan produksi Indonesia. "Jadi meskipun kita membeli, kita juga menambah ekspor bahan," katanya.

Untuk meminimalisir efek adanya mobil murah ini, pemerintah bakal mempercepat program ERP dan ganjil genap. "Tetapi masih harus menunggu datangnya bus baru," kata dia.
Jakarta (B2B) - Jakarta Deputy Governor Basuki Tjahaja Purnama changed his perspectives on the government's planned incentive for the low car green car (LCGC) program after meeting Vice President Boediono. Both leaders met at the opens of the Indonesia International Motor Show in Kemayoran, North Jakarta on Thursday, September 19, 2013.

On the occasion, the vice president responded to the letter containing complaints of Jakarta Governor Joko Widodo on the LCGC program. Jokowi said the central government's decision on the program was against the Jakarta administration's efforts to ease traffic in the capital.

"Vice President Boediono told me he had read the governor's letter," Ahok said at the City Hall on Thursday.

He said the central government pledged to help Jakarta alleviate traffic congestion through elevated loop line and mass rapid transport (MRT) projects. "As we know the central government's now bearing more debt."

Ahok said the central government through the National Development Planning Agency (Bappenas) had also supported the procurement of equipment for the electronic road pricing (ERP) project. He added the vice president also explained the car growth following the LCGC program would not exceed three percent.

"We can still cope with that through the car age restrictions," Ahok said. He added the vice president told him most of the components of LCGC cars are domestic products. Ahok said the city administration planned to expedite the ERP and odd-even license plate programs to reduce the effects of the LCGC program on the capital. "But we still have to wait for the arrival of the new buses," he said.