Globalisasi dan RI 4.0 Tuntut Kemenristek Dikti Segera Siapkan Pembelajaran Online
Indonesian Govt is Ready to Face the Education Globalization and RI 4.0
Reporter : Gusmiati Waris
Editor : Cahyani Harzi
Translator : Dhelia Gani

PUBLISHED: Rabu, 31 Januari 2018 , 22:03:00 WIB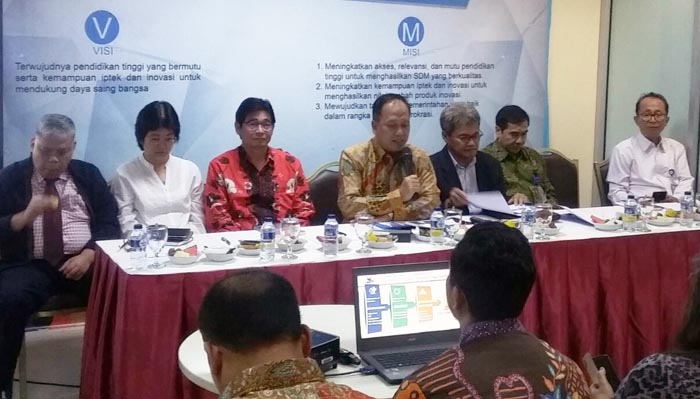 GLOBALISASI PENDIDIKAN: Menristek Dikti, Mohammad Nasir (ke-4 kiri) menjawab pers di Jakarta (Foto: istimewa)
Jakarta (B2B) - Pemerintah RI mempersiapkan diri menghadapi ´globalisasi pendidikan dan revolusi industri ke-4´ atau RI 4.0 yang menuntut Indonesia mengubah pengembangan pendidikan tinggi dengan menyiapkan pembelajaran online (distance learning) merujuk pada peraturan menteri tentang standar pendidikan tinggi jarak jauh (Permen PJJ), dan draft-nya menjalani uji publik dan diumumkan pada awal Februari.

"Lingkungan baru era global dan RI 4.0 menuntut kebijakan pendidikan tinggi yang berbeda, untuk mempersiapkan generasi emas Indonesia berkualitas sehingga dapat menjadi SDM yang kompeten, berfikir inovatif, dan menguasai bidang ilmunya," kata Menteri Riset, Teknologi dan Pendidikan Tinggi (Menristekdikti) Mohamad Nasir kepada pers di Jakarta, belum lama ini.

Menurutnya, beberapa kebijakan dan program yang berubah terkait dengan kelembagaan; pembelajaran dan kemahasiswaan; sumber daya Ilmu pengetahuan, teknologi, dan pendidikan tinggi; riset dan pengembangan inovasi.

"Adopsi teknologi baru ke dalam RI 4.0 juga ditandai dengan kemampuan SDM melakukan berbagai terobosan inovasi, meningkatkan kemampuan memanfaatkan teknologi informasi, memperluas akses dan meningkatkan proteksi keamanan siber," kata Nasir.

Nasir mengingatkan bahwa kementeriannya menyiapkan kebijakan baru yakni Permen PJJ agar perguruan tinggi Indonesia segera melaksanakan distance learning. "Draft sudah disiapkan saat ini sedang diuji secara publik. Awal Februari diharapkan sudah dikeluarkan."

Permen PJJ ditujukan untuk meningkatkan kapasitas dan kualitas pendidikan tinggi secara fleksibel lintas ruang dan waktu, dengan memanfaatkan teknologi informasi.
Jakarta (B2B) - The Indonesian government is ready to face ´education globalization and the fourth industrial revolution´ or RI 4.0 which requires Indonesia to change the development of higher education, with distance learning via online referring to ministerial rules about high distance education standard, and draft regulations undergo public testing and announced in early February, according to the Indonesian minister.

"The new environment of the global era and RI 4.0 demands different higher education policies to prepare quality gold generation as competent and innovative human resources,"
Minister of Research, Technology and Higher Education Mohamad Nasir told the press here, recently.

According to him, some policies and programs are changed such as institutional; learning and student affairs; resources of science, technology, and higher education; research and innovation.

"The adoption of new technology into RI 4.0 is related to the ability of human resources to innovate, improve the utilization of information technology, expand access and improve cyber security protection," Mr Nasir said.

Nasir reminded that his ministry is preparing a new policy through ministerial regulations so that Indonesian universities can immediately implement distance learning. "The draft has been prepared and is being a public test. Is expected to come out in early February."

The ministerial regulation on distance education aims to improve the capacity and quality of higher education flexibly, by utilizing information technology.