David Beckham dan Siswi SMP Semarang Disorot Dunia
David Beckham to Tackle Bullying in Indonesian Schools as UNICEF Ambassador
Editor : Ismail Gani
Translator : Novita Cahyadi

PUBLISHED: Jum'at, 30 Maret 2018 , 22:10:00 WIB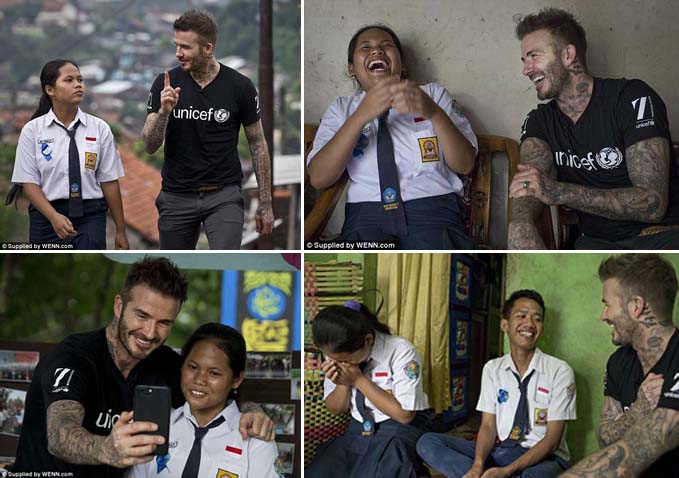 Dia pun memuji remaja putri tersebut di Instagram, dia menulis: "Remaja. Inspirasi. Pembuat perubahan. Saya senang dapat memiliki kesempatan untuk bertemu Sripun, 15 tahun, bersama saya (Foto2: MailOnline)
MISI PERJALANAN David Beckham ke Jakarta berlanjut hingga Rabu petang untuk memotivasi siswa di Semarang, sebagai bagian dari tugasnya sebagai duta dari UNICEF.
Mantan pemain tengah Manchester United dan Inggris sangat senang berjumpa dengan penduduk setempat selama kunjungan ke Semarang di Jawa Tengah, bagian dari tugas duta besarnya dengan UNICEF.
Beckham, 42, juga ingin memantau dana Yayasan 7 atau 7 Fund, program amal yang dia luncurkan melalui organisasi kemanusiaan pada 2015, untuk mengatasi aksi bullying di sekolah-sekolah.
Mantan atlet kondang sejagat itu kini lebih banyak menghabiskan waktu bermain sepak bola dengan penggemar muda, berfoto selfie dan berbincang dengan para pelajar tentang pengalaman mereka.
Beckham mengaku sangat terkesan pada pelajar bernama Sripun, yang mendedikasikan dirinya membantu mengatasi masalah bullying di terjadi sekolahnya.
Dia pun memuji remaja putri tersebut di Instagram, dia menulis: "Remaja. Inspirasi. Pembuat perubahan. Saya senang dapat memiliki kesempatan untuk bertemu Sripun, 15 tahun, bersama saya
Memuji gadis muda di Instagram, dia menulis: ´Remaja. Inspirasi. Pembuat perubahan. Saya sangat senang Anda semua memiliki kesempatan untuk bertemu Sripun, 15 tahun, bersama saya untuk melihat pekerjaan luar biasa yang dia lakukan untuk mengatasi kekerasan di sekolahnya.
´Dia menghadapi gangguan di sekolah dan merasa dikucilkan oleh teman-temannya tetapi fokus untuk mendukung orang lain melalui masa-masa sulit. Dia dinominasikan oleh rekan-rekannya untuk menjadi pembuat perubahan dan sekarang mengilhami orang lain untuk menghentikan bullying sehingga siswa dapat merasa aman untuk belajar. ´
The 7 Fund mengajarkan anak-anak yang telah ditindas dan mantan pengganggu untuk mendidik orang lain dan melatih guru untuk menjaga anak-anak tetap aman.
"Saya merasa sangat bangga melihat bagaimana dana dari 7 Fund mendukung UNICEF mengatasi bullying dan kekerasan di sekolah-sekolah di Indonesia, dan pada akhirnya menjaga anak-anak, terutama perempuan, aman di sekolah mereka sehingga mereka dapat melanjutkan pendidikan mereka," kata mantan pesepakbola itu dalam pernyataan resminya.
´Saya menghabiskan waktu dengan seorang gadis muda yang luar biasa - Sripun - yang dipilih oleh rekan-rekannya untuk mengambil bagian dalam program anti-intimidasi untuk membantu menghentikan kekerasan di sekolah.
´Ini telah meningkatkan rasa percaya dirinya dan dia berharap murid lain tidak akan mengalami pengalaman bullying yang sama seperti yang dia alami.´
Dana tersebut - dinamai begitu merujuk pada 7 sebagai angka keberuntungan Beckham yang dikenakan untuk timnas Inggris dan Manchester United - berfokus pada anak-anak yang rentan mengalami kekerasan, pelecehan atau penyakit seperti dilansir MailOnline.
DAVID BECKHAM´S goodwill trip to Indonesia continued on Wednesday afternoon with a motivational trip to a local school, where he spent the afternoon with young victims of classroom violence.
The former Manchester United and England midfielder delighted locals during a visit to Semarang in central Java, part of his ambassadorial duties with UNICEF.
Beckham, 42, was on hand to see how his 7 Fund, the charity he launched through the humanitarian organisation in 2015, is dealing with bullying in schools.
The retired sportsman spent time playing football with young fans, posing for selfies and chatting with schoolchildren about their experiences.
Beckham was particularly impressed by teenage student Sripun, who he credited for helping solve the bullying crisis in her local school.
Praising the young girl on Instagram, he wrote: ´Teenager. Inspiration. Change-maker. I'm so happy that you have all had the chance to meet 15-year-old Sripun with me to see the amazing work she is doing to tackle violence in her school.
´She faced bullying at school and felt excluded by friends but has focused on supporting others through tough times. She was nominated by her peers to be a change-maker and now inspires others to stop bullying so students can feel safe to learn.´
The 7 Fund teaches children who have been bullied and former bullies to educate others and trains teachers to keep children safe.
´I feel very proud to see how my 7 Fund is helping UNICEF tackle bullying and violence in schools in Indonesia, and is ultimately keeping children, especially girls, safe in their schools so they can continue their education,´ the former footballer said in a statement.
´I spent time with an amazing young girl - Sripun - who was voted by her peers to take part in an anti-bullying programme to help stop violence in schools.
´This has increased her confidence and she´s hopeful that other students won´t have to go through the same bullying experience she did.´
The fund - named after Beckham´s lucky number on his England and Manchester United shirts - focuses on children at risk of violence, abuse or disease.