Rp100 Miliar Disiapkan LPDB KUMKM untuk Wirausaha Pemula dan Bisnis Start Up
Indonesian Govt Provides Capital Credit for Start-up Business
Reporter : Gusmiati Waris
Editor : Cahyani Harzi
Translator : Dhelia Gani

PUBLISHED: Sabtu, 21 Oktober 2017 , 22:15:00 WIB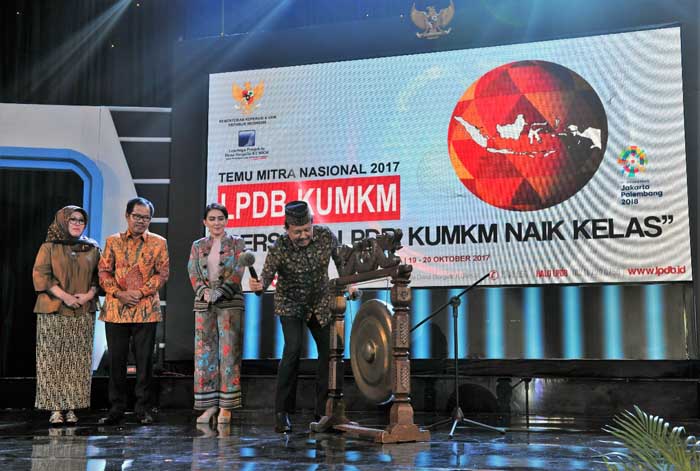 Sekretaris Kemenkop UKM Agus Muharram memukul gong pembukaan temu mitra didampingi Direktur Utama LPDB KUMKM Braman Setyo (ke-2 kiri) Foto: B2B/Gusmiati Waris
Jakarta (B2B) - Lembaga Pengelola Dana Bergulir (LPDB KUMKM) akan menyiapkan dana sebesar Rp100 miliar untuk permodalan wirausaha pemula (WP) dan bisnis start up, bunga murah 4,5% per tahun, namun bukan merupakan dana bergulir melainkan kredit dengan plafon kredit maksimal Rp25 juta tanpa agunan sehingga akan ada 4.000 WP di seluruh Indonesia.

Sekretaris Kementerian Koperasi dan UKM Agus Muharram mengharapkan WP dan bisnis start up untuk memperhatikan Lima Sukses yakni memenuhi peraturan, sesuai rencana bisnis, membayar kewajiban tepat waktu, mampu meningkatkan aset dan omset, dari sukses pengembangan usaha.

"Lebih penting lagi, Lima Sukses dapat memberikan manfaat bagi masyarakat," kata Agus Muharram di Jakarta pada acara Temu Mitra Nasional LPDB KUMKM, Kamis (19/10).

Direktur Utama LPDB KUMKM Braman Setyo mengatakan pihaknya membuka proposal business plan dari para WP dan bisnis start up secara paperless atau online, dan akan secara ketat melakukan verifikasi terhadap pemohon kredit WP dan bisnis start up.

"Para WP dan bisnis start up harus sudah punya rintisan usaha yang akan kita verifikasi melalui sistem online yang ada di LPDB KUMKM. Kita akan bisa melihat jelas bagaimana karakter usaha mereka," kata Braman Setyo.

Di samping itu, lanjut Braman, mulai 2018, dalam menyalurkan dana bergulir, LPDB akan menerapkan teknologi digital dalam penyaluran dan memonitor pemanfaatannya. "Kita bisa melihat dan memantau semuanya melalui sistem online. Yang pasti, saat ini tidak akan sulit lagi untuk mengakses dana bergulir di LPDB KUMKM."

Terkait kegiatan temu mitra nasional, dia berharap para mitra LPDB akan saling mengenal dan melakukan sinergi, sekaligus menjadi sarana sosialisasi untuk meningkatkan akses UMKM terhadap pembiayaan yang murah, efisien, dan tepat guna melalui dana bergulir yang dikelola LPDB KUMKM.

"Tujuan lainnya adalah melakukan sinergi antara LPDB KUMKM dengan mitra guna melakukan upaya-upaya preventif untuk memecahkan segala permasalahan terkait penyaluran dana bergulir di daerah," kata Braman.
Jakarta (B2B) - The Indonesia´s fund management institutions lending to cooperatives and micro, small and medium enterprises called the LPDB-KUMKM will prepare a 100 billion rupiah loan fund for beginner entrepreneurs
and start up business, with 4.5% cheaper interest per year, credit capital with a maximum credit limit of 25 million rupiah without collateral, so there are 4,000 beginner entrepreneurs across the country.

Secretary of the Cooperatives and SMEs Ministry, Agus Muharram beginner entrepreneurs and start-up business to pay attention to Five Successes that meet regulations, business plan, timely loan repayment, increasing assets and turnover, and business development.

"More importantly, Five Successes will be useful for the community," Mr Muharram said here on Thursday (October 19).

President Director of LPDB KUMKM Braman Setyo said said it opens proposals business plan entrepreneurs beginners, and start-up business in paperless or online, and will strictly verify credit applicants.

"The beginner entrepreneurs that we will verify through the online system in LPDB KUMKM. We will be able to see clearly how the character of their business," Mr Setyo said.

According to him, LPDB starting 2018 will apply digital technology in lending, and monitor the benefits. "We can see and monitor everything through the online system."

Related to the national partner meeting activity, he hopes LPDB partners will get to know each other and make synergy, and socialization to improve SME access to get cheap, efficient and useful credit.

"Another goal is to synergize with partners to help address business credit disbursement issues in the region," Setyo said.