7 Tewas Akibat Longsor Brebes setelah Ditemukan Lagi Dua Jasad
Rain Hampers Search for Indonesian Landslide Victims, 7 Dead
Editor : Ismail Gani
Translator : Novita Cahyadi

PUBLISHED: Jum'at, 23 Februari 2018 , 22:20:00 WIB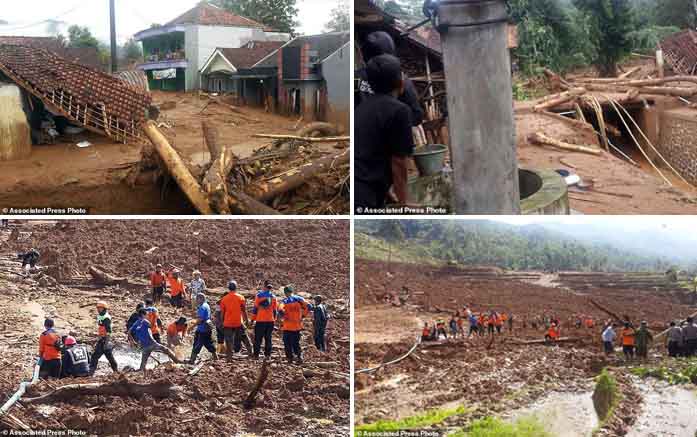 Foto2: Associated Press/MailOnline
HUJAN DERAS pada Jumat menghambat pencarian untuk korban longsor di Kabupaten Brebes, Provinsi Jawa Tengah setelah tim pencari dan penyelamatan (SAR) mengumpulkan korban tewas menjadi tujuh orang.

Kepala Badan Penanggulangan Bencana Daerah (BPBD) Brebes, Eko Andalas mengatakan satu jasad ditemukan pada Jumat dan seorang korban dari beberapa korban longsor akhirnya meninggal dunia di rumah sakit.

Dia mengatakan jumlah korban yang hilang 14 orang, turun dari 18, karena ada nama ganda dan kesalahan laporan pada dua orang.

Pencarian yang melibatkan lebih dari 500 tim penyelamat termasuk polisi, relawan dan tentara menghentikan pencarian lantaran hujan lebat.

Para petani setempat tengah bekerja di sawah mereka di Kabupaten Brebes, Jawa Tengah, Kamis pagi, saat lereng bukit yang basah di atas mereka longsor akibat hujan deras.

Korban selamat menggambarkan adanya suara gemuruh mendadak saat terjadi tanah longsor, menyapu pepohonan dan segala hal lainnya menuju jalur sawah bertingkat di bawahnya.

Hujan musiman menyebabkan banjir dan tanah longsor meluas di sebagian besar wilayah Indonesia, kepulauan yang memiliki lebih dari 17.000 pulau. Jutaan orang tinggal di daerah pegunungan dan di dataran banjir.

Degradasi lahan akibat konversi dari hutan alam menjadi hutan tanaman industri dan perkebunan kelapa sawit juga dapat menjadi faktor pemicu longsor.

Namun pada jumpa pers di Jakarta, juru bicara Badan Penanggulangan Bencana Nasional (BNPB) Sutopo Purwo Nugroho mengatakan bahwa tanah longsor di Brebes murni sebagai bencana alam, dan bukan karena lereng bukit merupakan bagian dari hutan industri.

"Itu disebabkan oleh pergerakan lahan menyusul hujan deras yang terjadi dalam dua minggu terakhir," katanya.

Lereng curam memicu terjadinya pergerakan tanah dalam kondisi basah, kata Sutopo dikutip Associated Press yang dilansir MailOnline.
HEAVY RAINS hampered the search Friday for victims of a landslide on the Indonesian island of Java as authorities raised the death toll to seven.

The chief of the disaster mitigation agency in Brebes, Eko Andalas, said a body was found Friday and one of the people injured in the disaster had died in a hospital.

He said the number of missing is 14, down from 18, due to a duplicated name and two people incorrectly reported as victims.

The search involving more than 500 rescuers including police, volunteers and soldiers was halted due to heavy rains.

Farmers were working in their rice paddies in Central Java´s Brebes district Thursday morning when the soggy hillside above them collapsed under the weight of torrential rains.

Survivors described a sudden roar as the landslide was unleashed, sweeping trees and everything else in its path toward the terraced rice fields below.

Seasonal rains cause widespread flooding and landslides across much of Indonesia, an archipelago of more than 17,000 islands. Millions of people live in mountainous regions and on flood plains.

Degradation of land by conversion of it from natural forest to pulp wood and palm oil plantations can also be a factor in landslides.

But at a news conference in Jakarta, National Disaster Mitigation Agency spokesman Sutopo Purwo Nugroho said the landslide in Brebes was purely a natural disaster and not due to the hillside being part of a planation forest.

"It was caused by land movement following continuing torrential rain in the past two weeks," he said.

The steep slopes meant there was high potential for ground movement in wet conditions, Nugroho said.