Deputi Kelembagaan Akui Kemenkop UKM Dorong Koperasi untuk `Spin Off`
Indonesian Govt Encourages Large Cooperatives to Spin Off
Reporter : Gusmiati Waris
Editor : Cahyani Harzi
Translator : Dhelia Gani

PUBLISHED: Minggu, 15 Oktober 2017 , 22:02:00 WIB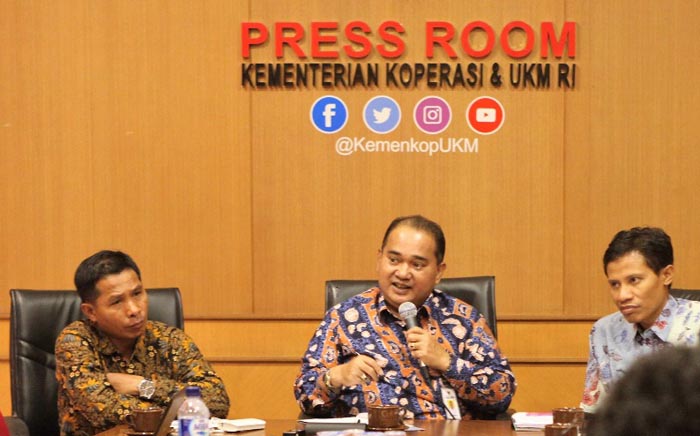 Deputi Bidang Kelembagaan Kementerian Koperasi dan UKM Meliadi Sembiring (tengah) Foto: Humas Kemenkop UKM
Jakarta (B2B) - Koperasi di Indonesia secara kelembagaan belum ada yang mengarah pada integrasi horisontal, untuk membangun konglomerasi sosial melalui mekanisme pembagian usaha (spin off) karena secara bisnis masih didominasi usaha simpan pinjam (USP) sebanyak 79.543 unit dari 153.060 unit koperasi di seluruh Indonesia, padahal tren global menunjukkan jaringan bisnis di tingkat koperasi primer bergegas melakukan spin off.

Deputi Bidang Kelembagaan Kementerian Koperasi dan UKM Meliadi Sembiring mengatakan Pemerintah RI mendorong koperasi besar melakukan spin off untuk memperkuat jaringan bisnisnya, dan pemerintah mengakomodir hal itu dengan membuat regulasi yang mengatur tentang spin off.

"Tren global saat ini, koperasi secara horisontal sudah mulai membangun jaringan bisnis di tingkat koperasi primer dengan melakukan pembagian atau spin off. Mereka mengajak anggotanya untuk membangun beraneka macam bisnis dengan membentuk badan hukum formal yang terintegrasi menjadi satu di bawah kendali grup atau holding," kata Meliadi kepada pers di Jakarta, Jumat (13/10).

Menurutnya, koperasi di Indonesia selama ini secara kelembagaan belum banyak yang mengarah ke spin off, dengan merujuk pada data statistik terdapat 153.060 unit koperasi di seluruh Indonesia, dan sekitar 51% atau 79.543 unit adalah KSP/USP.

Meliadi pun mencontohkan Koperasi Kredit Keling Kumang di Kalimantan Barat yang mampu spin off usahanya menjadi lima: Koperasi Kredit (CU) Keling Kumang, Yayasan Keling Kumang, Koperasi Konsumen Lima Dua (K-52), Koperasi Produsen Tujuh Tujuh (K77), dan Koperasi Jasa Ladja Tampun Juah.
Jakarta (B2B) - Cooperatives in Indonesia have not many want to do on horizontal integration to develop social conglomeration through spin off mechanism, about 79,543 units are still focusing on savings and loan business of 153,060 cooperative units across the country, whereas the primary cooperative in foreign countries showed a tendency to spin off.

The Deputy Minister of Institutional Meliadi Sembiring said Indonesian government encourages large cooperatives to spin off to support the development of business networks, and the government accommodates it by making regulations on spin off.

"The current global trend, primary cooperatives are starting to develop business networks with spin off, and invite their members to build various businesses with formal legal entities under the control of holding company," Mr Sembiring told the press here on Friday (October 13).

According to him, the cooperative in Indonesia has not been much institutional to spin off by referring to the statistics there are 153,060 cooperative units across the country, and about 51% or 79,543 units are saving and loan cooperatives.

Mr Sembiring mentioned Keling Kumang Credit Cooperative in West Kalimantan which spin off into Keling Kumang Credit Cooperative, Keling Kumang Foundation, Lima Dua Consumer Cooperative (K-52), Tujuh Tujuh Manufacturer Cooperative (K77) and Ladja Tampun Juah Service Cooperative.