Sauna Kaum LGBT Digrebek Polisi, 58 Pria Ditangkap
Indonesian Police Arrest 58 Men in Raid on Gay Sauna
Editor : Ismail Gani
Translator : Novita Cahyadi

PUBLISHED: Sabtu, 07 Oktober 2017 , 22:24:00 WIB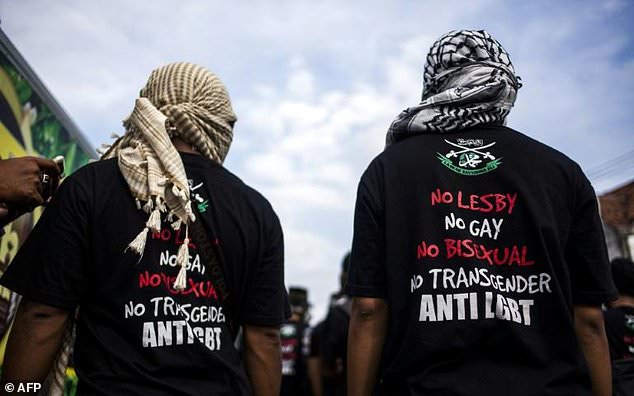 Foto: AFP/MailOnline
POLISI menahan 58 pria termasuk beberapa warga asing dalam aksi penggrebekan di sauna gay, kata petinggi Polri pada Sabtu, tindakan ini merupakan pertanda bagi kaum lesbian, gay, biseksual dan transgender (LGBT) di negara berpenduduk mayoritas Muslim.

Polisi Jumat malam menggerebek sebuah gedung di Harmoni, Jakarta Pusat sebagai sauna dan gym setelah polisi mendapat informasi dari masyarakat bahwa pusat kebugaran yang dinamai Jakarta Sauna tersebut merupakan tempat pelacuran terselubung.

"Kami mengamankan 51 orang dan tujuh karyawan karena diduga menyediakan praktik prostitusi," kata Kabid Humas Polda Metro Jaya, Kombes Argo Yuwono.

Enam orang asing termasuk di antara mereka yang ditahan, termasuk empat pria dari China, satu dari Thailand dan satu dari Belanda.

Homoseksualitas dan seks gay dinyatakan ilegal apalagi di provinsi Aceh karena pelakunya akan dihukum cambuk sesuai syariah Islam, dan Polri merujuk pada UU Anti Pornografi dan penyalahgunaan narkoba terhadap kaum LGBT.

Argo Yuwono mengatakan polisi menetapkan enam tersangka penyedia pesta gay dan mereka yang ditahan akan dikenai hukuman atas pelanggaran UU Anti Pornografi, dan diancam hukuman penjara enam tahun.

Belum diketahui - mereka yang tertangkap - akan dikenakan sanksi apa.

Penggerebekan pada Jumat datang merupakan peringatan bagi kalangan dengan perilaku seks menyimpang LGBT di Indonesia.

Para menteri, kelompok garis keras dan kelompok Islam berpengaruh telah menyatakan menentang LGBT seperti dikutip AFP yang dilansir MailOnline.
INDONESIAN police have detained 58 men including several foreigners in a raid on a gay sauna, an official said Saturday, the latest sign of a backlash against homosexuals in the Muslim-majority country.

Police late Friday raided a building in the capital Jakarta that houses a sauna and a gym after they received information from the public that it was being used for prostitution.

"We secured 51 and seven employees for allegedly providing pornographic services," Jakarta Police spokesman Argo Yuwono said in a statement.

Six foreigners were among those detained, including four men from China, one from Thailand and one from Holland.

Homosexuality and gay sex are legal everywhere in Indonesia except in conservative Aceh province, but police have used the country's tough anti-pornography laws or drugs charges to criminalise LGBT people in the past.

Yuwono said six of those detained would be charged under Indonesia's anti-pornography law, and could face up to sex years in prison.

It is not clear what -- if anything -- the remaining 52 would be charged with.

Friday's raid comes at a time of growing hostility towards Indonesia's small lesbian, gay, bisexual and transgender (LGBT) community.

Ministers, hardliners and influential Islamic groups have lined up to make anti-LGBT statements in public recently.

In similar incident in May, 141 men were detained for allegedly taking part in a sex party in Jakarta promoted as "The Wild One".

Andreas Harsono, senior Indonesia researcher at Human Rights Watch, condemned the arrests.

"This is part of the ongoing anti-LGBT campaign in Indonesia that has been going on since January last year," he told AFP.

"Human Rights Watch demands police release them and not make up charges against them."

He said the increase in discrimination towards LGBT Indonesians was related to the rise of conservative Islam.