Dua Dikabarkan Tewas setelah Helikopter Basarnas Jatuh di Temanggung
Indonesia Aid Helicopter Crashes after Volcano Erupts
Editor : Ismail Gani
Translator : Novita Cahyadi

PUBLISHED: Minggu, 02 Juli 2017 , 22:32:45 WIB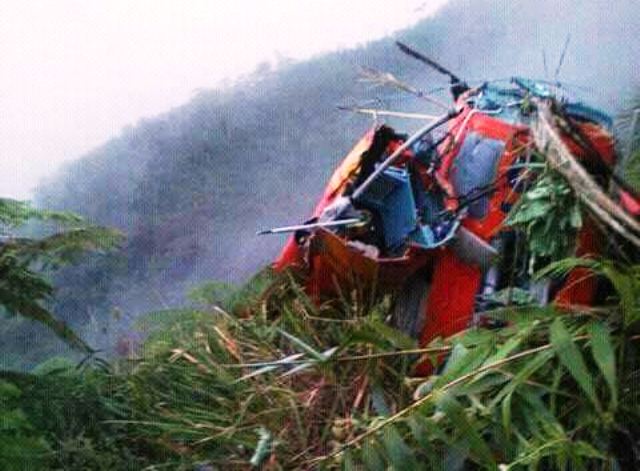 Helikopter naas milik Basarnas membawa empat awak kapal dan tim penyelamat saat jatuh di dekat Desa Candiroto di Kabupaten Temanggung (Foto: okezone.com)
SEBUAH helikopter yang mengangkut delapan orang jatuh pada Minggu saat dalam perjalanan untuk mendukung evakuasi di dekat gunung berapi yang meletus di wilayah Kabupaten Temanggung, Jawa Tengah. Pihak yang berwenang mengaku belum mengetahui nasib para penumpang di helikopter naas tersebut, namun penduduk desa mengatakan bahwa mereka menemukan dua mayat di lokasi kecelakaan.

Letusan gunung berapi tersebut, berada dekat kawasan wisata terkenal di provinsi tersebut, dan melukai sedikitnya 10 orang.

Helikopter naas milik Badan Search and Rescue (Basarnas) membawa empat awak kapal dan tim penyelamat saat jatuh di dekat Desa Candiroto di Kabupaten Temanggung, kata Deputi Operasional Basarnas, Heronimus Guru kepada Kompas TV seperti dikutip Associated Press.

Heronimus mengaku belum mengetahui nasib penumpang helikopter, tapi penduduk desa mengatakan kepada stasiun TV bahwa mereka menemukan mayat dua orang.

Sebelumnya pada Minggu, Kawah Sileri di Dataran Tinggi Dieng memuntahkan lava dingin, lumpur dan abu setinggi 50 meter ke langit saat meletus, kata Kepala Pusat Data, Informasi dan Humas Badan Nasional Penanggulangan Bencana (BNPB) Sutopo Purwo Nugroho.

Dia mengatakan, letusan mendadak tersebut terjadi sekitar pukul 11.30 WIB, saat ada sekitar 17 wisatawan di sekitar kawah tersebut. Sepuluh orang terluka dan dirawat di rumah sakit.

Prajurit dan petugas polisi dikirim ke tempat kejadian, sementara penduduk setempat dan wisatawan diminta untuk dievakuasi dari daerah tersebut jika terjadi letusan lanjutan, kata Sutopo.

Sileri adalah kawah yang paling aktif dan berbahaya di antara 10 kawah di Dieng Plateau. Letusannya yang paling baru terjadi pada 2009, saat melepaskan material vulkanik setinggi 200 meter dan memicu terciptanya tiga kawah baru.

Dataran Tinggi Dieng, yang terletak di Kabupaten Banjarnegara, Jawa Tengah, merupakan daya tarik wisata yang populer karena iklimnya yang sejuk dan berdiri candi Hindu abad kesembilan. Lokasinya berada sekitar 2.000 meter di atas permukaan laut.

Sekitar 142 orang dilaporkan mengalami sesak napas pada 1979 ketika gunung berapi memuntahkan gas belerang seperti dilansir MailOnline.
A HELICOPTER carrying eight people crashed Sunday while on the way to help with evacuations near a volcano that erupted on the main Indonesian island of Java. Officials didn't know the fate of the people on board, but villagers said they found two bodies at the crash site.

The eruption of the volcano, located in a popular tourist area, injured at least 10 people.

The helicopter from the National Search and Rescue Agency was carrying four crewmen and four rescuers when it crashed near Candiroto village in Central Java province's Temanggung district, Heronimus Guru, the agency's deputy operations chief, told KompasTV.

Guru did not know the fates of those on board, but villagers told the TV station that they found the bodies of two people.

Earlier Sunday, Sileri Crater at Dieng Plateau spewed cold lava, mud and ash as high as 50 meters (164 feet) into the sky when it erupted, said National Disaster Mitigation Agency spokesman Sutopo Purwo Nugroho.

He said the sudden eruption occurred at around 11:30 a.m., when there were about 17 visitors around the crater. Ten people were injured and were treated at a hospital.

Soldiers and police officers were dispatched to the scene, while local residents and visitors were asked to evacuate the area in case of further eruptions, Nugroho said.

Sileri is the most active and dangerous among some 10 craters at Dieng Plateau. Its most recent eruption was in 2009, when it unleashed volcanic materials up to 200 meters (656 feet) high and triggered the creation of three new craters.

Dieng Plateau, located in the Central Java district of Banjarnegara, is a popular tourist attraction because of its cool climate and ninth-century Hindu temples. It sits about 2,000 meters (6,600 feet) above sea level.

Some 142 people were reportedly asphyxiated in 1979 when the volcano spewed gases.