Kebijakan Infrastruktur Positif, Moody`s Naikkan Peringkat RI ke Baa2
Indonesia Credit Rating Upgraded by Moody`s
Editor : Ismail Gani
Translator : Novita Cahyadi

PUBLISHED: Sabtu, 14 April 2018 , 22:34:00 WIB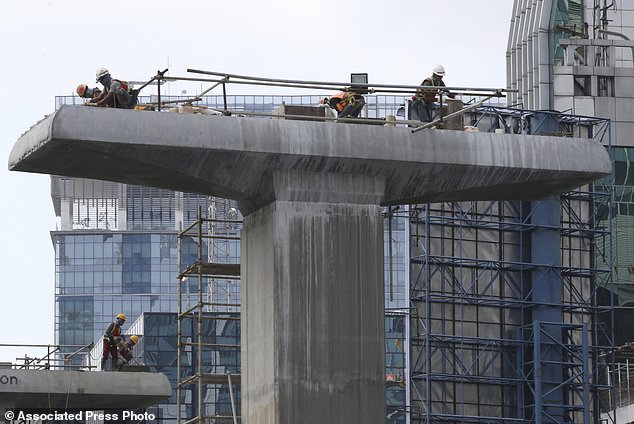 Foto: Associated Press/MailOnline
LEMBAGA pemeringkat Moody´s menaikkan peringkat Indonesia pada Jumat lantaran meningkatnya kepercayaan pada pemerintahan Joko Widodo - JK akan mempertahankan rekam jejaknya dalam mengelola kebijakan anggaran dan suku bunga secara bertanggung jawab.

Dalam mencapai target dari rencana ambisius Presiden RI Joko "Jokowi" Widodo untuk membangun infrastruktur Indonesia dengan jalan-jalan modern, pelabuhan, kereta api dan bandara, Moody´s Investors Service mengatakan perusahaan-perusahaan milik negara yang mengambil lebih banyak utang untuk mendanai proyek-proyek itu tidak menimbulkan "risiko signifikan."

Peringkat Indonesia meningkatkan peringkat kredit pemerintah Indonesia ke Baa2 dari peringkat investasi terendah.

Mengutip peningkatan manajemen ekonomi dan fokus bank sentral untuk mengendalikan inflasi, Moody´s mengatakan "kebijakan infrastruktur dan cadangan keuangan yang lebih besar memperkuat kapasitas Indonesia untuk menanggapi guncangan."

Peringkat kredit yang lebih tinggi dapat mengurangi biaya pinjaman luar negeri dan mendorong investasi asing.

Indonesia, dengan populasi lebih dari 260 juta, adalah ekonomi terbesar di Asia Tenggara tetapi masih berjuang dengan tingkat kekurangan gizi anak yang tinggi, standar pendidikan yang rendah dan korupsi yang tersebar luas seperti dikutip Associated Press yang dilansir MailOnline.
MOODY´S upgraded Indonesia´s credit rating on Friday due to increased confidence the government will maintain its recent track record of responsibly managing the national budget and interest rate policy.

In a boost for President Joko "Jokowi" Widodo´s ambitious plans to carpet Indonesia with modern roads, ports, rail and airports, Moody´s Investors Service said state-owned enterprises taking on more debt to fund those projects does not pose a "significant risk."

The upgrade raised Indonesia´s sovereign credit rating to Baa2 from the lowest investment grade rating.

Citing improved economic management and the central bank´s focus on controlling inflation, Moody´s said "these policies and larger financial reserves are strengthening Indonesia´s capacity to respond to shocks."

A higher credit rating can reduce the cost of borrowing overseas and encourage foreign investment.

Indonesia, with a population of more than 260 million, is Southeast Asia´s largest economy but still struggles with high levels of childhood malnutrition, low educational standards and widespread corruption.