LPDB-KUMKM Dapati Potensi Pengalihan Dana Bergulir di Lampung Rp39 Miliar
Indonesian Govt Asked Expects Cooperative Repay the Capital Loan on Time
Reporter : Gusmiati Waris
Editor : Cahyani Harzi
Translator : Dhelia Gani

PUBLISHED: Rabu, 27 September 2017 , 22:40:00 WIB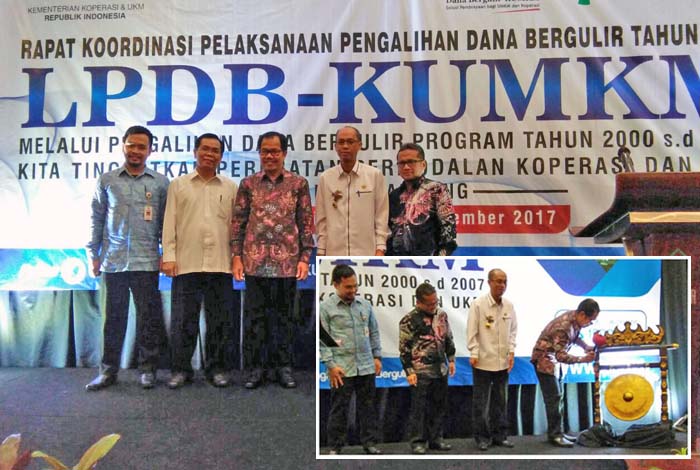 Rakor Dana Bergulir: Direktur Utama LPDB-KUMKM Braman Setyo (ke-3 kanan) dan Direktur Keuangan Fitri Rinaldi bersama peserta utama Rakor di Lampung dan memukul gong untuk membuka Rakor (inset) Foto2: B2B/Gusmiati Waris
Bandarlampung, Lampung (B2B) - Dana bergulir yang disalurkan Kementerian Koperasi dan UKM di Provinsi Lampung pada 2000-2007 mencapai Rp54,6 miliar. Dari jumlah tersebut, yang dialihkan ke rekening Lembaga Pengelola Dana Bergulir Koperasi dan Usaha Mikro Kecil dan Menengah (LPDB-KUMKM) baru mencapai Rp15,6 miliar atau baru 26% sehingga masih terdapat potensi pengalihan dana bergulir di Lampung sebesar Rp39 miliar.
Direktur Utama LPDB-KUMKM Braman Setyo mengatakan pada bank pelaksana program masih banyak dana bergulir yang telah disetorkan oleh koperasi penerima program, namun belum dialihkan ke LPDB-KUMKM.
"Dari jumlah dana bergulir tersebut, yang dialihkan ke rekening LPDB-KUMKM masih minim jumlahnya, padahal koperasi yang mendapatkan dana bergulir berkewajiban untuk mengembalikan," kata Braman Setyo setelah membuka Rapat Koordinasi Pelaksanaan Pengalihan Dana Bergulir 2017 LPDB-KUMKM di Provinsi Lampung, Rabu (27/9).
Rapat koordinasi dihadiri sekitar 100 peserta dari 12 dinas koperasi provinsi/kabupaten/kota, pengurus koperasi penerima dana bergulir, dan pihak perbankan. Dari 40 koperasi yang diundang ini terdapat potensi dana yang dapat dialihkan ke LPDB-KUMKM sebesar Rp3,4 miliar.
Sementara LPDB-KUMKM mengundang kalangan perbankan dalam rakor tersebut, karena selama ini koperasi hanya tahu pengembalian dana bergulir melalui bank. "Nantinya, dalam rakor ini ada validasi data dengan koperasi penerima dana bergulir dan perbankan pelaksana program dalam rangka pengalihan dana bergulir ke rekening LPDB-KUMKM."
Tampak hadir Sekretaris Deputi Bidang Restrukturisasi Usaha Kementerian Koperasi dan UKM Halomoan Tamba, dan Direktur Keuangan LPDB-KUMKM Fitri Rinaldi, Kepala Dinas Koperasi dan UKM Provinsi Lampung Satria Alam, dan Perwakilan Asisten Deputi Pembiayaan Nonbank dan Perpajakan Kementerian Koperasi dan UKM.
Paradigma Baru
LPDB-KUMKM akan menerapkan paradigma baru, dengan mendorong 34 gubernur dan kepala dinas koperasi provinsi di seluruh Indonesia untuk menyukseskan peralihan dana ini. Ada tiga kunci kesuksesan program ini yaitu sukses menyalurkan dana bergulir, sukses memanfaatkan, dan sukses mengembalikan.
"Karenanya, diperlukan koordinasi yang lebih intensif antara deputi pembiayaan, deputi restrukturisasi usaha dengan LPDB-KUMKM, perbankan pelaksana program, dan dinas-dinas koperasi dan UKM," kata Braman Setyo.
Pengalihan dana bergulir ke rekening LPDB-KUMKM sejalan dengan PMK No. 99/PMK.05/2008 yang dikeluarkan Menteri Keuangan. Lalu setahun berikutnya disempurnakan dengan PMK No.218/PMK.05/2009 tentang Pengelolaan Dana Bergulir pada kementerian negara/lembaga. Dalam peraturan ini disebutkan dana bergulir yang disalurkan kepada koperasi oleh Kementerian Koperasi dan UKM pengelolaannya dialihkan ke LPDB-KUMKM.
"Mengapa memilih Lampung, karena dibandingkan provinsi tetangga seperti Bengkulu, Jambi, Sumatera Selatan maka Lampung termasuk yang paling agresif dalam pengembalian dana bergulir," kata Braman Setyo.
Sebagaimana diketahui, penyaluran dana bergulir di Provinsi Lampung hingga kini mencapai Rp154,89 miliar dari total penyaluran dana bergulir ke seluruh Indonesia yang mencapai Rp8,49 triliun. "Kami akan terus bersafari ke provinsi-provinsi lain untuk menggali potensi-potensi pengembalian dana bergulir ke rekening LPDB-KUMKM."
Menurutnya, apabila koperasi sudah menyelesaikan kewajibannya hingga lunas 100 persen, maka dapat mengajukan kembali dana bergulir kepada LPDB-KUMKM.
"Memang ada alternatif lain untuk mengajukan pinjaman.
Bisa ke bank atau ventura, tapi LPDB-KUMKM memberikan dana bergulir dengan bunga sangat ringan hanya tujuh persen. Ini bunga paling rendah di dunia. Kalau pinjam ke bank kan bunganya di atas 10 hingga 13 persen," katanya lagi.
Bandarlampung, Lampung (B2B) - Capital loan from the Indonesian Ministry of Cooperatives and SMEs for Lampung province in 2000 - 2007 reached Rp54.6 billion. Of that amount, transferred to the Indonesia´s fund management institutions lending to cooperatives and micro, small and medium enterprises called the LPDB-KUMKM only reached 15.6 billion rupiah or just 26%, so the potential for transfer reaches 39 billion rupiah.
President Director of the LPDB-KUMKM Braman Setyo said that there are still many capital loans paid by cooperatives as recipients of business capital loans to banks, but have not been transferred to the LPDB-KUMKM.
"The capital loan that has been transferred to the LPDB-KUMKM account is still minimal, whereas the cooperative that gets the business capital is obliged to return the loan fund," said Braman Setyo after opened the coordination meeting here on Wednesday (September 27).
Coordination meeting was attended by about 100 participants 12 from provincial / regency / municipal cooperative office, cooperative board of business loan lender, and banking.
Meanwhile the LPDB-KUMKM invites banks because all this time cooperatives only know the repayment of business capital loans through banks. "Later, in the coordination meeting there is data validation with the cooperative recipient of loan capital and banking in order to transfer to the LPDB-KUMKM account."
It was attended by the Secretary of Deputy Minister of Business Restructuring Halomoan Tamba, Finance Director of LPDB-KUMKM Fitri Rinaldi, Head of Cooperative and SME Office of Lampung province Satria Alam, and representatives of Assistant Deputy of Nonbank Financing and Taxation Ministry of Cooperatives and SMEs.
New Paradigm
The LPDB-KUMKM will implement a new paradigm, by encouraging 34 governors and heads of provincial co-operatives across the country to make a successful transition of funds. There are three keys to the success of the program that is the distribution of business capital funds, benefit principles, and timely returns.
"Therefore, a more intensive coordination between high-level officials linked to LPDB-KUMKM, implementing banking programs, and cooperative agencies," Mr Setyo said.
The transfer of funds rolled into the LPDB-KUMKM account in line with the government regulation issued by the finance minister. Then the following year is perfected by government regulation on state ministries/government agencies.
"Why we chose Lampung, because compared to other provinces such as Bengkulu, Jambi, South Sumatra, Lampung is among the most aggressive in repayment of business capital loans," Setyo said.
As is known, the distribution of business capital loan in Lampung Province until now reached 154.89 billion rupiah from the total across the country which reached 8.49 trillion rupiah. "We will going to other provinces to campaign this program."
According to him, if the cooperative can repay the loan capital, then it can reapply the loan capital to the LPDB-KUMKM.
"There are other alternatives. To the bank or venture, but the LPDB-KUMKM provides business capital loan with low interest, only seven percent. This is the lowest interest in the world. With banks, interest rates are above 10 to 13 percent," he said.