Pramugari Muslim Rute Banda Aceh Wajib Kenakan Hijab
Muslim Female Flight Attendants Landing in Sharia-law Governed Indonesian Province Must Don a Hijab
Editor : Ismail Gani
Translator : Novita Cahyadi

PUBLISHED: Rabu, 31 Januari 2018 , 22:44:00 WIB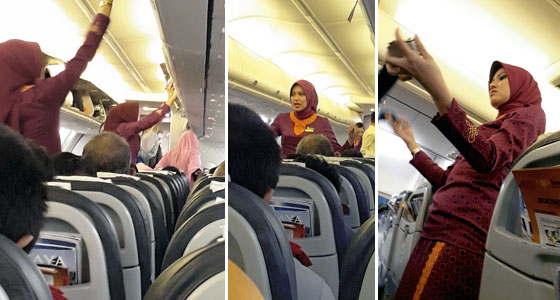 Maskapai Sriwijaya Air mengizinkan pramugarinya mengenakan hijab meskipun belum melayani rute ke Banda Aceh (Foto: B2B/M. Achsan Atjo)
PRAMUGARI Muslim yang mendarat di Bandara Int´l Sultan Iskandar Muda di Banda Aceh wajib mengenakan jilbab atau kerudung sesuai aturan Syariah Islam yang berlaku di Nangroe Aceh Darussalam, seperti diumumkan pemerintah provinsi pada Selasa.

Pramugari maskapai penerbangan yang menolak memakai hijab akan dijatuhi hukuman berat oleh polisi syariah.

Wanita Muslim di Aceh, diwajibkan mengenakan hijab sesuai aturan Syariah Islam, sementara wanita non-Muslim diharuskan dapat menyesuaikan diri.

Namun beberapa pramugari Muslim yang tidak memakai hijab selama mendarat dan berada di Banda Aceh, memaksa Pemprov Aceh mengeluarkan peraturan baru, kata Bupati Aceh Besar, Mawardi Ali yang wilayah kekuasaannya meliputi ibukota provinsi di Banda Aceh.

"Saya harap maskapai penerbangan menghormati aturan di Aceh yang menerapkan Syariah Islam," katanya, menambahkan bahwa ia akan berusaha untuk bertemu dengan beberapa maskapai penerbangan yang melayani rute penerbangan ke Banda Aceh dalam pekan ini.

"Kami menyebarkan peraturan ini ke maskapai penerbangan sampai akhir pekan ini. Nantinya, kita akan membicarakan sanksi jika kita menemukan ada pelanggaran, "tambah Ali.

´Jika seorang pramugaris (Muslim) tidak mematuhi, kami akan menegurnya. Jika dia melakukannya berulang kali, saya akan memerintahkan polisi Syariah untuk menangkap.´

Dia tidak menguraikan hukuman seperti apa yang akan berlaku bagi mereka yang menolak untuk mematuhi, meskipun pelanggaran hijab biasanya mendapat sanksi berat.

Mawardi Ali mengatakan sanksi apapun tidak termasuk hukuman di depan publik - sebuah hukuman umum di Aceh untuk sejumlah kejahatan termasuk menjual alkohol dan hubungan sesama jenis.

Tidak jelas berapa banyak pramugari yang bakal terkena dampak peraturan tersebut.

Banyak wanita di Indonesia, negara berpenduduk mayoritas Muslim terbesar di dunia, belum mengenakan hijab.

Hukum Islam hanya berlaku di Aceh - daerah tersebut memenangkan otonomi khusus pada 2001 sebagai bagian dari kesepakatan untuk mengakhiri pemberontakan separatis jangka panjang.

Kekhawatiran telah berkembang di kalangan aktivis hak tentang meningkatnya konservatisme agama di Aceh, di mana polisi pada akhir pekan memotong rambut sekelompok wanita transgender secara paksa dan membuat mereka mengenakan pakaian pria untuk membuatnya kembali menjadi ´lelaki´.

Maskapai penerbangan nasional Garuda Indonesia dan maskapai bertarif murah Citilink melayani Banda Aceh, yang melayani penerbangan nasional dan internasional.

Garuda mengatakan akan mematuhi peraturan baru dan dapat menambahkan seragam khusus yang dikenakan oleh pramugarinya seperti penerbangan ke Timur Tengah - yang wajib mengenakan hijab - untuk rute penerbangan Aceh.

´Garuda menghormati budaya lokal di Aceh,´ kata juru bicara Garuda, Ikhsan Rosan.

Juru bicara Citilink Benny Butarbutar, sementara itu, mengatakan bahwa maskapainya telah menerapkan seragam yang sesuai dengan Syariah Islam untuk para pramugari yang melayani rute ke Banda Aceh sejak 2015.

Maskapai penerbangan lain yang terkena dampak peraturan tersebut antara lain Lion Air dan anak perusahaannya yang melayani rute ke Aceh, Batik Air, yang mengoperasikan penerbangan reguler antara Aceh dan negara lain di Asia Tenggara.

AirAsia dan Firefly, yang berbasis di Malaysia, adalah maskapai asing utama yang mengoperasikan penerbangan ke Banda Aceh seperti dilansir MailOnline.
MUSLIM FEMALE flight attendants who land in the Sharia-law governed Indonesian province of Aceh must wear a hijab, the government announced Tuesday.

Flight attendants who refuse to wear the Islamic headscarf will face punishment by religious police.

Muslim women in Aceh, on the island of Sumatra, are required to wear the hijab under religious law, while non-Muslim females are required to wear modest clothing.

But some Muslim flight attendants who do not regularly wear the hijab were skipping the local practice during short layovers, forcing Aceh to issue the new regulations, said Mawardy Ali, head of Aceh Besar district which includes provincial capital Banda Aceh.

´I hope the airlines respect the uniqueness of Aceh where Sharia (Islamic law) is implemented,´ he said, adding that he would aim to meet with some half dozen affected airlines this week.

´We are disseminating this regulation to the airlines through the end of this week. Later, we´ll talk about punishment if we find there have been violations,´ Ali added.

´If a (Muslim) crew member fails to comply, we will reprimand her. If she does it repeatedly, I will order Sharia police to nab her.´

He did not say what sort of punishment would apply to those who refused to comply, though hijab violations usually result in a stern reprimand.

Ali said any sanction would not include public flogging - a common punishment in Aceh for a host of crimes including selling alcohol and having gay sex.

It was unclear how many flight attendants could be affected.

Many women in Indonesia, the world´s biggest Muslim-majority nation, do not wear the hair-covering scarf

Islamic law only applies in Aceh - the region won special autonomy in 2001 as part of a deal to end a long-running separatist insurgency.

Concern has been growing among rights activists about rising religious conservatism in Aceh, where police at the weekend forcibly cut the hair of a group of transgender women and made them wear male clothing to make them more ´manly´.

Indonesia´s national carrier Garuda and its low-cost arm Citilink service Banda Aceh, which hosts the province´s main airport.

Garuda said it would comply with the new regulations and may add a special uniform worn by its female staff on Middle-East bound flights - which includes the hijab - to Aceh flights.

´Garuda respects the local culture in Aceh,´ said company spokesman Ikhsan Rosan.

Citilink spokesman Benny Butarbutar, meanwhile, said the carrier has already been using an Islamic-compliant uniform for its attendants servicing Banda Aceh since 2015.

Other airlines affected include Indonesian budget carrier Lion Air and its full-service subsidiary Batik Air, which operate regular flights between Aceh and other parts of the Southeast Asian.

AirAsia and Firefly, both Malaysia-based, are the main foreign carriers that operate flights to Banda Aceh.