Bali Open 2018, 349 Atlet Ikuti Kompetisi Tenis Meja di Denpasar
Indonesia`s Table Tennis Competition the 2018 Bali Open in Denpasar
Reporter : Gusmiati Waris
Editor : Cahyani Harzi
Translator : Dhelia Gani

PUBLISHED: Sabtu, 30 Juni 2018 , 22:45:00 WIB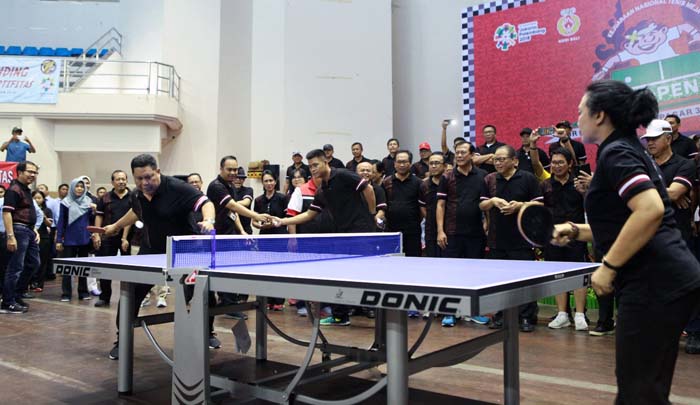 Kapolda Bali Irjen Petrus Reinhard Golose (kiri) menyambut servis dari Ketua Umum PTMSI Bali, Bintang Puspayoga usai membuka Bali Open 2018 yang dihadiri oleh Menkop UKM Puspayoga (Foto: B2B/Mya)
Denpasar, Bali (B2B) - Kompetisi tenis meja Bali Open 2018 yang diikuti 349 peserta dengan hadiah ratusan juta rupiah di Denpasar, resmi dibuka oleh Kapolda Bali Irjen Petrus Reinhard Golose pada Sabtu (30/6) yang didampingi Ketua Umum Persatuan Tenis Meja Seluruh Indonesia (PTMSI) Provinsi Bali Bintang Puspayoga dan dihadiri oleh Menteri Koperasi dan UKM, AAGN Puspayoga.
Kapolda Bali mengapresiasi penyelenggaraan Bali Open 2018 untuk menumbuhkan dan mencari atlet tenis meja berbakat dari anak-anak hingga remaja, dan memberi kesempatan pada pria dan wanita paruh baya di atas 50 tahun untuk berolahraga sekaligus mencegah penurunan daya ingat, pengapuran sendi lutut, manfaat kesehatan lainnya.
"Bali Open 2018 dapat menjadi ajang pencarian bakat untuk atlet tenis meja, mulai anak-anak hingga remaja, dan olahraga ini juga bagus untuk mereka yang berusia di atas 50 tahun," kata Irjen Petrus Reinhard Golose kepada pers usai bermain tenis meja menghadapi Bintang Puspayoga.
Ketua PTMSI Bali, Bintang Puspayoga mengatakan bahwa Bali Open 2018 merupakan agenda tahunan PTMSI Bali sebagai rangkaian dari kegiatan Hari Bhayangkara dan Hari Koperasi Nasional (Harkopnas).
Dia menambahkan, Bali Open 2018 diikuti 349 peserta yang dibagi dalam sembilan kategori peserta dari seluruh kelompok usia, dan kalangan masyarakat seperti antar instansi pemerintah, koperasi dan UKM, maupun antar wartawan, dan panitia menyediakan hadiah total Rp349 juta.
Tak kalah menarik adalah kategori Ganda 100+ yang menampilkan para atlet veteran tenis meja yang berprestasi pada masanya, mereka bukan hanya dari Bali tapi banyak pula yang datang khusus ke Denpasar.
"Bali Open 2018 juga menjadi ajang silaturahim wartawan dari seluruh Indonesia, khususnya yang mendukung pengembangan koperasi dan UKM di Indonesia," kata Menteri Puspayoga.
Denpasar of Bali (B2B) - Around 349 participants attended the 2018 Bali Open table tennis competition in Denpasar, Bali´s capital was officially opened by Bali Police Chief by Inspector General Peter Reinhard Golose here on Saturday (June 30) who was accompanied by chairman of Indonesian Table Tennis Association or the PTMSI, Bintang Puspayoga, and was attended by Indonesian Cooperatives and SMEs Minister, AAGN Puspayoga.
Mr Golose appreciate Bali Open 2018 to find talented table tennis athletes from kids to teenagers, and provides an opportunity for middle-aged men and women over 50 years old to exercise and maintain good health.
"The 2018 Bali Open becomes a place to find talent young athletes table tennis and also good for those over 50," Mr Golose told reporters after playing table tennis with Mrs Puspayoga.
Mrs. Puspayoga said that Bali Open 2018 is the annual agenda of PTMSI in Bali as a series of commemoration activities of police day and Indonesian cooperative day.
She said the 2018 Bali Open followed by 349 which was divided into nine categories of participants from all age groups, and civil society such as civil servants, cooperative managers and SME entrepreneurs, journalists, to compete for a total prize of 349 million rupiah.
There are also participants in the Double 100+ category for table tennis veteran athletes they come from and outside Bali.
"The 2018 Bali Open is also the place to meet journalists across the country, especially journalists who support the development of cooperatives and SMEs in Indonesia," Minister Puspayoga said.