Setya Novanto Sanggah Terlibat Korupsi KTP Elektronik
Indonesia`s Parliament Speaker Denies Corruption Allegations
Editor : Ismail Gani
Translator : Novita Cahyadi

PUBLISHED: Selasa, 18 Juli 2017 , 22:46:00 WIB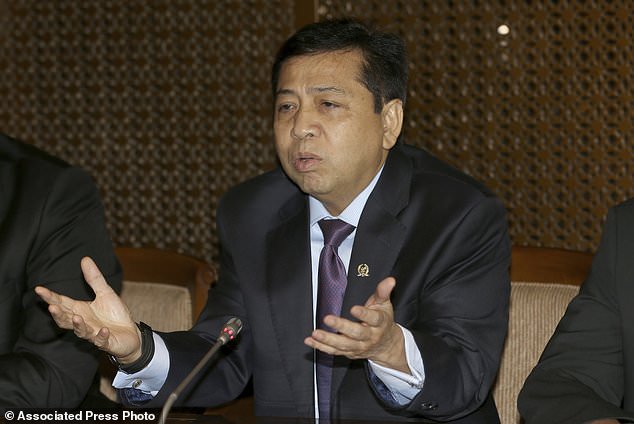 Ketua DPR Setya Novanto (Foto: MailOnline)
KETUA DPR RI yang pernah dipuji oleh Presiden AS Donald Trump sebagai salah satu orang kuat Indonesia, menyanggah melakukan dugaan korupsi setelah ditetapkan sebagai tersangka dalam skandal korupsi, yang diduga merugikan negara sekitar Rp2,3 triliun.

Ketua DPR Setya Novanto mengatakan kepada pers yang ditayangkan di televisi pada Selasa bahwa dia akan menghormati proses hukum tersebut, namun dia menyangkal dugaan melakukan korupsi lebih dari Rp500 miliar. Dia juga tidak berniat mundur sebagai ketua DPR.

"Saya percaya bahwa Allah Yang Maha Kuasa tahu bahwa semua tuduhan terhadap saya tidak benar," katanya.

Kepala Komisi Pemberantasan Korupsi (KPK) Agus Rahardjo, pada Senin mengumumkan bahwa pihaknya telah mengumpulkan bukti yang cukup untuk menetapkan Setnov sebagai tersangka.

KPK menduga bahwa dugaan korupsi KTP elektronik atau e-KTP melibatkan sekitar 80 orang, sebagian besar politisi, dan beberapa perusahan swasta yang menyalahgunakan anggaran proyek e-KTP senilai Rp5,9 triliun pada 2011 dan 2012 dan lebih dari sepertiga anggaran proyek diduga diselewengkan.

Setya Novanto, yang juga menjabat Ketua Umum Partai Golkar, adalah tersangka kelima dalam kasus tersebut, yang bisa menjadi ujian atas komitmen Presiden RI Joko Wiidodo untuk bertindak tegas memberantas korupsi setelah diduga diselewengkan oleh anggota DPR dari partai koalisi pemerintah, termasuk Golkar.

Korupsi menjadi epidemi di Indonesia dari pembangunan nasional untuk kesejahteraan 250 juta penduduk. Sementara anggota DPR membentuk panitia khusus atau Pansus KPK yang bertujuan melemahkan KPK.

Setya Novanto, yang mengaku sebagai pengagum Donald Trump, tampil pada konferensi pers Trump di Trump Tower di New York pada September 2015 dengan anggota DPR, Fadli Zon. Setnov diperkenalkan oleh Trump sebagai salah satu orang kuat Indonesia yang akan melakukan hal-hal hebat bagi AS.

Ketua KPK Agus Rahardjo mengatakan bahwa Setnov "dicurigai memperkaya dirinya sendiri atau orang lain dengan menyalahgunakan kekuasaannya" dan memainkan peran kunci dalam merencanakan dugaan korupsi tersebut.

Di antara mereka yang disebutkan dalam sidang tindak pidana korupsi (Tipikor) pada Maret terhadap dua tersangka, yang merupakan pejabat tinggi Kementerian Dalam Negeri menyebut dugaan keterlibatan menteri kehakiman, mantan menteri dalam negeri dan dua gubernur. Sejauh ini, mereka belum disebut sebagai tersangka dan dilaporkan bahwa mereka menyanggah terlibat korupsi tersebut.

Tahun lalu, hasil riset Transparansi International menyebut skor korupsi Indonesia 37 dalam skala 1 sampai 100, dimana 100 benar-benar bebas dari korupsi. Dari 176 negara yang dilakukan riset, Indonesia berada di posisi ke-90, jauh dari tujuannya mencapai tempat ke-50 pada 2016 seperti dikutip Associated Press yang dilansir MailOnline.
THE SPEAKER of Indonesia's parliament, once hailed by President Donald Trump as one of Indonesia's most powerful men, has denied any wrongdoing after being named a suspect in a corruption scandal in which officials allegedly pocketed more than $170 million of government money.

Setya Novanto told a televised news conference Tuesday he would respect the legal process, but that there was no truth to the accusation that he stole more than $40 million. He is staying on as speaker.

"I believe that Allah the Almighty knows that all allegations against me are not true," he said.

The chief of the Corruption Eradication Commission, Agus Rahardjo, announced on Monday that the commission had gathered sufficient evidence to name Novanto a suspect.

Anti-corruption police allege that a network of about 80 people, mostly politicians, and several companies used the introduction of a $440 million electronic identity card system in 2011 and 2012 to steal more than a third of the allotted funds.

Novanto, of the Golkar Party, is the fifth suspect announced in the case, which could turn into a test of President Joko "Jokowi" Widodo's willingness to take a hard line against corruption since suspicion has fallen on lawmakers from parties in the ruling coalition, including Golkar.

Graft is at epidemic levels in Indonesia and holds back development of the nation of more than 250 million people. Separately, lawmakers are seeking ways to weaken the anti-graft agency's powers.

Novanto, a Trump admirer, made an unexpected appearance at a Trump news conference at Trump Tower in New York in September 2015 along with another Indonesian lawmaker, Fadli Zon. Novanto was introduced by Trump as one of Indonesia's most powerful men who would do great things for the U.S.

Rahardjo said that Novanto is "suspected of enriching himself or other people by abusing his power" and played a key role in planning the swindle.

Among those named in an indictment presented in March at the ongoing trial of two suspects, who were Ministry of Home Affairs officials, are the justice minister, a former interior minister and two provincial governors. So far they have not been named as suspects and local media report they have denied any wrongdoing.

Last year, Transparency International gave Indonesia a corruption score of 37 on a 1 to 100 scale, where 100 is completely free of corruption. Out of the 176 countries ranked, Indonesia was 90th, far from its goal of reaching 50th place by 2016.