Kemenkop UKM Berupaya Ikuti Setiap Tahun Pameran `Handmade Korea` di Seoul
Indonesian SMEs Wants to Participate Every Year in the Korean Handmade
Reporter : Gusmiati Waris
Editor : Cahyani Harzi
Translator : Dhelia Gani

PUBLISHED: Minggu, 30 Juli 2017 , 22:08:00 WIB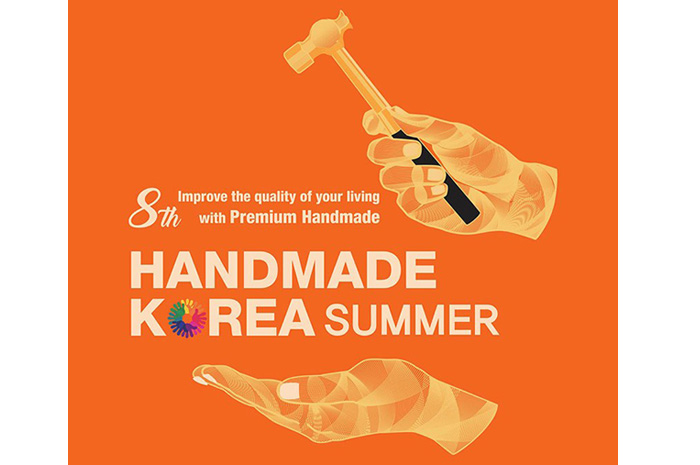 Foto: istimewa
Jakarta (B2B) - Pemerintah RI berupaya mengikuti setiap tahun pameran Handmade Korea yang digelar dua kali dalam setahun di Seoul, Korea Selatan di Samseongdong COEX pada musim panas dan musim dingin sebagai event offline, sehingga dapat mendukung promosi dan pemasaran produk kerajinan khas produksi UKM dari seluruh Indonesia.

Hal itu dikemukakan oleh Sekretaris Kementerian Koperasi dan UKM Agus Muharram dan Asisten Deputi Perikanan dan Peternakan - Deputi Produksi dan Pemasaran, Devi Rimayanti terkait partisipasi 28 UKM Indonesia pada 16 booth pada Handmade Korea Summer 2017 untuk musim panas di Korea Selatan.

"Tidak tertutup kemungkinan Indonesia dapat mengikuti kegiatan ini secara rutin setiap tahun, dengan mendukung para pengusaha UKM mengikuti pameran taraf internasional, sehingga memicu seniman amatir dan profesional meningkatkan kualitas karyanya untuk bersaing dengan produk dari mancanegara," kata Agus Muharram usai menghadiri kegiatan di Seoul, Korsel.

Selain Kemenkop dan UKM, kegiatan pameran internasional tersebut juga diikuti oleh Pemerintah Kota Bandung (Jabar), Pemerintah Kota Jembrana (Bali) atase perdagangan di Kedutaan Besar RI (KBRI) di Seoul, Indonesian Trade Promotion Center (ITPC) Busan Branch dengan tema stand 'Indonesia Pavillion' di booth H-C01 dan H-C02.

"Tentunya event ini sangat bermanfaat untuk mengangkat produk-produk dalam negeri. Acaranya sangat bagus, karya-karya dari seniman dan perajin Indonesia juga laku dijual," kata Agus Muharram melalui pernyataan tertulis dari Humas kementerian.

"Kita bisa menunjukkan kepada dunia Internasional bahwa karya-karya seni dari Indonesia ini punya nilai keunikan tersendiri. Berbeda dari negara-negara lain. Meskipun Indonesia baru pertama kali namun respons pengunjung sangat baik," katanya.

Laku Terjual
Devi Rimayanti menambahkan bahwa respons warga Seoul terhadap partisipasi Indonesia sangat baik, hal itu terlihat dari jumlah pengunjung booth Indonesia dan produk UKM yang dipamerkan habis diborong pengunjung, dan beberapa UKM mendapat calon buyer serius khususnya produk kerajinan kerang, untuk spa, kayu dan rotan, batu, ecoprint dan bambu.

"Produk-produk kerajinan Indonesia dapat bersaing dengan produk dari negara lain, khususnya harga, karena dengan kualitas yang sama tapi harga lebih terjangkau," kata Devi.

Kemenkop UKM memfasilitasi keikutsertaan 28 UKM antara lain Rahmat Margohadi, Oesing Craft, CV Exotic by Ary, CV Yuka, CV Kay Nusa Bihaka, Mohoi, Ical's Craft, CV Franaspa, Sahara Nusa Indo, Dian Rizqita, CV Bukit Damarsakti, PT Versaguna Internasional, Kelompok Tenun Putri Ma, Ubdy Bali, Ruang Rusa, CV Aryasena, PT Harpa Inti Mandiri, CV Palem Craft Jogja, Fifi Collection, Galeri Banon, Jayakawentar, Antique Batik, dan Sabila Craft. Pemkot Bandung menghadirkan Little Bandung Mobile seperti Purnama Raya, Ina's Scarf dan Iva Latifah, sementara PT Sinar Utama Madura berpartisipasi secara mandiri.

Korea Handmade merupakan satu-satunya festival budaya yang diadakan COEX Seoul sejak 2011, dan mulai 2016 diadakan dua kali dalam setahun (musim panas dan musim dingin). Kegiatan pameran pada 2016 dihadiri 38.000 pengunjung untuk menyaksikan produk dari 353 peserta di 513 stand, sementara kegiatan tahun ini diikuti oleh Indonesia, Jepang, China, Taiwan, Hong Kong.
Jakarta (B2B) - The Indonesian government wants Indonesian SMEs entrepreneurs every year every year to participate in the Korean Handmade exhibition held twice a year in Seoul of South Korea at Samseongdong COEX in summer and winter as offline events to support the promotion and marketing of SMEs handicraft products across the country, according senior officials.

It was stated by Secretary of Cooperatives and SMEs Minister, Agus Muharram and Assistant Deputy of Fisheries and Livestocks - Deputy Minister of Production and Marketing Devi Rimayanti about 28 Indonesian SMEs participation in 2017 Handmade Korea Summer.

"It is possible for Indonesia SMEs participate in exhibitions in Seoul every year, so it can trigger amateur and professional artists to improve the quality of their work to compete with products from abroad,"
Mr Muharram said.

The SME exhibition in Seoul was also attended by West Java province's Bandung city goverment, Bali province's Jembrana city government, the Trade Attache of Indonesian Embassy in Seoul, Busan Branch's Indonesian Trade Promotion Center.

"The exhibition is useful for support the promotion of Indonesian handicraft products," said Mr. Muharram through a written statement from the ministry's PR.

"We can show the world that Indonesian artwork is very unique. Different from other countries despite it is the first time, but the visitor response is very good," he said.

Sold Out
Devi Rimayanti said the Seoul citizens' response to Indonesia is very good, it was seen of the number of visitors in Indonesian booth, and SMEs products was sold out, and some SMEs get serious prospective buyers such as craft shells, for spas, wood and rattan, stone, ecoprint and bamboo.

"Indonesian handicraft products can compete with other countries' products, especially the price, because with the same quality but the price is more affordable," Rimayanti said.

The ministry supports the participation of 28 SMEs such as Rahmat Margohadi, Oesing Craft, Exotic by Ary, Yuka, Kay Nusa Bihaka, Mohoi, Ical's Craft, Franaspa, Sahara Nusa Indo, Dian Rizqita, Bukit Damarsakti, Ma's Weaving Group, Ubdy Bali, Ruang Rusa, Aryasena, Harpa Inti Mandiri, Palem Craft Jogja, Fifi Collection, Banon Gallery, Jayakawentar, Antique Batik, and Sabila Craft. Bandung city government supports participation of Little Bandung Mobile such as Purnama Raya, Ina's Scarf and Iva Latifah and while Sinar Utama Madura participate independent.

Korea Handmade is the only cultural festival held by COEX Seoul since 2011, and starting 2016 is held twice a year (summer and winter). The exhibition event in 2016 was attended by 38,000 and attended by 353 participants in 513 booths, while this year's event was followed by Indonesia, Japan, China, Taiwan, Hong Kong.