Serapan Rendah: 225 Proposal ke LPDB-KUMKM Hanya 46 Lolos `Mandatory`
Indonesia`s Fund Management for SMEs Intends to Support Financing Scheme
Reporter : Gusmiati Waris
Editor : Cahyani Harzi
Translator : Dhelia Gani

PUBLISHED: Senin, 30 Juli 2018 , 23:01:00 WIB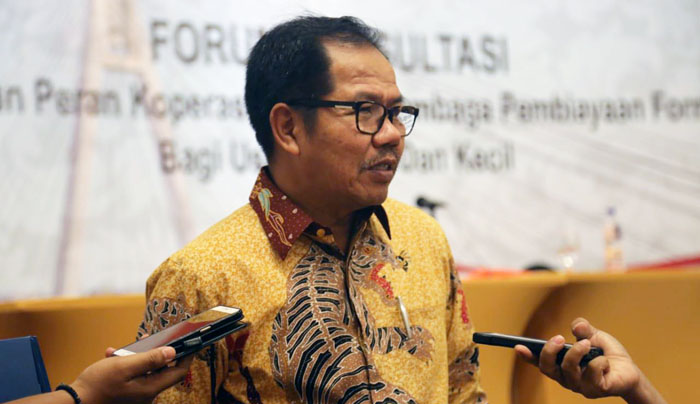 Direktur Utama LPDB-KUMKM Braman Setyo (Foto: istimewa)
Jakarta (B2B) - Hingga pertengahan 2018, penyerapan dana bergulir yang dikelola Lembaga Pengelola Dana Bergulir untuk Koperasi, dan Usaha Mikro, Kecil dan Menengah (LPDB-KUMKM) belum optimal dari target penyaluran 2018 sebesar Rp1,2 triliun. Dari 225 proposal diajukan ke LPDB, hanya 46 proposal yang sudah lolos mandatory, dan 165 proposal dikembalikan agar diperbaiki.
"Padahal hanya 225 proposal, yang lolos mandatory 46 proposal ini jelas belum optimal. Saya tidak puas, ini bentuk pembinaan LPDB," kata Direktur Utama LPDB-KUMKM Braman Setyo pada ´Forum Konsultasi Penguatan Peran Koperasi sebagai Lembaga Pembiayaan Formal bagi UMKM di Batam, belum lama ini.
Pemerintah RI telah menerbitkan Peraturan Menkop dan UKM Nomor 8/2018 untuk mempermudah prosedur dan persyaratan pengajuan pinjaman ke LPDB-KUMKM maka koperasi harus memenuhi tiga syarat utama. Pertama, ada nomor induk koperasi (NIK); kedua, sertifikat kompetensi bagi manajer koperasi; dan ketiga, penilaian kesehatan.
"Ketiga syarat itu sangat memberatkan, tapi kalau koperasi bisa menunjukkan ketiga itu atau memiliki, akan menjadi poin yang mempermudah disetujuinya pinjaman yang diajukan," kata Braman Setyo, mantan Deputi Pembiayaan Kementerian Koperasi dan UKM.
LPDB-KUMKM mensyaratkan lampiran 11 dokumen dalam setiap pengajuan pinjaman ke LPDB antara lain daftar kebutuhan, akta pendirian koperasi, laporan rapat anggota tahunan (RAT), laporan keuangan, surat izin usaha, nomor pokok wajib pajak (NPWP), tanda daftar perusahaan (TDP), dan bukti status kantor.
Sementara pola pengajuan proposal dapat diajukan melalui dinas koperasi provinsi, lembaga penjaminan yakni Perum Jamkrindo atau PT Jaminan Kredit Daerah (Jamkrida) di setiap ibukota provinsi, atau dibawa langsung ke kantor cabang/pusat LPDB-KUMKM.
"Ada tiga lembaga yang dapat mengajukan dana bergulir LPDB yakni koperasi, UMKM, lembaga keuangan bank dan bukan bank atau LKB/LKBB," kata Braman Setyo.
Batam of Riau (B2B) - The Indonesia´s fund management institutions lending to cooperatives and SMEs or the LPDB-KUMKM admits until mid-2018, capital loans managed by LPDB have not been optimally utilized by cooperatives and SMEs of the target 1.2 trillion rupiah for 2018. From 225 proposals to LPDB, only 46 proposals passed mandatory.
"Of the 225 proposals submitted, only 46 are mandatory. I was disappointed," said President Director the LPDB-KUMKM Braman Setyo here recently.
The Indonesian government issued regulation No. 8/2018 to simplify the procedure and requirements of loan application to the LPDB-KUMKM ie registered as cooperatives, competency certificates for cooperative managers, and business health assessments.
"If the cooperative meets all three requirements it will make it easier to get a capital loan," Mr Setyo said.
The LPDB-KUMKM requires 11 attachment documents for capital loan application to LPDB such as requirement list, cooperative establishment certificate, annual member meeting report, financial report, business license, taxpayer registration number, company register, and office status proof.
While the proposal may be submitted to the provincial cooperative service office, Jamkrindo or Jamkrida guarantee institutions in every provincial capital, or directly to the LPDB-KUMKM branch office/center.
"There are three institutions that can apply for capital loan to LPDB namely cooperatives, SMEs, bank and non-bank financial institutions," Mr Setyo said.