Inisiasi BLUD DB, LPDB-KUMKM Siap Penuhi Kebutuhan Dana Bergulir di Belitung Timur
Indonesia`s Fund Management for SMEs Face the Constraints in the Region
Reporter : Gusmiati Waris
Editor : Cahyani Harzi
Translator : Dhelia Gani

PUBLISHED: Kamis, 26 April 2018 , 23:04:00 WIB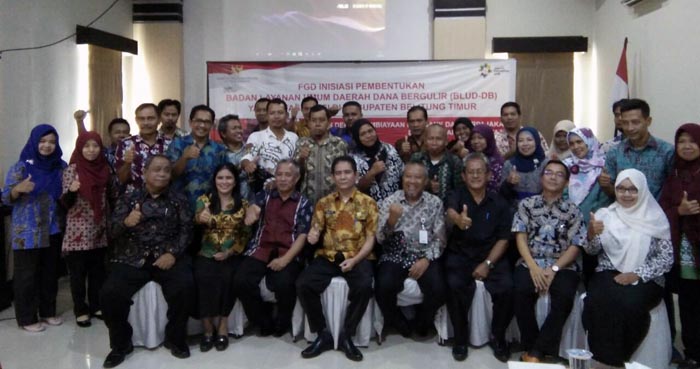 Asdep Pembiayaan Non Bank dan Perpajakan Kemenkop UKM, Suprapto; Sekretaris Deputi Pembiayaan Kemenkop UKM, Sutarjo; Asisten II Pemkab Belitung Timur, Khaidir Lutfi dan pendiri BLUD Lampung, Pahala Tampubolon (Foto: B2B/Mya)
Belitung Timur, Bangka Belitung (B2B) - Pemerintah RI berupaya memenuhi kebutuhan permodalan bagi koperasi dan UKM di daerah, dengan mengoptimalkan peran badan layanan umum daerah (BLUD) menjadi ´perpanjangan tangan´ dari Lembaga Pengelola Dana Bergulir - LPDB KUMKM seperti pengembangan BLUD DB di Kabupaten Belitung Timur, dan sampai saat ini sudah ada lima BLUD DB yang digandeng LPDB-KUMKM.

"BLUD DB dikembangkan karena LPDB-KUMKM dilarang undang-undang membuka cabang di daerah, sementara di sisi lain SDM yang ada sangat terbatas sehingga berdampak terhadap waktu pelayanan terhadap penerima pembiayaan atau mitra LPDB menjadi tidak efisien," kata Asisten Deputi Pembiayaan Non Bank dan Perpajakan Kementerian Koperasi dan UKM Suprapto pada Focus Group Discussion (FGD) tentang BLUD DB Belitung Timur, Kamis (26/4).

Menurutnya, keberadaan BLUD DB di Kabupaten Belitung Timur dapat memberikan solusi kebutuhan pembiayaan bagi para pelaku usaha mikro dan kecil termasuk juga koperasi, karena sesuai amanah UU tentang UKM Nomor 20/2008 menyebutkan bahwa pemerintah pusat dan daerah wajib menyediakan pembiayaan bagi UMKM.

Dia menambahkan, karena fleksibilitasnya, BLUD DB dalam memenuhi pembiayaan dan operasionalnya tidak lagi sebatas mengandalkan APBD, tetapi juga sudah bisa bekerjasama dengan LPDB-KUMKM yang merupakan BLU dari Kementerian Koperasi dan UKM, dalam hal ini BLUD bisa menjadi perpanjangan tangan dari LPDB-KUMKM untuk memenuhi kebutuhan permodalan UMKM di daerah.

"Sampai saat ini sudah ada lima BLUD DB yang bekerjasama dengan LPDB-KUMKM," kata Suprapto.

UMKM berperan strategis dalam perkembangan ekonomi nasional, selain itu UMKM juga tetap bertahan menghadapi krisis hal tersebut tidak lain karena sebagian besar UMKM menghasilkan barang konsumsi dan jasa yang dekat dengan kebutuhan masyarakat. Di sisi yang lain UMKM memanfaatkan sumber daya local, baik itu untuk sumber daya manusia, modal, bahan baku hingga peralatan, atau dengan kata lain tidak bergantung kepada impor.

Dari data Dinas Tenaga Kerja, Koperasi dan UKM Kabupaten Belitung Timur terdapat 103 koperasi dan 10.260 jumlah UMKM. Jumlah ini akan terus bertambah melihat potensi sumber daya di Kabupaten Belitung Timur. Pengembangan koperasi termasuk juga UMKM menjadi tanggung jawab bersama pemerintah dan masyarakat.

Optimalisasi
Sekretaris Deputi Bidang Pembiayaan Kementerian Koperasi dan UKM Sutarjo mengatakan sampai saat ini terbentuk BLUD DB di 19 wilayah terdiri dari empat BLUD tingkat provinsi, enam BLUD kota dan sembilan BLUD di kabupaten.

"Jumlah tersebut diperkirakan akan terus bertambah secara signifikan, karena deputi bidang pembiayaan fokus untuk menginisiasi pembentukan BLUD DB di tingkat provinsi maupun di tingkat kabupaten dan kota," kata Sutarjo.

"Penyelenggaraan FGD ini adalah upaya pemerintah untuk dapat mengoptimalisasi pengelolaan dana bergulir, karena diperlukan adanya penataan sistem dana bergulir secara tertib, serta pengelolaan jaringan dana bergulir yang efektif melalui pengintegrasian BLUD-DB di daerah," katanya.

Sementara Asisten II Bidang Pembangunan dan Perekonomian Belitung Timur, Khaidir Luthfi mengatakan permodalan bagi UMKM berperan penting untuk pengembangan usaha di Belitung Timur, dan sejak 2008 sudah memberikan permodalan bagi UMKM, namun selama ini pengelolaannya dibawah dinas tenaga kerja, koperasi dan UKM kabupaten sehingga pengelolaan dana bergulir tersebut tidak fleksibel dan kurang efisien karena sangat bergantung terhadap APBD.

"Pendirian BLUD harus memenuhi tiga syarat yakni substantif, teknis, dan administratif, dan yang terpenting adalah syarat administratif, karena jumlah persyaratan administratif lebih banyak ketimbang persyaratan lain, kurang lebih terdapat enam poin seperti pola tata kelola, rencana strategi bisnis, dan standar pelayanan minimal," kata Pahala Tampubolon, pendiri BLUD Lampung.

Dia mengharapkan BLUD DB Belitung Timur kelak langsung berstatus BLUD Penuh agar fleksibilitasnya maksimal dan langsung dapat bekerjasama dengan LPDB-KUMKM.
East Belitung of Bangka Belitung (B2B) - Indonesian government seeks to meet the capital needs of cooperatives and SMEs in the regions by optimizing the regional public service agency or BLUD being ´an extension´ of Indonesia´s fund management institutions lending to cooperatives and SMEs or the LPDB-KUMKM in East Belitung district, and until now there are five BLUD DB with LPDB-KUMKM.

"BLUD DB is developed because LPDB-KUMKM is prohibited legislation opens branches in the region, while human resources are limited so as to affect the service time of LPDB partners," said senior official of Indonesian Cooperatives and SMEs Ministry, Suprapto here on Thursday (April 26).

According to him, the development of BLUD DB in East Belitung district can be a financing solution for cooperatives and SMEs, because according to the SME Law No. 20/2008 states that the central and local governments are required to provide financing for SMEs.

He said that flexible BLUD DB meets financing needs and does not rely on regional development budgets but also can cooperate with LPDB-KUMKM which is BLU of the ministry, in this case BLUD can be an extension of LPDB-KUMKM to meet the needs of capital of MSMEs in the region.

"Until now there are five BLUD DB in cooperation with LPDB-KUMKM," Suprapto said.

SMEs play a strategic role in the national economic development, in addition SMEs are able to survive the economic crisis because most SMEs produce consumer goods and services needed by the community. On the other hand, SMEs utilize local resources such as human resources, capital, raw materials to equipment so do not depend on imports.

Data of East Belitung Cooperatives and SMEs Regional Office mentioned 103 cooperatives and 10,260 SMEs, and will increase due to economic potential in East Belitung.

Optimization
Indonesian senior official in the ministry Sutarjo said until now operates 19 regions consisting of four at the provincial level, six cities and nine districts.

"The BLUD service office will continue to be opened in other areas, as the government focuses on initiating BLUD DB at provincial, districts and municipal," Sutarjo said.

"Focus group discussion is the government´s effort to optimize the management of revolving funds, as it requires the establishment of an orderly revolving fund system, as well as an effective revolving fund management network through the integration of BLUD-DB in the regions," he said.

While senior official East Belitung Khaidir Luthfi said the capital for SMEs has an important role for business development, and since 2008 it has supported capital loans for SMEs, but it has been managed under local office so that its management is not flexible and less efficient because it is heavily dependent on local government budget.

"The establishment of a BLUD must meet three conditions, namely substantive, technical and administrative, and most importantly administrative requirements, because the number of administrative requirements is more than other requirements, there are approximately six points such as the pattern of governance, business strategy plan, and minimum service standards , "said Pahala Tampubolon, founder of BLUD Lampung.

He expects BLUD DB Belitung Timur will soon be a full BLUD status for maximum flexibility and can work directly with LPDB-KUMKM.