Bunga 7%, Alokasi KUR 2018 Capai Rp120 Triliun Bidik 4 Juta Debitur
Indonesian Govt Allocates People`s Business Credit of 120 Trillion for 2018
Reporter : Gusmiati Waris
Editor : Cahyani Harzi
Translator : Dhelia Gani

PUBLISHED: Jum'at, 19 Januari 2018 , 23:15:00 WIB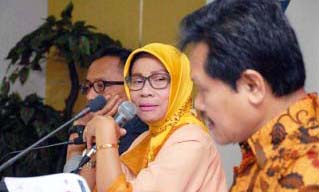 Deputi Pembiayaan Kementerian Koperasi dan UKM, Yuana Sutyowati (tengah) Foto: istimewa
Jakarta (B2B) - Pemerintah RI mengalokasikan pinjaman modal usaha untuk koperasi dan pengusaha UKM melalui kredit usaha rakyat (KUR) sebesar Rp120 triliun untuk 2018, bunga pinjaman 9% pada 2017 diturunkan menjadi 7% tahun ini, sehingga diharapkan dapat mencapai target empat juta debitur di seluruh Indonesia.

Hal itu dikemukakan oleh Deputi Pembiayaan Kementerian Koperasi dan UKM, Yuana Sutyowati; Deputi Direktur Spesialis Penelitian Mikroprudensial Bank Umum Otoritas Jasa Keuangan (OJK) Mohamad Miftah; dan Asisten Deputi Pembiayaan Bidang Asuransi Penjaminan dan Pasar Modal, Willem Pasaribu di Jakarta, Kamis (18/1) pada diskusi ´Tantangan Penyaluran Dana KUR 2018´.

Deputi Yuana mengatakan alokasi KUR meningkat dari Rp106,6 triliun pada 2017 menjadi Rp120 triliun tahun ini, namun bunga pinjaman turun dari 9% menjadi 7%, dan 50% dana KUR 2018 diprioritaskan untuk sektor produktif sementara tahun lalu hanya 40%.

"Tantangan saat ini adalah sosialisasi yang belum maksimal kepada para penyalur dana KUR dan calon debitur, dan Kemenkop UKM menggandeng 20 pemerintah provinsi untuk mendukung sosialisasi dan pendampingan untuk mengakses KUR," katanya.

Dana KUR 2018 akan disalurkan oleh 15 bank umum dan swasta, 19 bank pembangunan daerah (BPD), empat lembaga keuangan nonbank dan dua koperasi. Penyalur KUR terbesar adalah Bank Rakyat Indonesia (BRI) hingga Rp79,7 triliun kemudian Bank Mandiri Rp14,56 triliun, dan Bank BNI Rp13,4 triliun.

Alokasi dana KUR sebesar Rp120 triliun disalurkan untuk KUR mikro Rp65,17 triliun bagi 3,8 juta debitur, KUR ritel Rp32,32 triliun bagi 217.000 debitur dan TKI Rp329,6 miliar bagi 22.663 debitur.
Jakarta (B2B) - Indonesian government allocates business capital loans to cooperatives and SME entrepreneurs through the people´s business credit or KUR for 2018 reached 120 trillion rupiah, the 9% interest rate in 2017 fell to 7% this year so it is expected to reach target of four million debtors across the country, according to senior officials.

It was stated by the Deputy Minister of Financing Yuana Sutyowati, Deputy Director of Mikroprudential Research Specialist of Commercial Banks of Indonesia´s Financial Services Authority, Mohammed Miftah; and Assistant Deputy of Financing for Insurance and Capital Market Insurance, Willem Pasaribu here on Thursday (January 18) on the discussion of 2018 Challenge of KUR Funding Distribution.´

Deputy Sutyowati said the KUR allocation increased from 106.6 trillion in 2017 to 120 trillion rupiah this year, but the 9% interest rate fell to 7%, and 50% of the 2018 business capital loan was prioritized to the productive sector while last year only 40%.

"The current challenge is the lack of socialization to banks, non-bank financial institutions and the public, and central government invites 20 provincial governments to support the KUR socialization," she said.

KUR 2018 funds will be distributed by 15 commercial and private banks, 19 regional development banks, four nonbank financial institutions and two cooperatives. BRI Bank distributes loan of 79.7 trillion rupiah and then Mandiri Bank 14.56 trillion rupiah, and BNI Bank 13.4 trillion rupiah.

Allocation of micro entrepreneurs 65.17 trillion rupiah to 3.8 million debtors, retail 32.32 trillion rupiah to 217,000 debtors, and 329.6 billion rupiah for 22,663 debtors of TKI.