Dunia Sorot Aksi Memanah Presiden Jokowi Songsong Asian Games 2018
Indonesia Begins Countdown to 2018 Asian Games
Editor : Ismail Gani
Translator : Novita Cahyadi

PUBLISHED: Sabtu, 19 Agustus 2017 , 23:20:00 WIB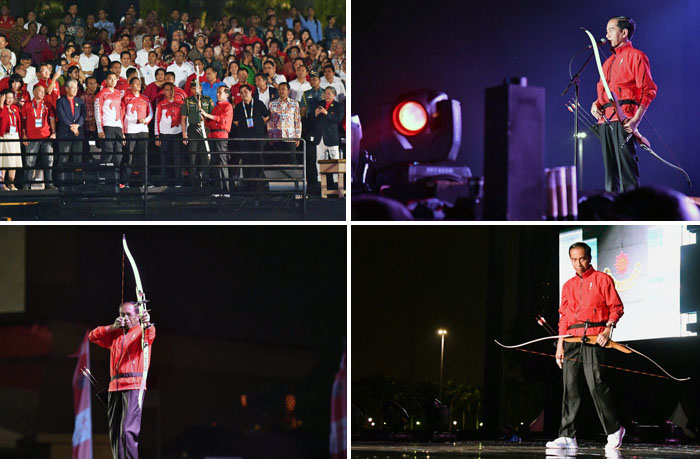 Presiden Joko Widodo menembakkan panah untuk menyalakan lampu laser dan dua jam digital yang akan menghitung mundur hingga upacara pembukaan tepat dalam satu tahun ke depan (Foto2: Twitter)
INDONESIA pada Jumat meluncurkan penghitungan mundur satu tahun untuk menjadi tuan rumah Asian Games 2018 dengan kembang api dan tarian tradisional setelah Jakarta dan Palembang menyatakan siap menjadi tuan rumah penyelenggara pesta olahraga Asia.

Ribuan orang memadati monumen nasional, atau Monas, di Jakarta Pusat untuk menyaksikan pesta kembang api, dan hiburan.

Presiden Joko Widodo menembakkan panah untuk menyalakan lampu laser dan dua jam digital yang akan menghitung mundur hingga upacara pembukaan tepat dalam satu tahun ke depan.

Jakarta dan Palembang, di Sumatera Selatan, akan menampung sekitar 10.000 atlet dari 45 negara, berkompetisi di 39 cabang olahraga mulai 18 Agustus hingga 2 September 2018.

Indonesia terakhir menyelenggarakan Asian Games pada 1962 di Jakarta, dan bagi banyak orang Indonesia, pesta olahraga tersebut akan menjadi kesempatan untuk menampilkan kesuksesan olahraga dan ekonomi Indonesia.

Indonesia saat ini terus melakukan pengembangan infrastruktur dan sarana olahraga untuk mendukung kelancaran Asiian Games.

Indonesia menghadapi perlombaan melawan waktu untuk mempersiapkan Asian Games ke-18 setelah tuan rumah Vietnam mengundurkan diri pada 2014 karena masalah finansial, karena Vietnam hanya memiliki waktu empat tahun untuk mempersiapkan diri.

Setelah Dewan Olimpiade Asia (OCA) mengunjungi Indonesia pada Maret, OCA mengingatkan Indonesia tentang tantangan besar, untuk meningkatkan persiapan menjelang Asian Games 2018 seperti dikutip AFP yang dilansir MailOnline.
INDONESIA on Friday launched the one-year countdown to hosting the 2018 Asian Games with fireworks and a traditional dance as it sought to display to the region it was up to hosting the tournament.

Thousands of people packed around the national monument, or Monas, in central Jakarta to watch a light show and performances by musicians and entertainers.

President Joko Widodo shot a bow and arrow to set off laser lights and two digital clocks that will count down to the opening ceremony in exactly one year.

Jakarta and Palembang, on the island of Sumatra, will host around 10,000 athletes from 45 countries, competing in 39 sports from August 18 to September 2, 2018.

Indonesia last hosted the Asian Games in 1962 in Jakarta, and for many Indonesians the Games will be a chance to showcase the country's sporting and economic success.

But questions have been raised about how ready the country will be.

Indonesia has faced a race against time to prepare for the 18th Asian Games after original hosts Vietnam withdrew in 2014 due to financial problems, meaning the country has only had four years to prepare instead of the usual six.

When the Olympic Council of Asia (OCA) visited Indonesia in March, it warned the country it faced huge challenges, raising concerns about a lack of coordination.