Revisi Permenkeu 75/2011, LPDB KUMKM Berpeluang Biayai Langsung UMKM
Indonesia`s Fund Management for SMEs Intends to Support Islamic Financing scheme
Reporter : Gusmiati Waris
Editor : Cahyani Harzi
Translator : Dhelia Gani

PUBLISHED: Rabu, 23 Mei 2018 , 23:24:00 WIB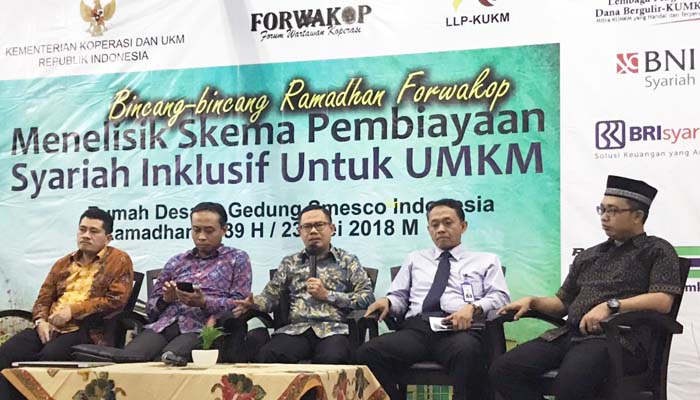 Bincang-bincang Ramadan dengan Forwakop tentang ´Menelisik Skema Pembiayaan Syariah Inklusif Untuk UMKM´ menghadirkan Direktur Pembiayaan Syariah LPDB-KUMKM Jaenal Aripin (Foto: Humas LPDB-KUMKM)
Jakarta (B2B) - Lembaga Pengelola Dana Bergulir - LPDB KUMKM dapat langsung membiayai UMKM merujuk pada Peraturan Menteri Keuangan No 75/2011 (Permenkeu) sehingga dapat menerapkan skema pembiayaan syariah langsung ke UMKM, karena selama ini 80% masih akad jual beli atau murabahah untuk memasarkan produknya ke sektor riil.

Hal itu mengemuka dari bincang-bincang Ramadan dengan Forwakop tentang 'Menelisik Skema Pembiayaan Syariah Inklusif Untuk UMKM' di Jakarta, Rabu (23/5), menghadirkan pembicara Direktur Pembiayaan Syariah LPDB-KUMKM Jaenal Aripin; Group Head Mikro Banking BRI Syariah, Cahyo Wisnu Prabowo; Direktur Utama Lembaga Layanan Pemasaran (LLP) KUKM Emilia Suhaimi; dan Kepala Divisi Pemasaran PT Jamkrindo Syariah Iwan Hermawan.

"Selama ini kita hanya bisa membiayai skema pembiayaan untuk lembaga keuangan bukan bank atau LKBB, koperasi simpan pinjam atau KSP Pembiayaan Syariah, dan sebagainya belum bisa langsung ke UMKM. Sekarang sedang tahap finalisasi perubahan Permenkeu No 75/2011," kata Jaenal Aripin.

Apabila Permenku sudah diubah maka LPDB dapat menerapkan skema pembiayaan syariah langsung ke UMKM. "Karena, 52% proposal pengajuan dana bergulir yang masuk ke LPDB ingin dengan pola pembiayaan syariah. Artinya, ada fenomena kesadaran meningkat akan manfaat pola pembiayaan syariah," katanya.

Dalam revisi Permenkeu No 75/2011 maka LPDHB Syariah juga dapat menyokong skema NawaCita untuk sektor unggulan yakni pertanian, perkebunan, perikanan dengan special rate sekitar 4,5% per tahun.

Perbankan Syariah
Cahyo WP mengajak banyak pihak untuk terus mengembangkan ekonomi dan perbankan syariah di Indonesia. Memang, selama ini 80% masih akad jual beli atau murabahah namun ke depan akan ada pola akad lain selain murabahah.

"Ketika bank lain belum optimal menggarap sektor pertanian, perkebunan, dan perikanan, Bank BRI Syariah akan melakukan penetrasi kesana. BRI juga kerjasama dengan Badan Ekonomi Kreatif untuk menggarap UMKM potensial di seluruh Indonesia," katanya.

Iwan Hermawan menekankan bahwa kehadiran perusahaan penjaminan itu bertujuan agar bank mau membiayai sektor UMKM. "Dalam proses KUR, misalnya, skema penjaminan sudah otomatis ada dalam sistem di bank penyalur KUR tersebut. Yang jelas, kami siap memback-up semua lembaga keuangan yang akan membiayai UMKM. Kita sifatnya follow the bank."

Emilia Suhaimi berharap acara ini dapat membantu untuk menjawab permasalahan dalam skema pemberian pembiayaan secara inklusif kepada UMKM melalui berbagai produk-produknya sesuai akad dan masuk secara langsung ke sektor riil.

"Selama ini, 32% atau 76 juta penduduk sama sekali belum tersentuh institusi keuangan formal. Selain itu, 60%-70% UMKM juga belum memiliki akses terhadap perbankan," kata Emilia.
Jakarta (B2B) - The Indonesia´s fund management institutions lending to cooperatives and SMEs or the LPDB-KUMKM can finance SMEs directly refer to the Finance Minister Regulation or Permenkeu Number 75/2011 so as to apply Islamic financing scheme directly to SMEs.

It was revealed from a seminar on sharia financing scheme here, Wednesday (May 23) with the keynote speaker of LPDB-KUMKM Shariah Finance Director Jaenal Aripin; Group Head Micro Banking BRI Syariah, Cahyo Wisnu Prabowo; Director of Marketing Service Institute of SME Emilia Suhaimi; and Head of Marketing Division of Jamkrindo Syariah Corp., Iwan Hermawan.

"So far we can only finance non-bank financial institutions or LKBB, savings and credit cooperatives or KSP Sharia Financing, and can not directly to SMEs. Now the final stage of the revision of Permenkeu Number 75/2011," Mr Aripin said.

If the Permenkeu has been revised then LPDB can apply a direct sharia financing scheme to SMEs. "52% of financing proposals to LPDB want to sharia financing pattern. "The phenomenon of increased awareness of Islamic financing," he said.

In the revision of Permenkeu No 75/2011, shariah financing can also support NawaCita scheme for leading sector especially agriculture, plantation, fishery with special rate about 4.5% per year.

Syariah Banking
Cahyo WP invites many parties to continue to develop economy and sharia banking in Indonesia. Indeed, during this 80% still murabaha but in the future there will be a pattern other than murabaha.

"When other banks are not yet optimally working on agriculture, plantation and fishery sectors, Bank BRI Syariah will penetrate there. BRI is also working with the Creative Economy to work on potential SMEs across the country," he said.

Iwan Hermawan considers the guarantee company to be established so that the bank wants to finance SMEs. "In the business credit of the people or KUR, for example, the guarantee scheme is already automatic in the banking system of KUR providers. We are ready to back up all financial institutions that will finance SMEs or follow the bank."

Emilia Suhaimi hopes that seminar activities can help to answer the problem of inclusive financing scheme to SMEs according to government and banking regulation in Indonesia.

"So far, 32% or 76 million of Indonesia's population has not reached the banking system. While 60% to 70% of SMEs can not access to banking," Mrs Suhaimi said.