Kemarau Rawan Kebakaran, Wagub DKI Ingatkan Warga untuk Waspada
Jakarta Vice Governor Remind Fire Threat during Dry Season
Reporter : Roni Said
Editor : Cahyani Harzi
Translator : Dhelia Gani

PUBLISHED: Jum'at, 04 September 2015 , 23:26:01 WIB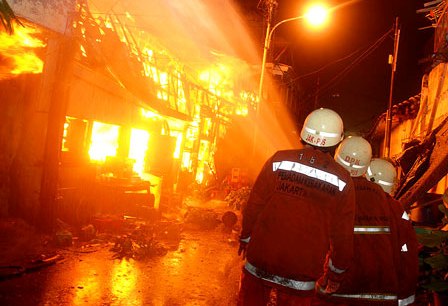 Foto: istimewa
Jakarta (B2B) - Musim kemarau panjang saat ini tergolong rawan kebakaran di Jakarta, Wakil Gubernur DKI Djarot Saiful Hidayat mengingatkan seluruh warga khususnya di kawasan padat penduduk agar mengantisipasi bahaya kebakaran yang bisa terjadi setiap saat.

Dia mengimbau warga lebih sering memeriksa instalasi listrik di rumahnya serta secara berkala mengecek tabung dan kompor gas, larena listrik dan tabung gas menempati posisi tertinggi penyebab kebakaran di Jakarta.

"Kemarau itu identik dengan kebakaran, makanya harus waspada. Setiap Jumat saya selalu sampaikan di masjid agar masyarakat berhati-hati, ini musim kemarau lho," katanya di Jakarta pada Jumat (4/9).

Dia mengingatkan selama musim kemarau, pasokan air di sungai maupun kali di Jakarta sangat berkurang, dan hal ini menjadi kendala petugas pemadam kebakaran saat mengatasi kebakaran.

"Kalau petugas pemadam kebakaran kita selalu siap tapi sekarang musim kemarau, belum lagi jalan macet," kata Djarot.
Jakarta (B2B) - Jakarta Vice Governor, Djarot Saiful Hidayat reminds the Indonesia capital citizens, especially in densely populated area to anticipate fire during dry season.

Mr Hidayat appealed the citizen to frequently checking the electricity installation, gas cylinder, and stove, because those things are the biggest threat in the capital.

"Dry season is identical with fire, I suggest to anticipate it well," he said here on Friday (9/4).

He added that the fire fighter officer also has difficulty getting water source in dry season since the water in river decreases.

"Our personnel is always ready because we face dry season," he added.