Rp100 Juta Bantuan Modal Santripreneur dari LPDB KUMKM via Koperasi Pesantren
Indonesian Govt Support Business Development in Islamic Boarding School
Reporter : Gusmiati Waris
Editor : Cahyani Harzi
Translator : Dhelia Gani

PUBLISHED: Minggu, 05 November 2017 , 23:35:00 WIB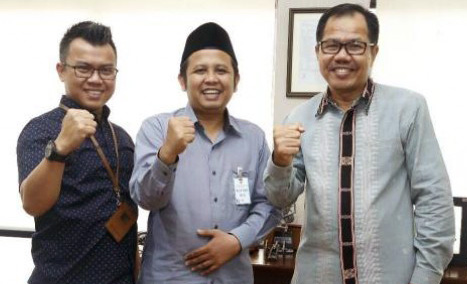 Direktur Utama LPDB Braman Setyo (kanan) dan inisiator dan pembina santripreneur Indonesia, KH Ahmad Sugeng Utomo atau Gus Ut (tengah) Foto: istimewa
Jakarta (B2B) - Pemerintah RI melalui Lembaga Pengelola Dana Bergulir (LPDB KUMKM) akan mendukung pengembangan usaha santri pengusaha disingkat santripreneur, dengan bantuan penguatan modal maksimal Rp100 juta didukung tenaga pendamping, sehingga bantuan modal dapat digunakan secara maksimal untuk pengembangan usahanya.

"LPDB akan berpartisipasi mendukung pengembangan santriprenuer. Tentu mereka akan kita berikan semacam bantuan modal, bukan hadiah, itu sebagai bentuk penghargaan dan kemudahan mengakses dana bergulir untuk koperasi dan UKM," kata Direktur Utama LPDB KUMKM Braman Setyo di Jakarta, belum lama ini, usai menerima kunjungan inisiator dan pembina santripreneur Indonesia, KH Ahmad Sugeng Utomo atau Gus Ut.

Braman mengatakan bantuan modal tersebut akan disalurkan melalui koperasi santri, atau koperasi pondok pesantren, kemudian koperasi yang akan menyalurkan kepada santripreneur yang ada di pesantren-pesantren. Kendati begitu, LPDB juga bisa memberikan bantuan modal langsung kepada santripreneur yang usahanya sudah berkembang.

"Saya kira ini sangat membantu para pimpinan pondok pesantren bahwa santri tidak hanya mendalami ilmu agama, tapi juga dapat bermanfaat bagi pengembangan usaha," katanya.

Gus Ut mengatakan potensi tumbuhnya santripreneur dari 33.000 pesantren di seluruh Indonesia sangatlah besar, sehingga mendorongnya mengembangkan Sekolah Bisnis Santripreneur, untuk membina anak muda khususnya para santri yang berniat mengembangkan potensi diri menjadi pengusaha.
Jakarta (B2B) - The Indonesia Government through the Capital Credit Management Agency for Cooperatives and SMEs called the LPDB KUMKM, will support business development in Islamic boarding school, or pesantren, by provide a maximum capital loan of 100 million rupiah plus a companion, so that capital credit is used maximally for business development by students or santripreneur.

"The LPDB will participate to support development of santriprenuer, of course we will give capital loans, not grants, as easy access to credit loans for cooperatives and SMEs," said President Director of LPDB KUMKM, Braman Setyo here recently, after met with the santripreneur initiator, KH Ahmad Sugeng Utomo or Gus Ut.

Mr. Setyo said that the capital credit will be channeled through cooperatives in pesantren, then cooperatives that will distribute to santripreneur. Nevertheless, LPDB also provides capital credit to santripreneur whose business has been developed.

"I think this is very helpful to the boarding school leaders that students also understand business activities for the benefit of boarding schools and surrounding communities," he said.

KH Ahmad Sugeng Utomo said that the potential of santripreneur of 33,000 pesantrens across the country is very large, thus encouraging him to develop santripreneur business school, to encourage students developing their ability and potential become entrepreneurs.