Presiden Jokowi Instruksikan Divestasi Freeport Rampung Akhir April 2018
Indonesia President Wants to Wrap Up Freeport Talks by End-April
Editor : Ismail Gani
Translator : Novita Cahyadi

PUBLISHED: Selasa, 06 Maret 2018 , 23:37:00 WIB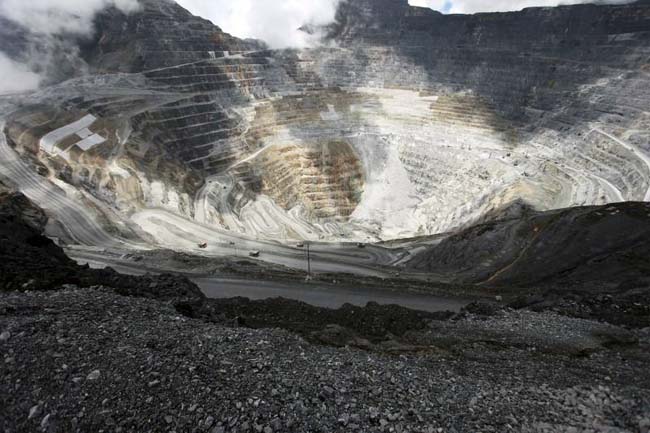 Foto: Reuters
PRESIDEN RI Joko Widodo menginstruksikan pemerintahannya untuk menyelesaikan negosiasi mengenai pembelian saham mayoritas di unit lokal Freeport-McMoRan Inc pada akhir April, kata seorang menteri kabinet Senin malam.

"Itu harus diselesaikan sebelum akhir April, valuasi dan sebagainya," kata Menteri Energi Ignasius Jonan kepada wartawan, mengacu pada arahan dari Presiden Widodo.

Pemerintah harus menunggu sampai kontrak pertambangan Freeport berakhir pada 2021 dan kemudian mengambil alih kepemilikan tambang tembaga Grasberg, kata Jonan.

"Freeport masih akan pergi ke arbitrase," katanya, sementara pemerintah juga perlu membayar kembali Freeport atas semua investasinya di tambang tersebut.

Sebagai gantinya, pemerintah, melalui sebuah perusahaan milik negara, berencana untuk membeli saham mayoritas di PT Freeport Indonesia dengan harga yang wajar, termasuk pembelian saham Rio Tinto di tambang Grasberg yang besar dan mengubahnya menjadi saham, katanya. .

Juru bicara Freeport Indonesia Riza Pratama mengatakan kepada Reuters melalui pesan singkat bahwa pembicaraan antar pihak telah bersifat konstruktif. "Mudah-mudahan kita akan segera mencapai kesepakatan," katanya.

Juru bicara Rio Tinto yang berbasis di Melbourne menolak untuk mengomentari masalah tersebut.

Freeport pada Januari mengatakan bahwa pihaknya mendekati kesepakatan perizinan dengan Indonesia untuk Grasberg, tambang tembaga terbesar kedua di dunia, namun penambang tersebut memperingatkan bahwa hal itu tidak melanggar kesepakatan formal apapun.

CEO Freeport Richard Adkerson mengatakan pada Oktober perusahaan tersebut ingin menghindari arbitrase dalam menangani dorongan Grasberg terhadap Indonesia. Pembicaraan dengan Freeport mengenai hak atas Grasberg terhambat pada Februari 2017.

Rio Tinto memiliki 40 persen saham di kontrak Grasberg Freeport Indonesia, yang memberikan hak tersebut 40 persen saham dari semua produksi setelah 2022. Rio telah mengadakan pembicaraan dengan Indonesia tentang kemungkinan keluarnya usaha tersebut.

Ada beberapa tanda kemajuan sejak Agustus lalu, ketika Freeport berjanji untuk melakukan divestasi 51 persen saham di Grasberg kepada pemerintah Indonesia dengan imbalan hak operasi jangka panjang. Pemerintah saat ini memiliki saham kurang dari 10 persen di Freeport Indonesia.

Penilaian saham Indonesia yang ingin diakuisisi telah menjadi titik akhir dalam negosiasi seperti dilansir MailOnline.
INDONESIA President Joko Widodo has instructed his administration to complete negotiations over the purchase of a majority stake in Freeport-McMoRan Inc's local unit by the end of April, a cabinet minister said late on Monday.

"It should be wrapped up before the end of April, valuation and all," Energy Minister Ignasius Jonan told reporters, referring to directions from President Widodo.

Indonesia cannot simply wait until Freeport's current mining contract expires in 2021 and then take ownership of its Grasberg copper mine, Jonan said.

"Freeport would still go to arbitration," he said, while the government would also need to repay Freeport for all of its investments in the mine.

Instead, the government, through a state-owned company, plans to buy a majority stake in PT Freeport Indonesia at "a reasonable price", including the purchase of Rio Tinto's participating interest in the massive Grasberg mine and converting it into shares, he said.

Freeport Indonesia spokesman Riza Pratama told Reuters by text message that talks between the sides had been constructive. "Hopefully we'll reach an agreement soon," he said.

A Melbourne-based spokesman for Rio Tinto declined to comment on the matter.

Freeport in January said it was edging closer to a permit deal with Indonesia for Grasberg, the world's second-biggest copper mine, but the miner cautioned it had not struck any formal agreements.

Freeport CEO Richard Adkerson said in October the company wanted to avoid arbitration in dealing with Indonesia's push for Grasberg ownership. Talks with Freeport over rights to Grasberg broke down in February 2017.

Rio has a 40 percent interest in Freeport Indonesia's Grasberg contract, which entitles it to a 40 percent share of all production after 2022. Rio has held talks with Indonesia about a possible exit to the venture.

There have been few signs of progress since last August, when Freeport promised to divest a 51-percent stake in Grasberg to the Indonesian government in exchange for long-term operating rights. The government currently owns a less-than-10 percent stake in Freeport Indonesia.

The valuation of the stake Indonesia plans to acquire has been a sticking point in negotiations.