Pengungsi Rohingya yang Terdampar Diselamatkan oleh Nelayan Indonesia
Stranded Rohingya Rescued by Indonesian Fishermen
Editor : Ismail Gani
Translator : Novita Cahyadi

PUBLISHED: Jum'at, 06 April 2018 , 23:52:00 WIB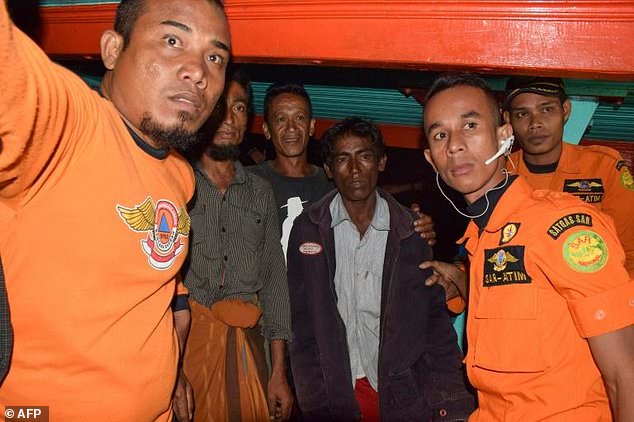 Foto: AFP/MailOnline
LIMA WARGA yang terdampar di laut selama hampir tiga minggu diselamatkan oleh nelayan Indonesia, namun beberapa lainnya tewas akibat dihantam badai, kata para pejabat, Jumat, dan para pejabat PBB mengatakan bahwa mereka ´khawatir´ pada nasib pengungsi yang tewas.

Berita tentang tindak penyelamatan itu berlangsung beberapa hari setelah berlabuh di Malaysia dengan kapal lain yang membawa puluhan warga minoritas Muslim yang terusir dari Myanmar.

Para pengungsi tersebut berusia 28 dan 33 tahun, seorang wanita berusia 20 tahun, seorang gadis usia 15 tahun, dan seorang bocah laki-laki usia delapan tahun ditemukan pada Senin di sebuah perahu kecil di lepas pantai Thailand dan Myanmar, sekitar 325 kilometer dari Provinsi Nangroe Aceh Darussalam (NAD).

Para nelayan membawa mereka kembali ke Aceh di Sumatra dan rombongan tiba Jumat pagi.

"Mereka segera dibawa ke rumah sakit setempat untuk perawatan karena kondisi mereka melemah," kata Abdul Musafir, kepala tim SAR Aceh Timur, kepada AFP.

Mereka dibebaskan Jumat sore dan harus menjalani pemeriksaan oleh petugas imigrasi untuk ditanyai, kata Musafir.

Para pengungsi itu mengaku mereka melakukan perjalanan melalui laut dalam perahu yang mengangkut puluhan pengungsi Rohingya lainnya tetapi dalam perahu terpisah, menurut pihak berwenang.

Polisi Aceh Timur mengatakan, lima orang yang diselamatkan terdampar di laut selama sekitar 20 hari sementara lima lainnya mati kelaparan dan mayat mereka dibuang ke laut.

Badan pengungsi PBB, UNHCR, mengatakan mengirim staf ke Aceh untuk memberikan bantuan kepada para pengungsi dan pihak berwenang Indonesia.

"UNHCR khawatir pada laporan bahwa lima atau lebih pengungsi Rohingya mungkin meninggal di laut sebelum kapal mereka, membawa lima orang yang selamat, diselamatkan," katanya dalam sebuah pernyataan.

Badan itu mengatakan pihaknya berusaha melakukan kontak dengan puluhan orang Rohingya yang mendarat di Malaysia pekan ini, dan menunjuk pada "laporan yang belum dikonfirmasi" yang menyarankan bahwa kapal-kapal kecil lainnya yang membawa pengungsi dari Myanmar mungkin berada di laut.

"Kami prihatin atas keselamatan mereka dan berharap mereka akan diselamatkan, dan diizinkan untuk turun ke tempat aman terdekat," tambah UNHCR.

Sudah langka bagi migran Rohingya untuk mencoba rute laut selatan karena otoritas Thailand menekan jaringan perdagangan regional pada 2015, memicu krisis di Asia Tenggara karena sejumlah besar orang ditinggalkan di laut.

Namun ada kekhawatiran para migran yang putus asa mungkin mulai mengambil ke laut lepas lagi setelah Myanmar yang mayoritas beragama Buddha melancarkan tindakan keras tahun lalu yang memaksa sekitar 700.000 anggota minoritas Muslim untuk melarikan diri ke Bangladesh.

Pada 2015 ratusan orang Rohingya mendarat di Aceh, di mana mereka disambut di provinsi Islam konservatif yang kukuh.

Indonesia cenderung menerima pencari suaka tetapi mereka biasanya dilarang bekerja dan sering menghabiskan waktu bertahun-tahun di pusat imigrasi seperti dilansir MailOnline.
FIVE ROHINGYA stranded at sea for almost three weeks have been rescued by Indonesian fishermen but several others died during the harrowing ordeal, officials said Friday, with the UN refugee agency saying it was "alarmed" at the deaths.

News of the rescue comes several days after the arrival in Malaysia of another boat carrying dozens of members of the persecuted Muslim minority from Myanmar.

The group of two men, aged 28 and 33, a 20-year-old woman, a 15-year-old girl and an eight-year old boy were spotted Monday in a small boat off the coast of southern Thailand and Myanmar, some 325 kilometres (176 miles) from Aceh province in Muslim-majority Indonesia.

The fishermen took them back to Aceh on Sumatra island and the group arrived early Friday.

"They were immediately brought to a local hospital for treatment as they were weak," Abdul Musafir, head of the East Aceh search and rescue team, told AFP.

They were released Friday afternoon into the custody of immigration officials for questioning, Musafir said.

The group said they had been travelling with some two dozen other Rohingya but got separated, according to authorities.

East Aceh police said the rescued five were stranded at sea for about 20 days while five others had starved to death and their bodies were thrown overboard.

The UN refugee agency, UNHCR, said it was sending staff to Aceh to provide assistance to the refugees and Indonesian authorities.

"UNHCR is alarmed at reports that five or more Rohingya refugees may have died at sea before their vessel, carrying five survivors, was rescued," it said in a statement.

The agency said it was trying to make contact with the dozens of Rohingya who came ashore in Malaysia this week, and pointed to "unconfirmed reports" that suggested other small vessels carrying refugees from Myanmar may be at sea.

"We are concerned for their safety and hope they will be rescued and allowed to disembark to the nearest place of safety," UNHCR added.

It has been rare for Rohingya migrants to attempt the sea routes south since Thai authorities clamped down on regional trafficking networks in 2015, sparking a crisis across Southeast Asia as large numbers were abandoned at sea.

But there have been concerns desperate migrants might start taking to the high seas again after mainly Buddhist Myanmar launched a new crackdown last year that forced about 700,000 members of the Muslim minority to flee to Bangladesh.

In 2015 hundreds of Rohingya came ashore in Aceh, where they were welcomed in the staunchly conservative Islamic province.

Indonesia tends to accept asylum seekers but they are usually barred from working and often spend years in immigration centres.