Polisi Tembak 2 Tersangka Teroris, Tangkap 9 Lainnya Disorot Dunia
Indonesia Police Kill 2 Suspected Militants, Arrest 9 Others
Editor : Ismail Gani
Translator : Novita Cahyadi

PUBLISHED: Kamis, 02 November 2017 , 23:05:00 WIB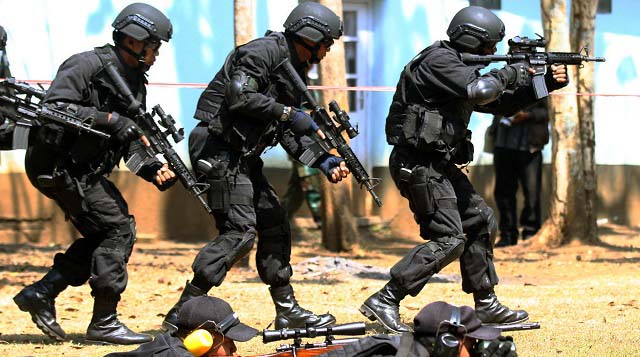 Foto: istimewa
POLISI di Nusa Tenggara Barat (NTB) menembak mati dua tersangka teroris dan menangkap sembilan lainnya yang diyakini terlibat dalam penembakan dua anggota polisi usai mengantar anak-anak mereka ke sekolah.

Kadiv Humas Polri, Irjen Setyo Wasisto pada Kamis mengatakan Densus 88 Antiteror menembak mati Muhammad Amir dan seorang pria lain yang hanya diidentifikasi sebagai Yaman pada Senin di Kabupaten Bima, NTB. Dia mengatakan sembilan lainnya ditangkap dalam penggerebekan di wilayah yang sama pada Rabu.

Dia mengatakan bahwa Amir diyakini telah menembak dan melukai seorang polisi pada 11 September di luar sebuah sekolah di Bima ketika anggota polisi tersebut baru saja mengantarkan anaknya sekolah, menurunkan anaknya, dan Yaman diduga mengemudi sepeda motor yang ditumpangi Amir.

Setyo Warsito mengatakan salah satu dari orang-orang yang ditangkap tersebut diyakini melukai seorang petugas polisi lain yang baru saja mengantarkan anaknya ke sekolah lain.

Warsito mengatakan bahwa pria tersebut adalah anggota kelompok militan bernama Jemaah Anshorut Tauhid, sel sempalan jaringan Asia Tenggara dari Jemaah Islamiyah. Polisi menyita dua senjata rakitan dan sejumlah amunisi dari mereka.

Indonesia, negara berpenduduk Muslim terbesar di dunia, telah memerangi terorisme sejak 2002, ketika teroris yang terkait dengan Jemaah Islamiyah mulai menyerang klub malam, restoran dan kedutaan lainnya. Serangan di klub malam di Bali pada 2002 menewaskan 202 orang, sebagian besar wisatawan mancanegara.

Namun, dalam beberapa tahun terakhir, aksi teror yang lebih kecil dan tidak mematikan telah menargetkan pemerintah, terutama anggota polisi dan pasukan anti-terorisme yang telah melakukan tindakan keras di mana ratusan tersangka militan telah dipenjara atau dibunuh.

Penangkapan tersebut terjadi seminggu setelah polisi menangkap sembilan tersangka teroris di Sulawesi, Sumatra dan Jawa, termasuk seorang pembuat bom yang diduga lolos dari penangkapan selama lima tahun karena usaha yang gagal untuk membunuh gubernur Sulawesi Selatan seperti dikutip Associated Press yang dilansir MailOnline.
POLICE in eastern Indonesia killed two suspected militants and arrested nine others believed to have been involved in the shooting of two law enforcement officers who had just taken their children to school, an official said Thursday.

Police spokesman Setyo Warsito said the counterterrorism squad fatally shot Muhammad Amir and another man identified only as Yaman on Monday in Bima, a hilly district in East Nusa Tenggara province. He said the nine others were arrested in raids in the same area on Wednesday.

He said Amir is believed to have shot and wounded a policeman on Sept. 11 outside a school in Bima where he had just dropped off his child, and that Yaman allegedly drove the motorbike on which Amir was riding.

Warsito said one of the arrested men is believed to have wounded another police officer who had just delivered his child to another school.

Warsito said the men are members of militant group named Jemaah Anshorut Tauhid, a splinter cell of the Southeast Asian network Jemaah Islamiyah. Police seized two handmade guns and ammunitions from them.

Indonesia, the world's most populous Muslim nation, has been battling extremism since 2002, when militants linked to Jemaah Islamiyah began attacking Western nightclubs, restaurants and embassies. Attacks at nightclubs on the tourist island of Bali in 2002 killed 202 people, mostly foreign tourists.

However, in recent years, smaller and less deadly strikes have targeted government authorities, mainly police and anti-terrorism forces which have led a crackdown in which hundreds of suspected militants have been jailed or killed.

The arrests came a week after police arrested nine suspected militants on the islands of Sulawesi, Sumatra and Java, including an alleged bomb maker who had eluded capture for five years over a failed attempt to kill South Sulawesi's governor.