Negosiasi EFTA 8 Tahun, CPO Indonesia Tembus Pasar 3 Negara Eropa
Indonesia, EFTA Sign Long Delayed Free Trade Deal
Editor : Ismail Gani
Translator : Novita Cahyadi

PUBLISHED: Minggu, 16 Desember 2018 , 23:57:00 WIB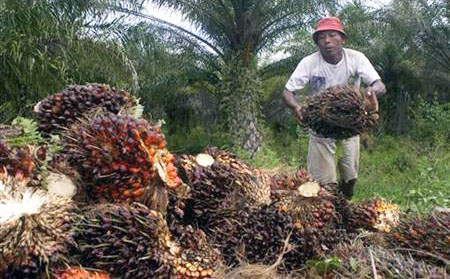 Foto: Reuters
INDONESIA pada Minggu menandatangani perjanjian dagang dengan Asosiasi Perdagangan Bebas Eropa (EFTA) yang bertujuan meningkatkan perdagangan dan investasi, mengakhiri negosiasi panjang ampir delapan tahun.
Berdasarkan kesepakatan itu, tarif dan hambatan non-tarif akan dihilangkan untuk ribuan produk yang diperdagangkan antara Indonesia dan negara-negara anggota EFTA - Swiss, Liechtenstein, Norwegia dan Islandia, menurut pernyataan resmi pemerintah.
Di antara produk tersebut, minyak sawit Indonesia akan mendapatkan akses pasar penuh di Islandia dan Norwegia, dengan pengecualian produk sawit untuk pakan ternak selain untuk ikan.
Swiss juga akan memberikan akses lebih mudah untuk minyak sawit, tetapi di bawah kuota tertentu, menurut Kedubes Swiss di Jakarta.
Menteri Perdagangan RI, Enggartiasto Lukita mengatakan diskusi tentang akses pasar untuk minyak kelapa sawit adalah pusat perhatian yang mengakibatkan negosiasi selama bertahun-tahun. Pembicaraan putaran pertama diadakan pada awal 2011.
"Mereka berusaha menahan peluang Indonesia," kata Lukita kepada wartawan setelah penandatanganan perjanjian.
"Saya katakan, kita telah pergi jauh. EFTA akan mendapat manfaat dari ini dan Indonesia juga. Jadi jika EFTA tidak membuka peluang untuk kita, mari kita lupakan saja ini," menambahkan bahwa dia mengancam akan kembali menghambat salmon Norwegia masuk ke Indonesia.
Anggota Dewan Federal Swiss Johann N. Schneider-Ammann mengatakan perjanjian itu didasarkan pada produksi minyak sawit yang berkelanjutan.
"Sejauh menyangkut minyak kelapa sawit, percayalah, kami melakukan diskusi intensif di Swiss juga dan kami menemukan solusi dengan mitra kami di sini di Indonesia, solusi untuk menyeimbangkan kepentingan dan untuk tetap pada saat yang sama sangat hormat sejauh masalah minyak sawit," katanya pada konferensi pers.
Produsen dan eksportir minyak sawit terbesar di dunia Indonesia sering mencoba meyakinkan pembeli bahwa minyak sawitnya diproduksi secara berkelanjutan.
Enggar pada Minggu mengulangi argumen pemerintah bahwa produksi minyak sawit membutuhkan lebih sedikit lahan daripada minyak nabati lainnya, membuatnya tidak adil untuk menyalahkan deforestasi di perkebunan sawit.
Greenpeace mengatakan lebih dari 74 juta hektar hutan hujan Indonesia - mewakili wilayah seluas dua kali ukuran Jerman - telah ditebang, dibakar atau didegradasi dalam setengah abad terakhir, kelompok lingkungan tersebut menuding pada industri minyak sawit, pulp dan kertas sebagai pelaku utama.
Produk ekspor utama Indonesia lainnya seperti ikan, kopi dan tekstil juga akan mendapatkan perlakuan istimewa berdasarkan kesepakatan, dengan imbalan akses yang lebih besar untuk produk utama negara-negara EFTA, seperti emas, obat-obatan dan produk susu.
Pada 2017, perdagangan Indonesia-EFTA bernilai $2,4 miliar, dengan Indonesia meraih surplus perdagangan sebesar US$212 juta. Negara-negara EFTA menempatkan US$621 juta investasi asing langsung ke Indonesia pada 2017, menurut catatan Indonesia seperti dikutip Reuters yang dilansir MailOnline.
INDONESIA on Sunday signed an economic agreement with the European Free Trade Association (EFTA) aimed at increasing trade and investment, concluding almost eight years of negotiations.
Under the deal, tariffs and non-tariff barriers would be eliminated for thousands of products traded between Indonesia and the EFTA countries - Switzerland, Liechtenstein, Norway and Iceland, according to government statements.
Among those products, Indonesian palm oil would get full market access in Iceland and Norway, with an exception of palm products for animal feed other than for fish, according to Jakarta´s statement.
Switzerland would also grant easier access for palm oil, but under certain quotas, its embassy in Jakarta said in a statement.
Enggartiasto Lukita, Indonesian Trade Minister, said discussion on market access for palm oil was the sticking point that dragged negotiations on for years. The first round of talks were held in early 2011.
"They held back our palm," Lukita told reporters after the signing of the agreement.
"I said, we´ve gone a long way. You will benefit from this and I too. So if you don´t open up for our palm, let´s just forget about this," adding that he had threatened to leave Norwegian salmon out of the deal.
Swiss Federal Councillor Johann N. Schneider-Ammann said the agreement was based on sustainable palm oil production.
"As far as palm oil is concerned, believe me, we had intensive discussions in Switzerland as well and we found a solution with our partners here in Indonesia, a solution to balance the interests and to stay at the same time very respectful as far as the palm oil concern," he said at a news conference.
The world´s top palm oil producer and exporter Indonesia has often tried to reassure buyers that its palm oil is produced sustainably.
Lukita on Sunday repeated the government´s argument that palm oil production requires less land than other vegetable oils, making it unfair to blame deforestation on palm plantations.
Greenpeace said more than 74 million hectares of Indonesian rainforest - representing an area twice the size of Germany - have been logged, burned or degraded in the last half century, which the group blamed on palm oil and pulp and paper industries.
Other main Indonesian export products such as fish, coffee and textiles would also get preferential treatment under the deal, in exchange for greater access for the main products of the EFTA countries, such as gold, medicines and dairy products.
In 2017, Indonesia-EFTA trade was worth $2.4 billion, with Indonesia having a trade surplus of $212 million. EFTA countries put $621 million of foreign direct investment into Indonesia in 2017, according to Indonesian records.