Batik Pamekasan, Sila Butik Populerkan Warisan Adiwastra Madura
East Java SMEs Entrepreneurs Popularize Madura Batik as the Indonesian Heritage
Reporter : Gusmiati Waris
Editor : Cahyani Harzi
Translator : Dhelia Gani

PUBLISHED: Sabtu, 12 Oktober 2019 , 23:09:00 WIB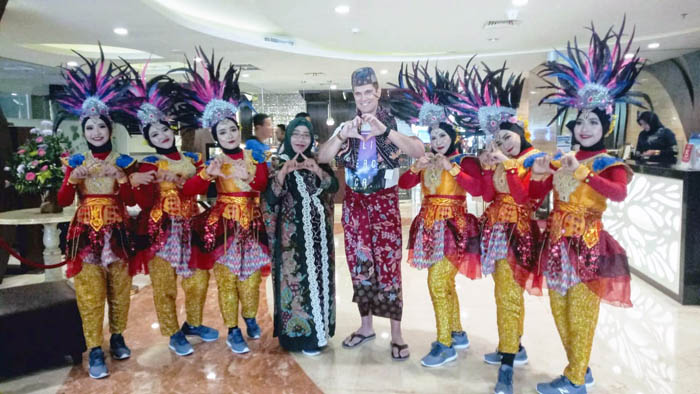 KABARET A LA MADURA: Ida Rizal pemilik Sila Butik Batik Collection [ke-4 kiri] bersama modelnya mendukung kegiatan Meet And Greet Community Gathering Batik Lover di Surabaya, Jatim [Foto: Humas Kemenkop UKM]
Surabaya, Jatim [B2B] - Pelaku UMKM Sila Butik Batik Collection mempopulerkan batik Pamekasan asal Madura yang unik ke publik yang lebih luas bersamaan dengan rangkaian perayaan Hari Batik Nasional 2019 mengusung tema 'Batik Pamekasan Paradise Wonderful of Indonesian Heritage' sekaligus menjadi brand ambassador setelah digandeng oleh Best Western Papilio Hotel Surabaya dalam ajang Meet And Greet Community Gathering Batik Lover di Surabaya, Jatim, belum lama ini.
Siti Hamidah atau biasa dipanggil Ida Rizal pemilik Sila Butik Batik Collection berharap gathering batik lover itu menjadi momentum sejarah, untuk meningkatkan minat dan loyalitas masyarakat untuk mencintai, mengoleksi, dan memakai batik sebagai busana dalam setiap aktifitas keseharian.
Pelaku usaha yang akrab disapa Non Sila itu menyajikan rancangan koleksi batik tulis Pamekasan melalui fashion show dengan casual look style, yang selama ini banyak diminati dan dipesan pengunjung untuk menjadi pilihan seragam instansi/organisasi, koleksi pribadi maupun untuk dipakai 'ngantor' sehari-hari.
Ketua Dekranasda Jatim Arumi Bachsin sekaligus ikon dan ambassador batik mengapresiasi upaya mempromosikan produk UKM terutama batik sebagai warisan budaya luhur bangsa Indonesia yang mendunia.
"Upaya melestarikan batik sebagai warisan adiwastra Nusantara harus dilakukan semua lapisan masyarakat, serta menjadi kebijakan pemerintah pusat dan daerah, terintegrasi dengan upaya mensejahterakan para perajin kecil di seluruh Indonesia," kata Arumi Bachsin, istri Wakil Gubernur Jatim, Emil Dardak.
Puncak pagelaran fashion show batik day celebration menampilkan gaun malam yang glamor yang dipadu headpiece bertema ayam bekisar Madura karya tim kreatif Cak Herdy Seset Art.
Dengan Tagline "More Than Just Batik Wear" Sila Butik Batik Collection sudah memasarkan batik tulis Madura ke 27 negara, bukan saja dalam bentuk komoditas berupa kain batik namun juga busana, aneka kerajinan olahan, perca batik menjadi craft dan aksesoris cantik seperti tas, sepatu/sandal, bros, kalung, anting dan hiasan kepala seperti kopyah, topi pantai, aneka headpiece, dan bandana yang bisa dipesan satu paket dengan busananya.
Pengunjung disuguhi penampilan aneka trik dan kreasi tutorial mengenakan kain batik yang berpadu cantik dengan make-up "Beauty Look Batik Style" yang dipersembahkan Venus Cosmetic dari Kalbe Farma sebagai co sponsor kosmetik terpercaya untuk kecantikan dan kesehatan kulit wanita Indonesia.
Acara ini merupakan rangkaian road show 3 kota perayaan hari batik nasional mulai dari mulai 2 - 20 Oktober 2019. Sila Butik Batik juga menggelar Bazaar Batik Exhibition di Smesco Jakarta, Pamekasan Madura, dan Surabaya.
Surabaya of East Java [B2B] - Sila Butik Batik Collection, UKM entrepreneurs from the province of East Java popularized Pamekasan batik from Madura in a series of commemorations of Indonesian Batik Day 2019 presented the theme of Batik Pamekasan Paradise Wonderful of Indonesian Heritage in Surabaya, the provincial capital of East Java.