Ekspor Indonesia ke Arab Saudi Masih di Bawah Thailand dan Vietnam
Indonesian Export Share to Saudi Monarch are Still Under Thailand and Vietnam
Reporter : Gatot Priyantono
Editor : Cahyani Harzi
Translator : Dhelia Gani

PUBLISHED: Senin, 06 Maret 2017 , 02:40:41 WIB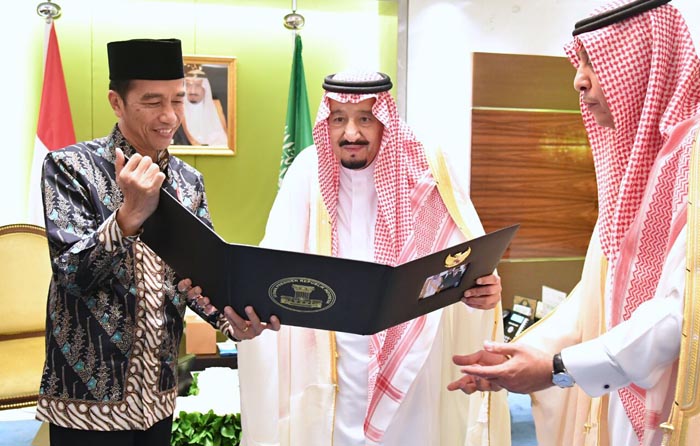 Pertemuan bilateral Presiden RI Joko Widodo dan Raja Salman diharapkan dapat meningkatkan nilai ekspor Indonesia ke Arab Saudi (Foto: Setkab)
Jakarta (B2B) - Lembaga penelitian independen Center of Reform on Economics (CORE) menyebutkan kerja sama perdagangan antara Indonesia dan Arab Saudi perlu diperluas guna mendorong ekspor produk-produk nasional yang penetrasinya ke pasar Arab Saudi masih terbatas.

Direktur Eksekutif CORE Indonesia Mohammad Faisal mengatakan, selama ini pangsa ekspor Indonesia di Arab Saudi masih minim dibandingkan negara-negara Asia lainnya, seperti China, Korea Selatan, Thailand dan Vietnam.

"Dari total impor Arab Saudi pada 2015, pangsa pasar ekspor Indonesia hanya sebesar 1,5%. Sementara Thailand 2,3% dan Vietnam 1,8%," kata Faisal melalui keterangan tertulis di di Jakarta pada Sabtu (4/3).

Menurut Faisal, ekspor terbesar Indonesia ke Arab Saudi selama ini adalah kendaraan bermotor, kayu olahan, minyak sawit dan produk ikan.

Selain mendorong peningkatan ekspor produk-produk tersebut, Indonesia juga perlu mendorong ekspor seperti alas kaki, tekstil dan pakaian jadi, yang penetrasi pasarnya di Arab Saudi masih kecil.

Pasar untuk produk-produk tersebut di Arab Saudi berpotensi meningkat sejalan dengan rencana pemerintah Arab Saudi untuk meningkatkan kunjungan wisatawan umroh, yang saat ini hanya delapan juta menjadi 30 juta wisatawan per tahun.

CORE juga mencatat bahwa investasi Arab Saudi di Indonesia selama periode 2013-2016 masih relatif kecil dan lebih banyak pada sektor tersier, terutama sektor perdagangan dan reparasi dan sektor properti khususnya hotel dan restoran.

Nilai investasi asal Arab Saudi yang masuk ke Indonesia pada tahun 2016 hanya sebesar US$900 ribu atau hanya berada pada peringkat 57. Sementara investasi asal Singapura, Jepang, dan China masing-masing mencapai US$9 miliar, US$5,5 miliar dan US$2,75 miliar.
Jakarta (B2B) - Indonesian's NGO, the Center of Reform on Economics (CORE) as an independent research institute has highlighted the importance of expanding trade cooperation between Indonesia and Saudi Arabia to encourage the exports of national products to Saudi monarch market.

CORE Executive Director Mohammad Faisal remarked here on Saturday that Indonesias export share in Saudi Arabia is still minimal as compared to that of other Asian countries such as China, South Korea, Thailand, and Vietnam.

"Of the total imports of Saudi Arabia in 2015, the market share of Indonesian exports amounted to only 1.5 percent. Meanwhile, Thailand was at 2.3 percent and Vietnam, 1.8 percent," he said through the written statement.

Faisal pointed out that so far, Indonesias biggest exports to Saudi Arabia are motor vehicles, processed timber, palm oil, and fish products.

In addition to encouraging increased exports of these products, Indonesia also needs to promote the exports of other products, such as footwear, textiles, and apparel, as market penetration in Saudi Arabia is still low.

The market for these products in Saudi Arabia has the potential to increase in line with the Saudi governments plan to increase Umrah tourists, which currently stands at only 8 million to 30 million per year.

CORE also noted that Saudi Arabias investment in Indonesia during the 2013-2016 period was still relatively small, and more in the tertiary sector, especially the trade and repair sectors and the property sector, particularly hotels and restaurants.

The value of Saudi Arabia-based investment in Indonesia in 2016 amounted to only US$900 thousand, or only ranks 57th, while investment from Singapore, Japan, and China respectively reached $9 billion, $5.5 billion, and $2.75 billion.