Warga Australia Dituntut Delapan Tahun Penjara, Didakwa Bunuh Polisi di Bali
Prosecutors Seek 8-year Terms for Tourists in Bali Death
Editor : Ismail Gani
Translator : Novita Cahyadi

PUBLISHED: Rabu, 22 Februari 2017 , 02:52:58 WIB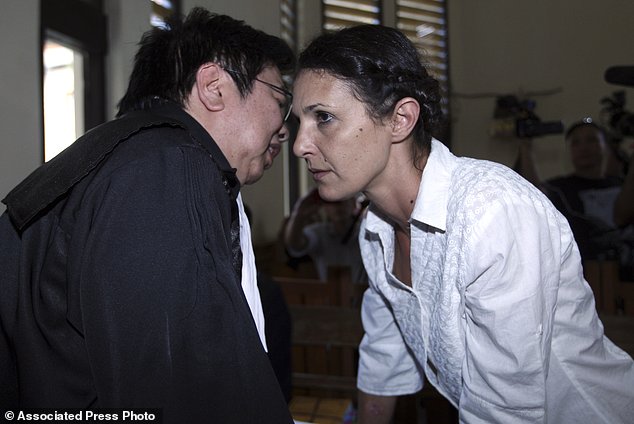 Warga Australia, Sarah Connor berdiskusi dengan pengacaranya setelah mendengar tuntutan jaksa di Bali (Foto: MailOnline)
JAKSA Penuntut Umum (JPU) di Bali pada Selasa menuntut hukuman penjara delapan tahun kepada seorang pria Inggris dan wanita Australia yang didakwa membunuh anggota Polri di Pantai Kuta, Bali beberapa waktu lalu.

David James Taylor dan kekasihnya asal Australia Sara Connor ditangkap Agustus lalu menyusul tewasnya anggota polisi Aipda Wayan Sudarsa, yang tubuhnya berlumuran darah ditemukan di pantai tak jauh dari Pullman Hotel di Pantai Kuta.

Keduanya didakwa melakukan kekerasan yang menyebabkan kematian, dengan sanksi hukuman kurungan maksimal 12 tahun sesuai ketentuan hukum pidana Indonesia.

Pasangan ini minum bir di pantai sebelum kejadian yang berlangsung pada larut malam. David mengaku bertengkar dengan anggota polisi Sudarsa, yang sedang bertugas, setelah Sarah menyadari bahwa ia kehilangan tas tangannya dan menuduh Sudarsa, seorang polisi gadungan yang mencuri tasnya.

David mengaku korban berulang kali dengan ponsel, teropong dan pecahan botol bir, kemudian meninggalkan korban dalam keadaan tengkurap dan pingsan. Namun dia mengaku tidak menyadari bahwa Sudarsa kemudian tewas.

Sarah Connor, ibu dua anak, tampak kesal dan marah pada Selasa setelah mendengar tuntutan JPU.

Pengacaranya, Erwin Siregar, mengatakan dia menolak tuntutan hukuman, yang dia anggap terlalu berat bagi kliennya.

Sidang akan dilanjutkan pekan depan seperti dikutip Associated Press yang dilansir MailOnline.
INDONESIAN prosecutors sought eight-year prison sentences Tuesday for a British man and an Australian woman accused of killing a police officer on the tourist island of Bali.

David James Taylor and his Australian girlfriend Sara Connor were arrested last August in the death of traffic police officer Wayan Sudarsa, whose bloodied body was found on the beach outside the Pullman Hotel in the popular tourist area of Kuta.

They were charged with committing violence leading to death, which carries a maximum 12-year prison term under Indonesia's criminal code.

The pair had been drinking beer on the beach in the hours before the late-night incident.Taylor admitted getting into a fight with Sudarsa, who was on duty, after Connor realized she had lost her handbag and accused Sudarsa of being a fake police officer and stealing it.

Taylor admitted to hitting the Indonesian repeatedly with a cellphone, binoculars and a broken beer bottle, leaving him face down and unconscious. But he said he didn't realize Sudarsa would die.

Connor, a mother of two, seemed upset and angry after the Tuesday hearing.

Her lawyer, Erwin Siregar, said she could not accept the sentencing demand, which she regarded as too heavy.

The hearings are to resume next week.