Indonesia Peringati HUT RI ke-71 Tenggelamkan Kapal Pencuri Ikan Disorot Asing
Indonesia Marks Independence Day by Sinking Illegal Ships
Editor : Ismail Gani
Translator : Novita Cahyadi

PUBLISHED: Kamis, 18 Agustus 2016 , 03:15:08 WIB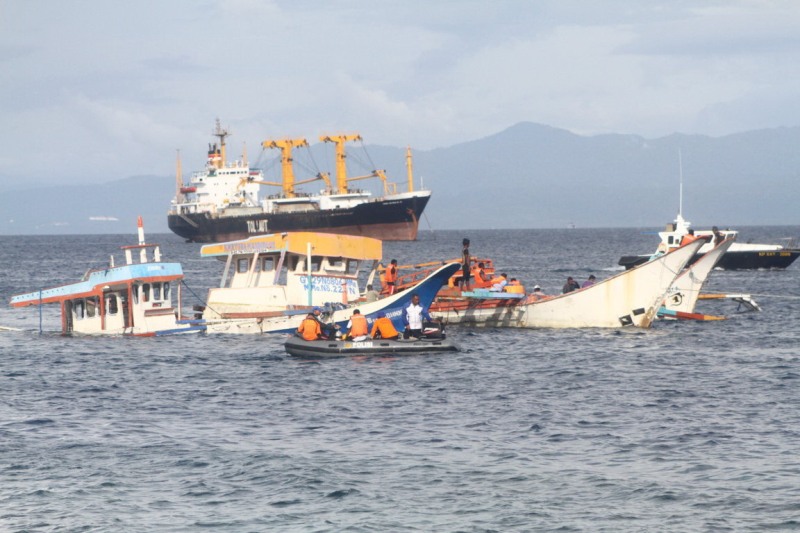 Foto: okezone.com
INDONESIA menandai peringatan Hari Kemerdekaan pada Rabu dengan menenggelamkan 60 kapal asing yang disita negara karena terbukti melakukan pencurian ikan perairan di perairan Indonesia.

Menteri Kelautan dan Perikanan Susi Pudjiastuti mengatakan penenggelaman kapal pencuri ikan dilakukan di delapan lokasi di seluruh Indonesia.

Menteri Susi Pudjiastuti memimpin penghancuran lebih dari 200 kapal ikan ilegal sejak 2014. Pemerintah Presiden Joko "Jokowi" Widodo telah mengambil sikap keras terhadap pencurian ikan, sebagian didorong oleh kebutuhan bagi Indonesia untuk menunjukkan kepada negara tetangganya, termasuk China, bahwa Indonesia mampu mengendalikan dan mengawasi wilayah yang luas dengan 17.000 pulau.

Banyak dari kapal ditangkap perairan Kepulauan Natuna, titik dari mana zona ekonomi eksklusif Indonesia yang berhadapan dengan Laut Cina Selatan. Beijing menyatakan perairan tersebut sebagai kawasan penangkapan ikan tradisional meskipun berjarak hampir 2.000 km dari daratan China.

Penenggelaman kapal disebut merupakan langkah yang lebih lunak dari Indonesia dibandingkan cara sebelumnya, dengan meledakkan kapal di tengah laut dan ditayangkan langsung melalui televisi.

Menteri Susi mengatakan pada konferensi pers di Ranai, Kepulauan Natuna, bahwa penenggelaman kapal pencuri ikan dilakukan di lepas pantai Ranai, Batam, Tarempa, Kalimantan, Maluku, dan Sorong di Papua Barat untuk membuat terumbu karang buatan.

"Kami melakukannya saat ini sebagai efek jera," katanya. "Saya pikir itu sudah memberi pesan kuat" ke negara-negara asing dan armada penangkapan ikan mereka."

Susi mengatakan ke depan penenggelaman kapal akan akan dilakukan dengan "cara yang kurang sensasional" tapi itu tidak berarti Indonesia mengalah terhadap penangkapan ikan ilegal.

Pemerintah berencana menenggelamkan 71 kapal dari Filipina, Vietnam, Malaysia dan China pada Rabu, yang merupakan peringatan HUT Kemerdekaan RI ke-71.

Pudjiastuti mengatakan enam kapal lainnya akan ditenggelamkan di Pangandaran di pantai selatan Jawa Barat, di mana pemerintah berencana untuk membangun sebuah museum illegal fishing dibantu AS dan Norwegia.

Media lokal melaporkan delapan kapal yang ditenggelamkan pada Senin berlangsung di kawasan timur Indonesia yakni Bitung dan Ternate.

Pada Maret, Indonesia menghancurkan kapal ikan Nigeria berbendera Viking dengan bahan peledak. Kapal itu ingin keliling dunia dan secara ilegal melakukan penangkapan ikan, seperti dikutip Associated Press yang dilansir MailOnline.
INDONESIA marked its Independence Day on Wednesday by sinking 60 foreign ships seized for fishing illegally in the country's waters.

Maritime and Fisheries Minister Susi Pudjiastuti said the ships were sunk at eight locations across the Indonesian archipelago.

Pudjiastuti has organized the destruction of more than 200 illegal fishing boats since 2014. The government of President Joko "Jokowi" Widodo has taken a hardline stance against illegal fishing, partly driven by the need for Indonesia to show its neighbours, including China, that it is in control of its vast territory of 17,000 islands.

Many of the boats were captured off Indonesia's Natuna Islands, a point from which Indonesia's exclusive economic zone thrusts into the South China Sea. Beijing has described the area as a traditional Chinese fishing ground even though it is nearly 2,000 kilometers (1,250 miles) from the Chinese mainland.

The sinkings were carried out in a low-key fashion compared with previous occasions, when boats were blown to smithereens and their destruction broadcast live.

Pudjiastuti told a news conference in Ranai, a Natuna Islands port, that the ships were sunk off Ranai, Batam, Tarempa, Kalimantan, Maluku, and Sorong in West Papua to create artificial reefs.

"We do see at the moment the deterrent effect," she said. "I think it is already quite a strong message" to foreign countries and their fishing fleets.

Pudjiastuti said future ship sinkings would be done in a "less sensational way" but that would not mean Indonesia is relenting on its stance against illegal fishing.

The government originally planned to sink exactly 71 boats from the Philippines, Vietnam, Malaysia and China on Wednesday, which was the 71st anniversary of national independence.

Pudjiastuti said six other vessels would be sunk in Pangandaran on the southern coast of West Java, where the government plans to build a museum of illegal fishing with U.S. and Norwegian help.

Local media reports said eight vessels were scuttled on Monday in the eastern Indonesian ports of Bitung and Ternate.

In March, Indonesia destroyed the Nigeria-flagged Viking with explosives. The ship was wanted around the world for illegally taking toothfish from southern waters.