PSMN Batan Ditetapkan sebagai LS Person oleh Komite Akreditasi Nasional
The LS Person of Indonesian`s Nuclear Power Agency
Reporter : Gusmiati Waris
Editor : Cahyani Harzi
Translator : Dhelia Gani

PUBLISHED: Sabtu, 05 Agustus 2017 , 03:15:00 WIB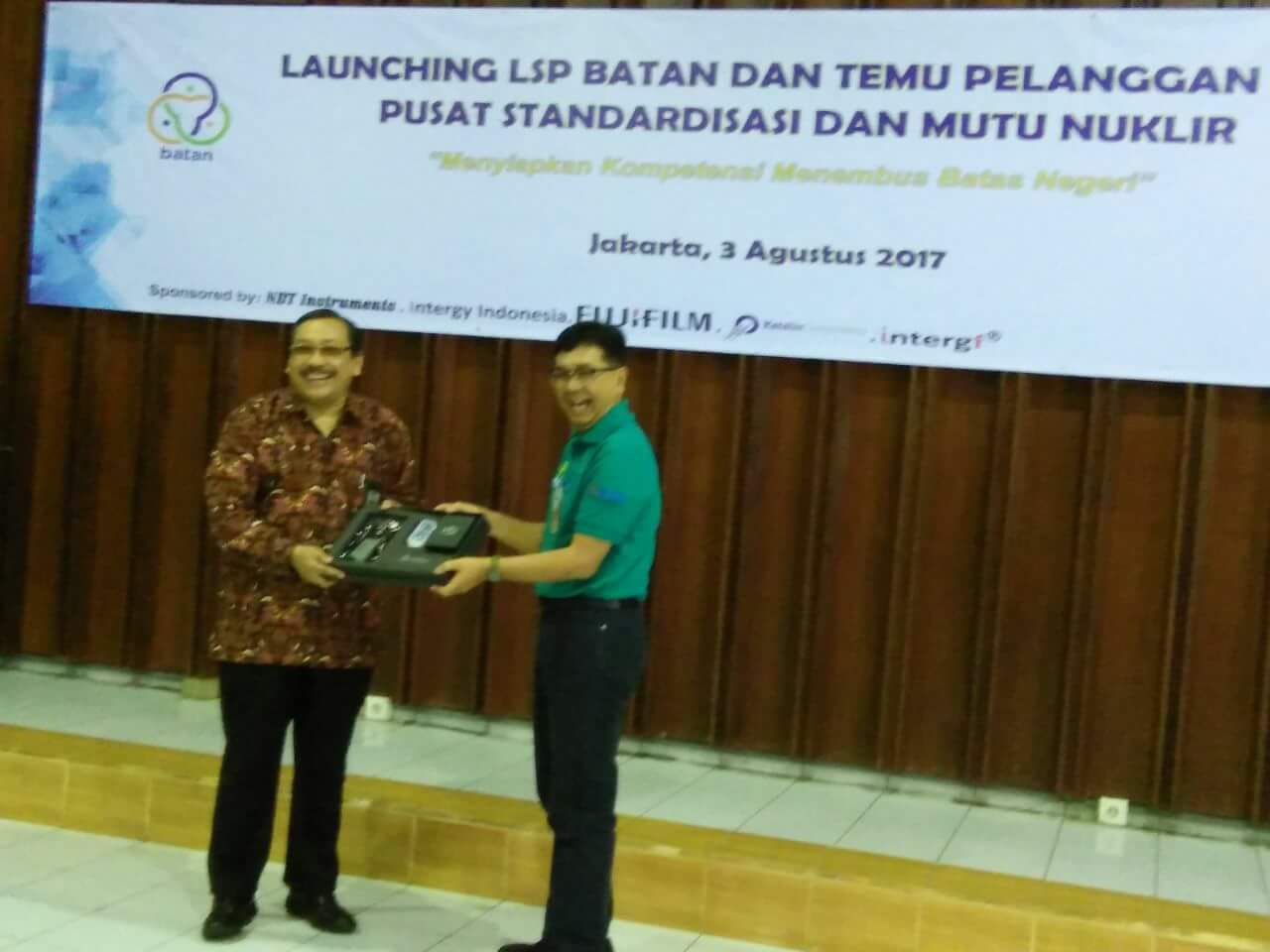 Foto: B2B/Gusmiati Waris
Jakarta (B2B) - Pusat Standardisasi dan Mutu Nuklir (PSMN), Badan Tenaga Nuklir Nasional (Batan) ditetapkan sebagai Lembaga Sertifikasi Person (LSN) oleh Komite Akreditasi Nasional (KAN). LS Person ini memiliki tugas dan fungsi melaksanakan sertifikasi personil di bidang ketenaganukliran yang mencakup personil radiografi, petugas dan supervisor iradiator, petugas analisis aktivasi neutron, petugas radioisotop dan senyawa bertanda.
Kepala PSMN Budi Santoso mengatakan bahwa sertifikasi personel merupakan salah satu cara memberikan jaminan bahwa personel yang telah memiliki sertifikasi memenuhi persyaratan dan skema sertifikasi yang ditentukan.
"Selain itu, tujuan sertifikasi personel adalah memberikan kepercayaan kepada seluruh stakeholders bahwa personel yang telah tersertifikasi telah memenuhi persyaratan dan sesuai dengan kompetensi yang ditentukan," kata Budi Santoso kepada pers di Jakarta pada Kamis (3/8).
Dia menguraikan sejarah terbentuknya LS Person Batan dimulai pada 2004 namun di tahun-tahun berikutnya belum mendapat perhatian yang serius dalam hal tindak lanjut pengembangannya. Namun pada awal 2013, LS Person Batan disiapkan untuk memperoleh lisensi dari Badan Nasional Sertifikasi Profesi (BNSP).
Menurutnya, untuk mencapai tujuan tersebut maka LS Person Batan telah menyiapkan dokumen mutu dan persyaratan lainnya, termasuk personel sebagai asesor kompetensi. Namun proses lisensi BNPS ini tidak berlanjut karena terkendala beberapa hal sehingga prosesnya terhenti.
Pada 2015, proses pengajuan akreditasi LS Person Batan dilanjutkan dengan mengajukan persyaratan akreditasi kepada KAN yang akan memberikan akreditasi untuk lembaga LS Person yang memenuhi persyaratan dalam SNI ISO/IEC 17024:2012 'Penilaian Kesesuaian Persyaratan untuk LS Person' yang merupakan adopsi identik dari standar internasionalnya.
"Rangkaian proses akreditasi secara sistematis meliputi proses penyiapan dokumen mutu, skema sertifikasi dan proses aplikasi akreditasi LS Person Batan ke KAN yang dimulai sejak pertengahan 2015," katanya.
Selanjutnya audit kecukupan, audit lapangan, proses witnessing (kesaksian), tindakan perbaikan dan verifikasi hasil tindakan perbaikan oleh Tim Asesor KAN yang dilaksanakan mulai akhir 2016 sampai dengan pertengahan Februari 2017, diakhiri dengan proses keputusan sertifikasi dan penerbitan sertifikat akreditasi," lanjut Budi.
Akhirnya KAN menetapkan LS Person Batan telah memenuhi dan bekerja sesuai dengan persyaratan yang ditentukan, sehingga memutuskan untuk memberikan akreditasi kepada LS Person Batan dengan menerbitkan Sertifikat Akreditasi Nomor LSP-010-IDN per tanggal 24 Mei 2017 untuk lingkup sertifikasi Radiografi Level 1 dan Level 2, yang mengacu pada SNI ISO 9712:2014 'Uji Tak Rusak' - Kualifikasi Sertifikasi Personel'.
Dengan sertifikasi ini, LS Person Batan menjadi salah satu infrastruktur kelembagaan nasional perihal standardisasi dan penilaian kesesuaian dan merupakan satu-satunya LS Person di Indonesia lingkupnya.
LS Person Batan dengan moto menyiapkan kompetensi menembus batas siap melakukan1 tugasnya untuk berkontribusi kenasional dalam rangka memperkuat daya saing bangsa berkompetisi di era global.
Jakarta (B2B) - The Center for Standardization and Nuclear Quality (PSMN) in the Indonesian Nuclear Power Agency is designated as the Person Certification Body (LSN) by the Indonesia Accreditation Committee (KAN). The LS Person has the duties and functions of carrying out nuclear personnel certification that includes radiographic personnel, officers and irradiator supervisors, neutron activation analysis officers, radioisotope officers, and marked compounds.
Director of the PSMN Budi Santoso said the certification of personnel is a way to guarantee that certified personnel meet the requirements and certification schemes.
The certification of personnel aims to convince stakeholders that certified personnel have met the requirements of competence requirements," Mr Santoso told reporters here on Thursday (3/8).
He describes history of founding of the Batan's LS Person which began in 2004, but its development is stagnant because it is not serious. However in early 2013, Batan's LS Person is prepared to obtain a license from the Indonesia's Agency for Professional Certification (BNSP).
According to him, Batan's LS Person then prepare quality documents and other requirements, including personnel as competence assessors. But the process of obtaining the license is hampered, because it is constrained some things that have to be stopped.
In 2015, the accreditation process is continued by submitting accreditation requirements to the KAN that will provide accreditation for LS Personnel that meets the requirements of SNI ISO / IEC 17024: 2012 'Conformity Assessment Requirements for LS Person' which is an identical adoption of its international standard.
The accreditation process is done systematically, preceding the p1reparation of quality documents, certification schemes and accreditation application process of Batan's LS Person Batan to the KAN since mid 2015," he said.
"Followed by sufficiency audit, field audit, witnessing process, corrective action and verification of corrective action result by the KAN Assessors Team conducted end of 2016 until mid February 2017, then certification decision process, and issuance of accreditation certificate, " Mr Santoso said.
Finally the KAN establishes Batan's LS Person has qualified, and works according to the specified requirements, by issuing the Certificate of Accreditation Number LSP-010-IDN as of May 24, 2017 for the scope of radiography certification Level 1 and Level 2, which refers to SNI ISO 9712: 2014 'Non-Damage Test' - Personnel Certification Qualification '.
Now, the Batan's LS Person is one of national institutional infrastructure for standardization and conformity assessment, and as the only LS Person in Indonesia.