Setya Novanto Ditetapkan KPK sebagai Tersangka Korupsi e-KTP jadi Perhatian Dunia
Indonesia`s Parliament Speaker Named Corruption Suspect
Editor : Ismail Gani
Translator : Novita Cahyadi

PUBLISHED: Selasa, 18 Juli 2017 , 03:25:00 WIB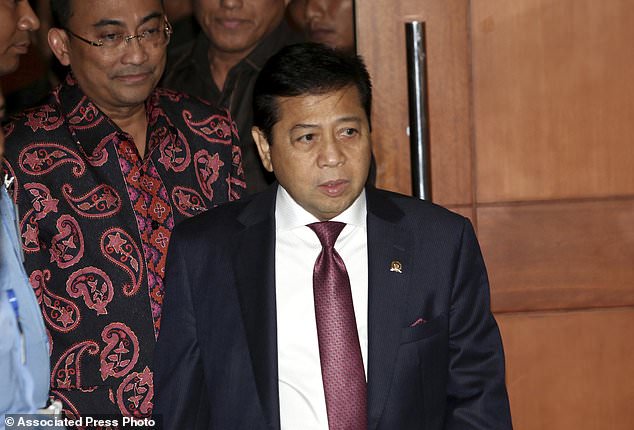 Setya Novanto (Foto: MailOnline)
KOMISI Pemberantasan Korupsi (KPK) pada Senin (18/7) menetapkan Ketua DPR RI sebagai tersangka dalam skandal korupsi setelah diduga terlibat kasus korupsi yang merugikan negara sekitar Rp2,3 triliun.

Ketua KPK Agus Rahardjo, mengatakan pihaknya memiliki bukti kuat untuk menetapkan Setya Novanto sebagai tersangka korupsi.

Komisi anti rasuah menuding bahwa kasus korupsi tersebut melibatkan banyak pihak, sebagian besar anggota DPR, dan beberapa perusahaan swasta dalam proyek KTP elektronik (e-KTP) senilai Rp5,9 triliun pada 2011 dan 2012 dan dana proyek yang dikorupsi hampir seperti anggaran yang dialokasikan.

Setnov, yang juga menjabat Ketua Umum Partai Golkar, adalah tersangka kelima dalam kasus tersebut, yang bisa menjadi ujian atas ketegasan Presiden Joko Widodo untuk bertindak tegas melawan korupsi karena banyak tersangka berasal dari partai-partai koalisi dengan pemerintah, seperti Golkar.

Rahardjo mengatakan Setnov "diduga memperkaya dirinya sendiri atau orang lain dengan menyalahgunakan kekuasaannya" dan memainkan peran penting dalam merencanakan kasus korupsi tersebut.

Di antara mereka yang disebut-sebut terlibat dalam dakwaan dakwaan yang diajukan dalam persidangan terhadap dua pejabat tinggi Kementerian Dalam Negeri pada Maret menyebut menteri kehakiman, mantan menteri dalam negeri dan dua gubernur seperti dikutip Associated Press yang dilansir MailOnline.
INDONESIA´S anti-graft agency announced Monday that the speaker of Parliament is a suspect in a corruption scandal in which officials allegedly pocketed more than $170 million in government money.

The chief of the Corruption Eradication Commission, Agus Rahardjo, said there is sufficient evidence to name Speaker Setya Novanto a suspect in the case.

Anti-corruption police allege that a network of about 80 people, mostly legislators, and several companies used the introduction of a $440 million electronic identity card system in 2011 and 2012 to steal more than a third of the allotted funds.

Novanto, of the Golkar Party, is the fifth suspect announced in the case, which could turn into a test of President Joko "Jokowi" Widodo´s willingness to take a hard line against corruption since many of the suspects are from parties in the ruling coalition, like Golkar.

Rahardjo said Novanto is "suspected of enriching himself or other people by abusing his power" and played a key role in planning the swindle.

Among those named in an indictment presented at the trial of two Ministry of Home Affairs officials in March are the justice minister, a former interior minister and two provincial governors.