Kiper Choirul Huda Meninggal Dunia Diulas Media Terkemuka Inggris
Legendary Indonesian Goalkeeper Choirul Huda, 38, Dies after Tragic Collision
Editor : Ismail Gani
Translator : Novita Cahyadi

PUBLISHED: Senin, 16 Oktober 2017 , 05:27:00 WIB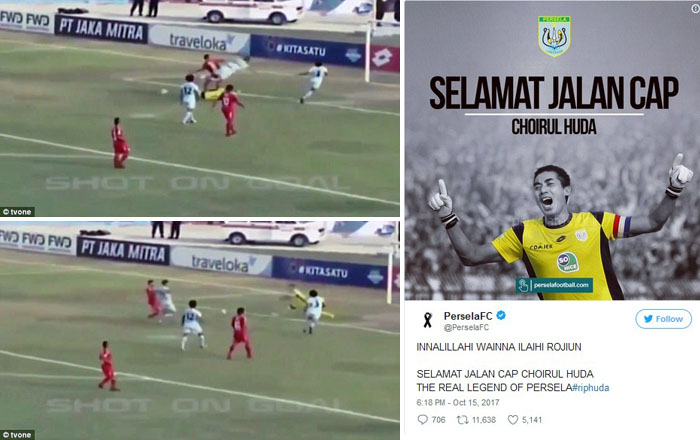 Choirul Huda dinyatakan meninggal dunia pada pukul 17:00 waktu setempat, dikelilingi oleh rekan satu timnya di Persela yang menunggu almarhum di rumah sakit (Foto2: MailOnline)
SEPAK BOLA Indonesia berduka setelah salah satu pemain legenda, Choirul Huda, tewas setelah terjadi tabrakan di depan gawang dengan rekan setimnya.

Pemain berusia 38 tahun, yang menjalani kariernya pada klub yang turut bersaing di Indonesia Super League, Persella, bertabrakan dengan bek Ramon Rodrigues menjelang akhir babak pertama melawan Semen Padang.

Mendiang yang tengah menjaga gawang langsung mendekati lawan untuk menahan langkah pemain lawan memasuki kotak penalti, namun ia tidak dapat menghindari benturan dengan bek yang juga berupaya menahan laju pemain lawan.

Kiper malang itu masih sadar segera setelah terjadi benturan, memegangi pipinya dan terlihat linglung di lapangan, namun situasi tersebut segera berubah menjadi kritis.

"Dia masih sadar dan mengeluh sakit di dada," kata salah satu anggota tim medis kepada Surya. "Lalu dia jatuh pingsan."

Petugas medis mencoba menolong Choirul Huda setelah benturan keras dan bergegas menaruhnya di atas tandu sebelum diangkut dengan ambulans ke Rumah Sakit Umum Daerah di Lamongan.

Choirul Huda dinyatakan meninggal dunia pada pukul 17:00 waktu setempat, dikelilingi oleh rekan satu timnya di Persela yang menunggu almarhum di rumah sakit.

Pelatih utama Persela Aji Santoso kemudian memastikan bahwa kipernya telah meninggal di rumah sakit dan mengatakan bahwa tragedi tersebut membawa dampak pada tim tersebut.

"Semua pemain mengakhiri pertandingan dan pergi ke rumah sakit, setelah diumumkan bahwa Choirul Huda telah meninggal."

"Meninggalnya Choirul Huda sangat memukul kami semua. Dokter tidak sempat menemui dokter, hanya dapat melihat jenazahnya."

Dr Zaki Mubarok, dari Rumah Sakit Umum Lamongan, mengatakan: "Mendiang dibawa ke rumah sakit masih bernapas, tapi sudah tidak bernyawa sekitar pukul 17:00."

"Melalui analisis kami, itu karena tabrakan di kepala dan leher."

Sang kiper adalah sosok yang sangat populer di Lamongan. Setelah dipuji dari wilayah tersebut, ia memulai debutnya untuk Persela pada 1999 dan kemudian menjadi pemain reguler bagi klub setempat tanpa pernah membela klub lain seperti dilansir MailOnline.
INDONESIAN football has been rocked by the passing of one its most iconic players, Choirul Huda, during an on-field collision with a team-mate.

The 38-year-old, who had played his entire career at Indonesia Super League outfit Persela, collided with defender Ramon Rodrigues towards the end of the first half against Semen Padang.

The goalkeeper rushed off his line to smother an attacking move from the opposition, but was unable to avoid his defender who was rushing back to clear his lines.

The keeper was still conscious immediately after the incident, holding his cheeks and looking dazed on the floor, but the situation soon became critical.

'He was still conscious and complained of pain in the chest,' one member of the medical team told Surya. 'Then he fell unconscious.'

Medics tended to Huda after the collision and rushed to put him on a stretcher before he was driven away in an ambulance to the Regional General Hospital in Lamongan.

Huda was declared dead at 5pm local time, surrounded by the Persela squad who were with him at the hospital.

Persela head coach Aji Santoso confirmed afterwards that he had died at hospital and said his passing had impacted the team hugely.

'All of the players finished the game and went to the hospital, where it was announced that Choirul Huda had died.

'The loss of Choirul Huda has hit us all hard. We did not have time to a see a doctor, only to see his body.'

Dr Zaki Mubarok, of the Lamongan General Hospital, said: 'He was just brought to the hospital still breathing, but he was lifeless at around 17:00.

'Through our analysis, it was due to collision in the head and neck.'

The keeper was a hugely popular figure in Lamongan. Having hailed from the region, he made his debut for Persela in 1999 and then became a regular fixture between the sticks.