`Kampung Pelangi` di Semarang jadi Viral di Jagat Maya
Indonesian `Rainbow Village` is Internet Sensation
Editor : Ismail Gani
Translator : Novita Cahyadi

PUBLISHED: Kamis, 01 Juni 2017 , 05:37:31 WIB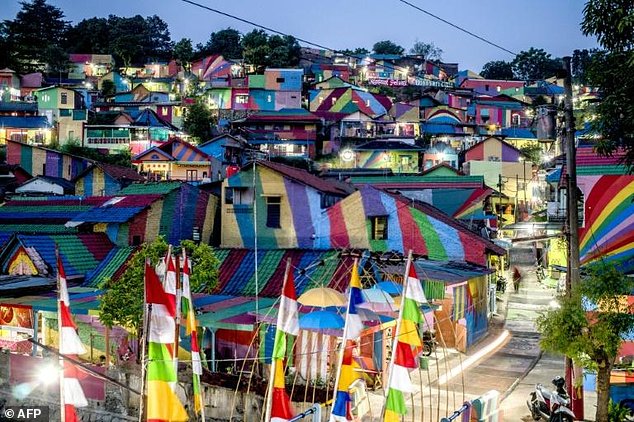 Wisatawan lokal dan mancanegara berbondong-bondong datang ke desa tersebut untuk mengambil gambar, yang telah menyebar dengan cepat di Instagram dan Facebook (Foto: MailOnline)
SEBUAH desa yang dijuluki 'Kampung Pelangi' setelah dicat aneka warna tak ubahnya kaleidoskop warna menarik perhatian publik dan kini menjadi viral di jagat maya.

Sedikitnya 200 rumah sederhana di lereng bukit di bantaran sungai yang dihuni warga berpenghasilan rendah dari pemukiman kumuh menjadi penuh warna.

Namun warga Wonosari di Semarang memutuskan untuk melakukan perubahan suasana, dan didukung dana dari pemerintah daerah dan beberapa perusahaan untuk mewujudkan gagasan tersebut.

Rumah-rumah itu dicat dengan aneka warna yang berlangsung selama sebulan yang menghabiskan biaya sekitar Rp2,6 miliar dan sungai yang tercemar di dekatnya juga dibersihkan.

Walikota setempat membuka perkampungan unik di Jawa Tengah dan dibuka untuk publik pada pertengahan April dan masyarakat kota tersebut mengenalnya sebagai 'Kampung Pelangi.'

Rumah-rumah - banyak yang dihiasi dengan lukisan seperti gambar sayap malaikat dan paus - dapat dilihat dari jauh, yang mendaki lereng bukit seperti tangga raksasa.

Wisatawan lokal dan mancanegara berbondong-bondong datang ke desa tersebut untuk mengambil gambar, yang telah menyebar dengan cepat di Instagram dan Facebook.

"Ini sangat istimewa, sangat kreatif," Maya Susanti, warga Indonesia yang berkunjung bersama teman-temannya kepada AFP.

"Desa biasanya terlihat polos tapi sekarang ada banyak tempat bagus untuk berfoto."

Tokoh masyarakat Yosep Tri Prawoko menambahkan: "Setiap lorong telah menjadi tempat favorit untuk pemotretan, sangat bagus."

Penduduk desa menikmati meningkatnya kunjungan wisatawan yang dipicu oleh keunikan aneka warna.

Surani, penjual bunga lokal, mengatakan bahwa masyarakat setempat merasakan manfaatnya: "Saya harap mata pencaharian kami terus membaik."

Perombakan dan arus pengunjung juga mendorong warga untuk menjaga kebersihan lingkungan, dan tempat sampah telah diletakkan di sekitar dusun seperti dilansir MailOnline.
AN INDONESIAN hamlet dubbed "the rainbow village" after being given a makeover in a kaleidoscope of colours is attracting hordes of visitors and has become an internet sensation.

The collection of about 200 modest homes on a hillside above a river used to be a typical, low-income Indonesian neighbourhood that was filthy and gloomy.

But residents of the Wonosari community in Semarang decided an extreme makeover was needed, and received money from the local government and several companies to carry out the project.

The houses were re-painted in a dizzying array of colours during a month-long overhaul which cost about $200,000, and the polluted river nearby was also cleaned up.

The local mayor opened the newly decorated hamlet on Java island to the public in mid-April and the community quickly became a local landmark known as "the rainbow village".

The buildings -- many of which are decorated with art such as pictures of angels' wings and whales -- can be seen for miles around, climbing up the hillside like a gigantic staircase.

Domestic and foreign visitors have been flocking to the village to snap pictures, which have been rapidly spreading on Instagram and Facebook.

"This is very special, extremely creative," Maya Susanti, an Indonesian visitor who came to the village with her friends told AFP.

"The village used to look plain but now there are so many good spots for taking pictures."

Community leader Yosep Tri Prawoko added: "Every single alleyway has become a favourite spot for a photoshoot, it's great."

Villagers are enjoying the tourism boom sparked by the makeover.

Surani, a local flower seller who like many Indonesians goes by one name, said local people were feeling the benefits: "I hope our livelihoods keep on getting better."

The makeover and flow of visitors has also encouraged residents to keep the community clean, and rubbish bins have been put up around the hamlet.