HUT ke-70 Sultan HB X di Yogyakarta jadi Perhatian Dunia
Royal Revolution as Indonesian Sultan Taps Female Heir
Editor : Ismail Gani
Translator : Novita Cahyadi

PUBLISHED: Jum'at, 01 Juli 2016 , 09:15:00 WIB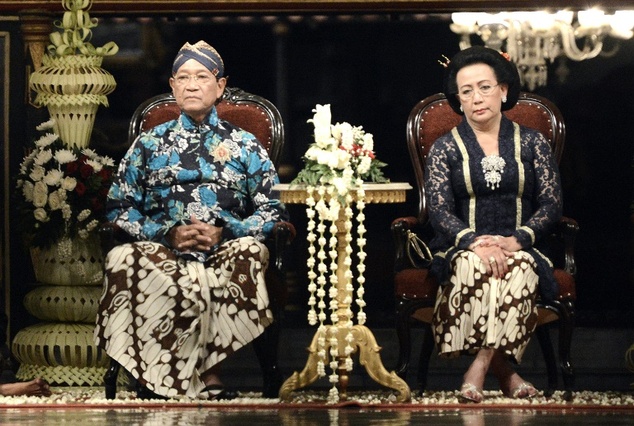 Sultan HB X dan GKR Hemas di Keraton Yogyakarta (Foto: MailOnline)
UPACARA untuk menandai ulang tahun ke-70 Sultan Hamengku Buwono X, sultan terakhir di Indonesia dengan kekuatan politik yang nyata, memiliki satu perbedaan utama dari perayaan sebelumnya - banyak dari kerabatnya menolak untuk hadir.

Konflik internal di Kesultanan Yogyakarta merebak, setelah Sultan HB X menginginkan putri sulungnya menjadi raja wanita pertama kesultanan apabila Sultan melepaskan tahta.

Sultan HB X, yang merangkap gubernur dan raja dari Kesultanan Yogyakarta, bersama istrinya, Gusti Kanjeng Ratu Hemas, memperingati hari ulang tahun ke-70.

Media asing AFP seperti dilansir MailOnline menyebut bahwa Indonesia dikenal sebagai negara dengan banyak kerajaan kecil. Namun sementara provinsi lainnya sekarang memilih penguasa politik dan raja sekadar tokoh seremonial dan penjaga kelestarian budaha, sementara Sultan HB X di Yogyakarta juga berfungsi baik pemimpin kerajaan dan gubernur provinsi.

Pemerintah RI mengijinkan keluarga kerajaan Yogyakarta untuk melanjutkan kekuasaan monarki sebagai apresiasi politik dari pemerintah pusat atas dukungan kesultanan untuk Kemerdekaan RI pada 1945 setelah pemerintahan kolonial Belanda hengkang dari Indonesia.

Sultan masih mempertahankan banyak ornamen kekuasaan kerajaan Jawa di keraton, yang memiliki sejarah erat dengan abad ke-16.

Sultan bermukim di kompleks kerajaan yang menjaga kelestarian tradisional Jawa, dikenal sebagai Keraton, dan kerap melakukan peristiwa penting yang dirayakan megah dan meriah.

Namun langkah Sultan HB X untuk menjadikan putri tertua dari lima putrinya - ia tidak memiliki anak laki-laki - sebagai raja wanita pertama dari Yogyakarta telah mengubah dirinya menjadi sosok yang terkait kesetaraan gender, dan dipandang sebagai langkah berani mengubah tradisi ratusan tahun Kesultanan Yogyakarta.

- Ayam Jantan atau Betina? -
Langkah berani tersebut memicu kemarahan kerabat keraton, yang menuding Sultan HB X melanggar aturan yang ditetapkan oleh pendiri kerajaan, di tengah spekulasi bahwa saudara-saudaranya tengah memperebutkan tahtanya.

"Sultan perempuan adalah mustahil," kata sepupu sultan, Kanjeng Raden Tumenggung Jatiningrat, kepada AFP.

"Salah satu simbol dalam istana ini adalah ayam jantan - jadi jika kita memiliki seorang Ratu harus kita ubah menjadi ayam betina?"

Ayam jantan adalah simbol keberanian.

Dia menambahkan bahwa seorang penguasa wanita tidak bisa mengawasi ritual di masjid atau upacara lain yang secara tradisional telah dipimpin oleh pria.

Hamengku Buwono, yang menguasai tahta selama 27 tahun, dalam satu tahun terakhir terus mengupayakan agar putri sulungnya menjadi raja dengan memberi gelar "Gusti Kanjeng Ratu Mangkubumi".

Sementara ia belum mengkonfirmasi secara terbuka bahwa putrinya menjadi pewaris tahta, dalam budaya Jawa - di mana banyak yang disampaikan melalui simbolisme daripada secara langsung - namun hal itu menjadi pertanda jelas.

Sebutan Mangkubumi, yang diterjemahkan dari bahasa Indonesia sebagai "orang yang memegang bumi", adalah gelar yang sama diberikan kepada sultan ketika dia menetapkan putranya sebagai pewaris tahta beberapa dekade lalu.

Putrinya juga dipercayakan dengan tugas "mencoba untuk membawa keselamatan, kebahagiaan dan kesejahteraan ke dunia", indikasi lain ia akan melanjutkan kekuasaan ayahnya.

Dan sultan membuat perubahan kecil untuk gelar kerajaan yang berlaku selama ini - menghapus kata biasanya hanya digunakan oleh pria dan diganti sebutan lain - untuk tidak menyebut gender tertentu, sehingga membuka ruang bagi seorang wanita untuk mengambil alih tahta kesultanan.

Kerajaan Islam
Sultan membela diri, dengan mengatakan tidak ada yang dapat menghentikan dia membuat perubahan di Keraton Yogya dan langkah tersebut sebagai adaptasi dari Indonesia yang modern.

"Istana Yogyakarta tidak memiliki tradisi turun-temurun yang tidak dapat diubah, dan semua sultan yang berkuasa diperkenankan memperkenalkan perubahan," katanya kepada media lokal.

Namun, banyak yang tidak setuju dengan Sultan, dari kerabatnya maupun kelompok Muslim.

"Raja harus mempertahankan tradisi kerajaan seperti dahulu, karena ini adalah sebuah kerajaan Islam," kata Abdurrahman, dari kelompok garis keras lokal Jihad Islam.

Namun ini bukan pertama kalinya terjadi adanya raja perempuan di Indonesia yang dikenal sebagai negara pluralisme - saat ini mayoritas Muslim, tetapi sebelumnya berkuasa kerajaan Hindu dan Budha selama berabad-abad dan tempat bermukimnya 300 kelompok etnis yang berbeda.

Para ratu yang pernah memerintah kerajaan Majapahit kuno, yang meninggalkan sejarah panjang bagi Indonesia sejak akhir abad 13 dan awal abad ke-16, seperti yang terjadi di lakukan di Aceh, Sumatera ketika masih menjadi kerajaan.

"Sekitar 90 persen dari keluarga tidak menghormati dia lagi," kata Gusti Bendoro Pangeran Haryo Prabukusumo yang berang pada Sultan HB X, atas langkah kakak tirinya menyelenggarakan kegiatan kerajaan tersebut.
COURTIERS in elaborate outfits danced to the gentle tinkling of Javanese music as the Sultan of Yogyakarta looked on, a scene that has played out in much the same way for centuries in the tiny Indonesian kingdom.

But the recent ceremony to mark the 70th birthday of Hamengku Buwono X, Indonesia´s last sultan with real political power, had one key difference from previous celebrations -- many of his relatives refused to attend.

A bitter feud has erupted at the heart of the kingdom on Java island, after the Muslim ruler signalled he wants his eldest daughter to become the sultanate´s first female monarch after he leaves the throne.

Sultan Hamengku Buwono X, governor and sultan of the tiny kingdom of Yogyakarta, with his wife, Queen consort Gusti Kanjeng Ratu Hemas, at his 70th birthday ...

Indonesia is home to numerous small kingdoms. But while other provinces now elect political rulers and their sultans are largely ceremonial figures, Yogyakarta´s sultan serves as both royal leader and governor of the city and its surrounding areas.

Jakarta allowed the Yogyakarta royal family to keep power as the central government was grateful for the sultanate´s support for independence in 1945 after a long period of Dutch colonial rule.

The sultan still maintains many of the trappings of Javanese royal rule in the kingdom, which has a history stretching back to the 16th century.

His main residence is a traditional Javanese palace complex, known as a Kraton, and important events are celebrated with much pomp and circumstance.

But the sultan´s push to make the eldest of his five daughters -- he has no sons -- the first female monarch of Yogyakarta has transformed him into an unlikely champion for gender equality, and threatens to overturn hundreds of years of tradition in the Muslim, conservative sultanate.

- Rooster or hen? -
It has sparked a furious row with his family, who say he is breaking rules laid down to govern the sultanate, amid speculation that his brothers were jockeying to fill his position.

"A female sultan is an impossibility," the sultan´s cousin, Kanjeng Raden Tumenggung Jatiningrat, told AFP.

"One symbol in this palace is a rooster -- so if we have a queen should we change it to a hen?"

The rooster is a symbol of bravery.

He added that a female ruler could not oversee rituals in the mosque or other ceremonies that have traditionally been led by men.

Hamengku Buwono, who has been on the throne 27 years, last year set in motion the process for his daughter to become monarch by giving her the title "Gusti Kanjeng Ratu Mangkubumi".

While he has not confirmed publicly that she is the crown princess, in Javanese culture -- where much is conveyed through symbolism rather than anything said out loud -- the signs are clear.

The title Mangkubumi, which translates from Indonesian as "the one who holds the Earth", was the same one given to the sultan when he was made crown prince several decades ago.

She was also entrusted with the task of "attempting to bring safety, happiness and prosperity to the world", another indication she would succeed her father.

And the sultan made small changes to his own lengthy royal title -- removing a word normally only used by men and tweaking another -- to make it gender-neutral, opening the door for a woman to take over.

- ´An Islamic kingdom´ -
The sultan has defended the move, saying there is nothing stopping him from making changes in his kingdom and he has to adapt as Indonesia modernises.

"The Yogyakarta palace doesn´t have a hereditary tradition that can´t be changed, and all ruling sultans can introduce changes," he told local media.

Still, many disagree with him, from his relatives to local Muslim groups.

"The king should maintain the tradition as it was originally, because this is an Islamic kingdom," said Abdurrahman, from local hardline group Islamic Jihad Front, who like many Indonesians goes by one name.

But it is not the first time there has been a female monarch in diverse Indonesia -- nowadays Muslim-majority, but which has had Hindu and Buddhist kingdoms over the centuries and is home to about 300 different ethnic groups.

Queens at times ruled over the ancient Majapahit empire, which covered large parts of what is now Indonesia from the late 13th to the early 16th centuries, as they did in Aceh, on western Sumatra island, when it was an independent sultanate.

"About 90 percent of the family don´t respect him anymore," raged Gusti Bendoro Pangeran Haryo Prabukusumo, a step-brother of the ruler who snubbed the event.