`Ayo Poligami` Aplikasi Smartphone yang Disorot Dunia
"Let`s Do Polygamy": New Dating App Stirs Debate in Indonesia
Editor : Ismail Gani
Translator : Novita Cahyadi

PUBLISHED: Senin, 02 Oktober 2017 , 09:44:00 WIB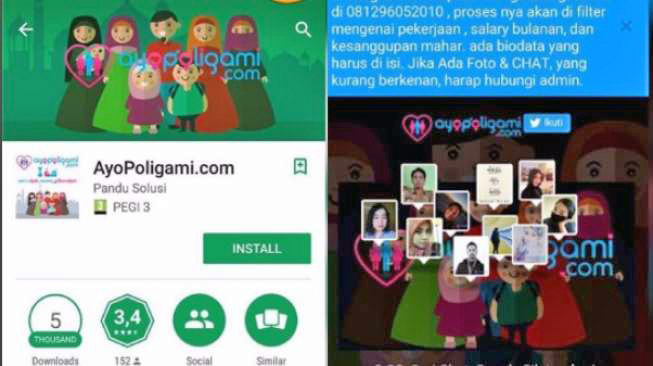 Screenshot: istimewa
DENGAN menjelajahi situs kencan setahun yang lalu, pengembang aplikasi Indonesia Lindu Pranayama menyadari bahwa banyak pria menikah yang mencari istri baru - namun hanya sedikit layanan online yang dapat memenuhi kebutuhan mereka.

"Ketika mereka mengunjungi situs kencan reguler, mereka tidak melihat pilihan untuk poligami. Mereka tidak melihat pilihan untuk menemukan istri kedua, ketiga atau keempat," katanya.

Masukkan "AyoPoligami" - sebuah aplikasi smartphone baru yang dikembangkan oleh Pranayama, yang bertujuan untuk "mempertemukan pengguna pria dengan wanita yang bersedia membuat 'keluarga baru'."

Situs yang mengajak 'poligami' ini menerapkan aplikasi seperti Tinder yang memicu kontroversi sejak diluncurkan pada April di Indonesia, di negeri dengan lebih 80% penduduknya adalah Muslim dan poligami dinyatakan legal.

Pria Muslim dapat mengawini empat istri di Indonesia, negara berpenduduk Muslim terbanyak di dunia, jika izin diberikan oleh pengadilan dan istri pertama memberikan persetujuannya.

Pihak pengadilan tidak dapat memberikan gambaran berapa banyak orang di Indonesia berpoligami, namun para aktivis mengatakan kasus pria yang memberikan informasi palsu untuk mendapatkan izin dan membohongi istrinya adalah hal biasa.

Aplikasi ini diunduh lebih dari 10.000 kali sebelum berhenti mendaftarkan anggota baru setelah kekhawatiran tentang akun palsu dari para pengguna, dan para pria yang mendaftar di situs tanpa sepengetahuan istri pertama mereka.

Versi baru situs akan diluncurkan pada 5 Oktober, dan akan memberlakukan peraturan yang lebih ketat pada pengguna termasuk mewajibkan mereka untuk memberikan kartu identitas resmi (KTP), status perkawinan dan surat izin dari istri pertama mereka.

Keinginan Poligami
Iyus Yusuf Fasyiya, seorang pekerja pabrik Indonesia yang memiliki dua istri, mengatakan bahwa dia menggunakan aplikasi tersebut untuk berbagi tip dengan pengguna lain tentang bagaimana mempertahankan pernikahan poligami.

"Banyak anggota mencari istri - mereka bertanya tentang bagaimana memulai, bagaimana mempertahankan pernikahan poligami, dan juga peraturan pemerintah," katanya dari kampung halamannya di Bogor, sekitar 90 menit berkendara dari ibu kota Jakarta.

Pria 37 tahun tersebut mengelak pertanyaan tentang apakah dia menggunakan aplikasi tersebut untuk mencari istri baru tapi mengatakan bahwa dia terus belajar tentang poligami, setelah dia menikahi istri keduanya enam tahun setelah pernikahan pertamanya pada 2000.

"Hal itu terjadi begitu saja, inilah yang Tuhan rencanakan untuk saya," kata Fasyiya, yang menggilir kedua istri dan lima anaknya yang bermukim di desa yang saling berdekatan.

Sebagian besar pengguna aplikasi adalah pria, namun ada sekitar 4.000 wanita yang mendaftar, kata pengembang aplikasi.

Pengacara Rachmat Dwi Putranto, yang menangani masalah perkawinan, mengatakan bahwa poligami "tidak mudah dilakukan" karena pengadilan Indonesia hanya akan memberikan izin jika istri pertama cacat, sakit atau tidak dapat memberikan anak.

Kekerasan terhadap Perempuan
Namun Indriyati Suparno, seorang komisaris dari Komisi Nasional Anti Kekerasan Terhadap Perempuan yang didukung oleh pemerintah, mengatakan bahwa aplikasi tersebut mencoba untuk "menormalisasi poligami". "Kenyataannya adalah perempuan cenderung menjadi korban kekerasan rumah tangga dalam poligami - poligami adalah bentuk kekerasan terhadap perempuan," katanya.

Kementerian Pemberdayaan Perempuan dan Perlindungan Anak Indonesia mengatakan bahwa terserah kepada setiap orang jika mereka ingin menggunakan aplikasi ini karena poligami legal sepanjang dapat dilakukan dengan adil.

"Bagi kami yang penting adalah apakah wanita dan anak-anak dilindungi dalam pernikahan poligami," kata juru bicara kementerian agama Hasan, yang menggunakan satu nama, mengatakan kepada Thomson Reuters Foundation.

Pengguna Fasyiya mengatakan bahwa dia akan terus mengacu pada aplikasi tersebut untuk belajar bagaimana menghidupi keluarga mereka.

"Saya dan istri saya, kami berkomitmen untuk menunjukkan kepada orang bahwa poligami tidak seserius yang mereka pikirkan," katanya seperti dikutip Reuters yang dilansir MailOnline.

"Kami berusaha menjalani hidup yang berbahagia."
SCROLLING dating websites a year ago, Indonesian app developer Lindu Pranayama realised there were a lot of married men looking for another wife - but few online services to meet their needs.

"When they go to regular dating sites, they don't see options for polygamy. They don't see options for finding second, third or fourth wives," he said.

Enter "AyoPoligami" - a new smartphone app developed by Pranayama, which aims to "bring together male users with women who are willing to make 'big families'."

Loosely translated as "Let's do polygamy", the Tinder-style dating app has already stirred up controversy since its April launch in Indonesia, where over 80 percent of the 250 million population are Muslim and polygamy is legal.

Muslim men can take up to four wives in Indonesia, the world's most populous Muslim country, if permission is granted by a court and the first wife gives her consent.

Court officials could not provide figures of how many people in Indonesia are polygamous, but activists say cases of men giving false information to gain permission and manipulation of women are common.

The app has been downloaded over 10,000 times before it stopped registering new members following concerns of fake accounts were being set up, and men using the site without the knowledge of their first wives.

A new version is set to be launched on Oct. 5, and will impose stricter rules on users including requiring them to provide an identification card, marital status and a letter of permission from their first wives.

'This is What God Planned for Me'
Iyus Yusuf Fasyiya, an Indonesian factory worker who has two wives, said he used the app to share tips with other users on how to maintain a polygamous marriage.

"Many members are looking for wives - they ask about how to start, how to maintain polygamous marriages, and also government regulations," he said from his home village in Bogor, about 90-minute drive from the capital Jakarta.

The 37-year-old dodged questions about whether he was using the app to look for another wife but said he continues to learn about polygamy, after he took on his second wife six years following his first marriage in 2000.

"It just happened, this is what God planned for me," said Fasyiya, who takes turns to see his two wives and five children who live in nearby villages.

The majority of the app users were men, but there were also about 4,000 women who have registered, the app developer said.

Lawyer Rachmat Dwi Putranto, who deals with marriage matters, said polygamy is "not that easily achieved" as Indonesian courts will only give permission if the first wife is disabled, ill or cannot bear children.

Violence Against Women
But Indriyati Suparno, a commissioner from the government-backed National Commission on Violence Against Women, said the app was trying to "normalise polygamy". "The reality is women tend to be the victims of domestic violence in a polygamous marriage - polygamy is a form of violence against women," she said.

Indonesia's Women's Empowerment and Child Protection Ministry said it was up to individuals if they wanted to use the app because polygamy is legal as long as it can be done in a fair manner.

"For us what is important is whether the women and children are protected in polygamous marriages," the ministry's spokesman Hasan, who uses one name, told the Thomson Reuters Foundation.

User Fasyiya said he will continue to refer to the app to learn how to juggle his two families.

"Me and my wives, we're committed to showing people that polygamy isn't as scary as they think," he said.

"We're trying to make it work."