Ibrahimovic Cetak Hat-trick dan Gol Cavani dari Jarak 25 Meter
Ibrahimovic Scores Hat-trick and Cavani Scores from 30-yard
Editor : Ismail Gani
Translator : Novita Cahyadi

PUBLISHED: Senin, 01 September 2014 , 09:07:00 WIB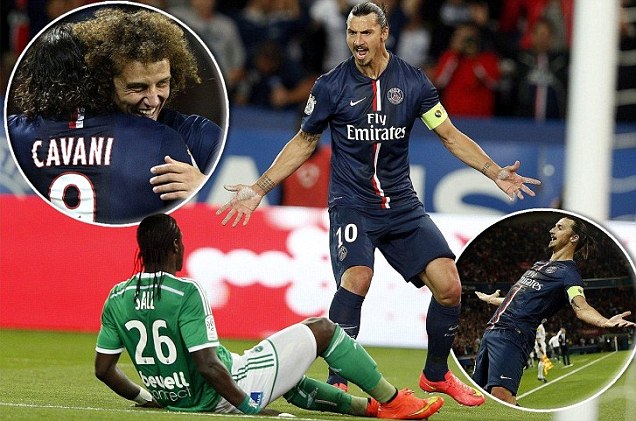 Gol ketiga Ibrahimovic terjadi saat serangan balik pada menit ke-72. (Foto2: MailOnline)
Paris (B2B) - Zlatan Ibrahimovic mencetak tiga gol saat Paris Saint Germain menghancurkan St Etienne dengan skor 5-0 pada Minggu.

Kiper Les Verts Ruffier gagal mengendalikan operan ke belakang dari Jeremy Clement pada babak pertama.

Ruffier yang membuat PSG unggul pada menit ke-24, ia gagal mengendalikan operan Clement dan berujung pada gol bunuh diri, seperti dilansir Yahoo Sports.

Ibrahimovic mengubah skor menjadi 2-0 empat menit sebelum turun minum, ketika ia menanduk bola umpan silang dari Maxwell.

Ruffier memperlihatkan kualitasnya pada babak kedua untuk menggagalkan sepakan melengkung Edinson Cavani dari luar kotak penalti, namun hanya sedikit yang dapat dilakukannya pada menit ke-62 saat Ibrahimovic memotong operan ke belakang Kevin Monnet-Pacquet untuk menyarangkan gol ketiga.

Semenit berselang, Cavani menambah penderitaan St Etienne melalui sepakan melengkung dari jarak 25 meter.

Gol ketiga Ibrahimovic terjadi saat serangan balik pada menit ke-72.
Paris - Zlatan Ibrahimovic notched a hat trick on his return from injury as defending champion Paris Saint-Germain thrashed Saint-Etienne 5-0 in the French league on Sunday.

The return of the Sweden striker seemed to PSG´s attack the spark it was missing in a goalless draw the previous weekend.

The hosts took the lead in the 24th minute with an own goal from Saint-Etienne goalkeeper Stephane Ruffier, who missed his first touch while taking a back pass from Jeremy Clement.

Ibrahimovic, who sat out the previous game with a left oblique injury, doubled the lead by heading home a cross from PSG leftback Maxwell in the 41st and then intercepted a back pass from Kevin Monnet-Paquet to dribble past Ruffier for a 3-0 lead in the 62nd.

Edinson Cavani made it 4-0 a minute later with a curling shot from 25 yards before Ibrahimovic beat the offside trap to slip the ball past Ruffier in the 72nd.

PSG has eight points from its first four games, trailing leader Bordeaux by two points.