Buffon dkk Berderai Airmata, Pertama Kali dalam 60 tahun Gagal ke Piala Dunia
Azzurri Heartache as They Fail to Reach Finals for First Time in 60 Years
Editor : Ismail Gani
Translator : Novita Cahyadi

PUBLISHED: Selasa, 14 November 2017 , 16:01:00 WIB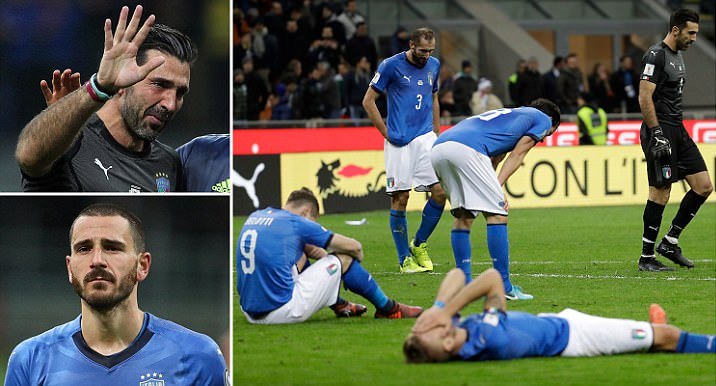 Kali ini pukulan yang diterima Italia benar-benar menyakitkan: setelah harga diri mereka dicampakkan, dan membuyarkan impian mereka sehingga mereka tidak berpeluang tampil di Piala Dunia (Foto2: MailOnline)
MAMMA MIA, dia lagi .. dia lagi. Situasi ini mengingatkan lagu kondang karya West End, grup musik asal Inggris, kini pesepakbola Swedia yang menjegal langkah Italia menuju Piala Dunia di Rusia tahun depan.

Kali ini pukulan yang diterima Italia benar-benar menyakitkan: setelah harga diri mereka dicampakkan, dan membuyarkan impian mereka sehingga mereka tidak berpeluang tampil di Piala Dunia, dan tim Azurri untuk pertama kalinya gagal tampil untuk pertama kalinya sejak 1958.

"Saya tidak menyesali diri saya tapi ini untuk sepakbola Italia," kata kiper Gianluigi Buffon 39 tahun, yang takluk pada serangan Jakob Johansson yang dibelokkan di leg pertama di Stockholm pada Jumat pekan lalu yang membuktikan satu-satunya gol penentu dari dua laga penting.

'Kegagalan menjadi tanggung jawab kami semua. Tidak boleh ada kambing hitam. Menang bersama, kalah bersama.'

'Kami memiliki kebanggaan, kekuatan dan kami keras kepala. Kami tahu bagaimana untuk bangkit kembali seperti yang selalu kami lakukan.'

"Saya meninggalkan tim Italia yang akan tahu bagaimana cara berbicara untuk dirinya sendiri. Pelukan untuk semua orang, terutama yang telah saya bagikan dalam perjalanan yang indah ini.'

Buffon, turut andil meraih juara dunia 2006, faham sepak bola menjadi kebanggaan Italia dan bisa menyatukan negara saat Azzurri sukses.

Empat kali Italia menjadi juara Piala Dunia dan dua kali mereka gagal di laga di final.

Foto-foto Toto Schillaci, Roberto Baggio, Luigi Riva, Marco Tardelli dan Dino Zoff ditenun menjadi sejarah kompetisi.

Ini lebih menyakitkan, memang, ketimbang pengalaman ditekuk Korea Utara dan Korea Selatan di dua kompetisi terakhir saat mereka tersisih dari persaingan grup.

Biasanya, bagaimanapun, tim Italia bisa mencapai final meski kerap loyo di awal kompetisi pra Piala Dunia.
Tidak kali ini. Setelah menempati posisi kedua dalam grup kualifikasi yang dimenangkan Spanyol, mereka terbukti tidak mampu mencetak gol melewati Swedia dalam dua pertandingan sepanjang 180 menit seperti dilansir MailOnline.
MAMMA MIA, here we go again. Not content with seizing their most famous expression of despair and turning it into a pop hit and a West End musical, the Swedes have returned to haunt Italy.

This time they hit the Italians where it really hurts: stealing their pride, strangling their dreams and producing a World Cup finals without the Azzurri for the first time since 1958.

'I'm not sorry for myself but all of Italian football,' said 39-year-old Buffon, beaten by a deflected Jakob Johansson strike in the first-leg in Stockholm on Friday which proved the only goal of a two-legged tie.

'We failed at something which also means something on a social level. There is regret at finishing like that.

'Blame is shared equally between everyone. There cannot be scapegoats. Win together, lose together.'

'We have pride, strength and we are stubborn. We know how to get back up again as we've always done.

'I am leaving an Italy side that will know how to speak for itself. Hugs to everyone, especially those I've shared this wonderful journey with.'

Buffon, a world champion in 2006, knows football defines Italy and can unite the country when the Azzurri are successful.

Four times they have won the World Cup and twice they have been beaten in the final.

Images of Toto Schillaci, Roberto Baggio, Luigi Riva, Marco Tardelli and Dino Zoff are woven into the history of the competition.

As, indeed, are upsets at the hands of North Korea and South Korea and in the last two finals when they failed to climb out of the group.

Usually, however, the Italians can depend on reaching the finals.

Not this time. Having finished second in a qualifying group won by Spain, they proved unable to score past Sweden in 180 minutes.