Mesir Lolos ke Piala Dunia 2018, Kairo Pesta Pora Jawab Penantian 28 Tahun
Egypt Confirmed Their Place at the 2018 Russia World Cup by Beating Congo
Editor : Ismail Gani
Translator : Novita Cahyadi

PUBLISHED: Senin, 09 Oktober 2017 , 21:35:00 WIB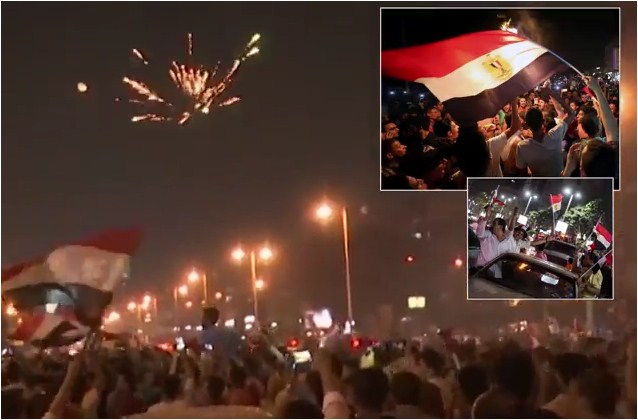 Pemain sayap Mohamed Salah mencetak dua gol saat mengalahkan Kongo 2-1, mengamankan kemenangan untuk memastikan Mesir meraih empat poin dengan satu pertandingan tersisa dalam kualifikasi grup E Afrika (Foto2: MailOnline)
KAIRO, ibukota Mesir berderak dengan kembang api dan berbaur dengan kegembiraan saat negara pencinta sepak bola berhasil lolos ke Piala Dunia untuk pertama kalinya dalam 28 tahun, dan seluruh kota berpesta pora menyambut pencapaian langka tersebut.

Pemain sayap Mohamed Salah mencetak dua gol saat Firaun mengalahkan Kongo 2-1, mengamankan kemenangan dengan untuk memastikan Mesir meraih empat poin dengan satu pertandingan tersisa dalam kualifikasi grup E Afrika.

Kemenangan itu memang dinantikan Mesir meraih kesempatan langka menuju Rusia untuk putaran final Piala Dunia 2018, setelah negara dengan berpenduduk mayoritas Arab itu akan bersaing dalam tahap akhir sepak bola untuk pertama kalinya berpartisipasi pada 1990.

"Sudah ditunggu 28 tahun dan akhirnya kami lolos ke Piala Dunia. Hari ini adalah hari kemenangan untuk seluruh negeri," kata Gaber Fathy yang berusia 41 tahun.

Suasana kegembiraan yang tumpah di jalanan menandai masa istirahat bagi orang-orang Mesir setelah bertahun-tahun mengalami kesulitan, dari reformasi penghematan yang didukung IMF yang mendorong inflasi mencapai rekor tertinggi dibelenggu undang-undang yang melarang demonstrasi sehingga nyaris tidak ada unjuk rasa setelah dua presiden digulingkan melalui pemberontakan pada 2011.

'Anda bisa melihat-lihat dan melihat bagaimana orang bahagia. Ini adalah sesuatu yang tidak pernah Anda saksikan di Mesir, "kata Gamal Mohamed, 23 tahun, di pusat kota Tahrir Square, pusat ikon gerakan demonstrasi sekali-aktif negara tersebut, yang sejak itu dikekang oleh tindakan represif yang ketat.

Presiden Mesir Abdel Fattah al-Sisi mengucapkan selamat kepada rakyat Mesir setelah pertandingan tersebut setelah mereka tak kenal lelah mengusung bendera Mesir dan mendadak mengubah jalan menjadi parade merah, putih dan hitam.

Tepat di seberang perbatasan di negara tetangga Gaza, di mana Mesir memimpin proses rekonsiliasi politik, ribuan orang Palestina menuangkan sebuah taman terbuka untuk bersorak sebagai negara Arab yang lolos ke Piala Dunia 2018 setelah Arab Saudi seperti dilansir MailOnline.
EGYPT'S capital crackled with fireworks and blared with horns as the football-crazy country reached the World Cup for the first time in 28 years, sparking rare scenes of joy in the centre of the city.

Winger Mohamed Salah scored twice as the Pharaohs defeated Congo 2-1, securing victory with a last-gasp penalty to put Egypt four points clear with one match left in their African group E qualifying campaign.

The win clinched Egypt a long-awaited spot in Russia for the 2018 World Cup finals, where the Arab world's most populous country will compete on football's ultimate stage for the first time since Italy in 1990.

'It's been 28 years and we're finally going to enter the World Cup. Today is a day of celebration for the entire country,' said 41-year-old Gaber Fathy.

The raucous mood spilling out on the streets marked a respite for Egyptians after years of hardship, from IMF-backed austerity reforms that have pushed inflation to record highs to a tough law on protests that has made public gatherings exceedingly rare after two presidents were toppled since a 2011 uprising.

'You can look around and see how people are happy. This is something you never witness in Egypt,' said 23-year-old Gamal Mohamed in downtown Cairo's Tahrir Square, the iconic centre of the country's once-active protest movement, which has since been quashed by tough security measures.

Egypt's President Abdel Fattah al-Sisi congratulated the Egyptian people after the match as tireless fans draped in flags turned the streets into an impromptu parade of red, white and black.

Just across the border in neighbouring Gaza, where Egypt has led a political reconciliation process, thousands of Palestinians poured into an open-air park to cheer on the second Arab country to qualify for the 2018 World Cup after Saudi Arabia.