Sergio Aguero Tidak Sendiri, Ini Sederet Bintang yang Dibuang Pep Guardiola
Sergio Aguero is Not the First Superstar to be Outcast by Pep Guardiola
Editor : Ismail Gani
Translator : Novita Cahyadi

PUBLISHED: Rabu, 08 Februari 2017 , 02:13:34 WIB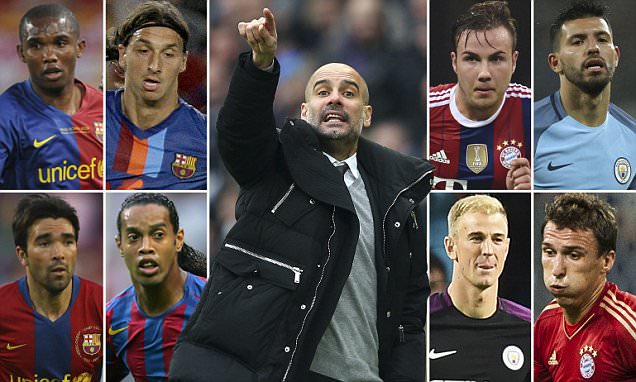 Mereka yang disingkirkan Guardiola di Barcelona: Eto´o, Ibrahimovic, Deco; Ronaldinho dan Gotze tersingkir di Bayern Munich; Joe Hart dan Guardiola adalah korban berikutnya di City oleh Pep Guardiola (tengah) Foto2: MailOnline
DIA MUNGKIN telah mencetak 154 gol dalam 234 pertandingan dan mencetak gol paling terkenal dalam sejarah Manchester City, namun prestasi tersebut tidak lantas mengurungkan niat Sergio Aguero menjadi 'orang buangan' Pep Guardiola.

Masa depan striker Argentina di Etihad mendadak diragukan ragu menyusul aksi menakjubkan yang dibuat oleh 'bocah ajaib' Brasil Gabriel Yesus dan banyak yang bertanya apakah hari-harinya bersama City hanya menghitung hari.

Guardiola telah membuktikan sepanjang karirnya bahwa dia seorang pelatih yang tidak segan menggusur pemain yang tidak cocok dengan filosofinya. Berikut adalah beberapa pemain yang bernasib sama ketika Pep berada di Barcelona, ​​Bayern Munich dan City.

BARCELONA

Ronaldinho
Bintang Brasil itu berusia 28, secara teoritis berada di puncak karirnya, ketika ia menjadi korban 'pembersihan'
Guardiola setelah mengambil alih peran sebagai manajer Barcelona pada 2008.

Tidak ada pertanyaan bahwa kinerja Ronaldinho sudah menurun, namun tidak sedikit yang bertanya ada apa dengan kondisi fisik dan profesionalismenya.

Deco
Salah satu dari sembilan pemain Guardiola yang dipecat setelah hadir sebagai manajer Barcelona adalah bintang Portugal, Deco. Dia bergabung di klub selama empat musim dengan prestasi dan sukses luar biasa dan punya andil besar meraih juara Liga Champions pada 2006.

Namun, Guardiola jelas tidak terganggu oleh rekam jejak dan Deco adalah salah satu dari pemain ditendangnya dari tim, hal itu mendorong klub menjual Deco ke Chelsea sebesar 8 juta poundsterling.

Samuel Eto'o
Salah satu pemain yang selamat dari aksi pembersihan Guardiola - atau setidaknya memperoleh penundaan eksekusi - adalah Eto'o. Guardiola secara khusus memasukkan striker Kamerun ini dalam daftar orang-orang yang bukan bagian dari pemikirannya.

Agaknya ini datang sebagai kejutan bagi Eto'o, yang mencetak mengesankan 94 gol untuk Barcelona dan memenangkan dua gelar liga domestik dan Liga Champions.

Zlatan Ibrahimovic
Eto'o pindah ke Inter Milan sebagai bagian dari kesepakatan untuk mendapatkan striker Swedia ke Nou Camp. Setelah penandatanganan Ibrahimovic, Guardiola sesumbar: "Dia adalah pemain yang fantastis, sangat kuat, dan dapat melakukan segala hal penting di lapangan."

Ibra memulai kehidupan di Barcelona dengan 11 gol dalam 14 pertandingan liga pertamanya, namun dengan cepat hal itu memudar.

BAYERN MUNICH

Mario Mandzukic
Pemain ini menjadi korban pertama Guardiola di Munich. Dia bergabung dengan Bayern Munich pada musim panas 2012 dan memainkan peran penting karena mereka berhasil meraih tiga juara (treble, bahkan mencetak gol dalam kemenangan final Liga Champions menghadapi Borussia Dortmund.

Kemudian Guardiola ditunjuk sebagai manajer dan semuanya berubah. Mandzukic tidak cocok dengan gaya Guardiola bermain dan meskipun ia mencetak 26 gol di semua kompetisi selama musim pertama Guardiola,
dia harus duduk di bangku cadangan.

Mario Gotze
Langkah Gotze hengkang dari Borussia Dortmund ke rival mereka utama Bayern Munich pada musim panas 2013 tergolong sangat kontroversial dan Jurgen Klopp kemudian mengakui ia hanya memiliki sedikit kesempatan untuk mempertahankan dia, karena 'dia adalah favorit Pep Guardiola'.

Ketika dia mendukung timnas Jerman pada dua pertandingan penting di Bayern namun tampil kurang meyakinkan, dan itu pula yang membuat Gotze harus tersingkir dari pola permainan Guardiola.

MANCHESTER CITY

Joe Hart
Kiper nomor satu timnas Inggris ini juga menjadi penjaga gawang pilihan pertama City selama delapan tahun tetapi kedatangan Guardiola pada musim panas Guardiola mengakhiri semua itu.

Dari catatan prestasi yang buruk untuk timnas Inggris di Kejuaraan Eropa, Hart disingkirkan oleh Guardiola yang lebih memilih Claudio Bravo, dengan penampilkan dianggap lebih baik.

Yaya Toure
Ini adalah bukti awal bahwa Guardiola keberatan terhadap Yaya Toure juga, dengan mengatakan kelebihan bobot. Hal itu menjadi tidak menyenangkan ketika Toure, tampil di klub lain, dan punya andil pada kegagalan City di Liga Champion.

Situasi menjadi memburuk karena Toure tidak diberikan penjelasan sebelum pengumuman itu dibuat dan agennya, Dimitri Seluk, ikut meradang pada situasi tersebut setelah Toure dituding 'mempermalukan' sang bos dengan kata-kata kasar seperti dilansir MailOnline.
HE MAY have scored 154 goals in 234 matches and scored the most famous goal in Manchester City's history, but that hasn't stopped Sergio Aguero being outcast by Pep Guardiola.

The Argentina striker's future at the Etihad is suddenly in doubt following the stunning start made by Brazilian wonderkid Gabriel Jesus and many are asking whether his days in City blue are numbered.

Guardiola has shown throughout his career that he's a ruthless customer when it comes to players whom he perceives as not fitting in with his philosophy. Here are some of the others who've been given the cold shoulder during Pep's time at Barcelona, Bayern Munich and City.

BARCELONA

Ronaldinho
The Brazilian star was 28, theoretically at the peak of his career, when he fell victim to Guardiola's clean-slate approach after taking over as Barcelona manager in 2008.

There was no question that Ronaldinho was already in decline, with eyebrows raised over his physical condition and professionalism.

Deco
Another one of the nine players Guardiola axed upon arrival as Barcelona manager was the Portugal star Deco. He had been at the club for four successful seasons and was outstanding as they lifted the Champions League in 2006.

But Guardiola was evidently not bothered by track records and Deco was another of the players he wanted to offload, pushing through a sale to Chelsea for £8million.

Samuel Eto'o
One player who survived this cull - or at least gained a stay of execution - was Eto'o. Guardiola had specifically included the Cameroon striker in the list of those who weren't part of his thinking.

Presumably this came as a shock to Eto'o, who'd scored an impressive 94 goals for Barcelona to this point and won two league titles and the Champions League.

Zlatan Ibrahimovic
Eto'o moved to Inter Milan as part of the deal to bring the irrepressible Swede to the Nou Camp. Upon signing Ibrahimovic, Guardiola gushed: 'He is a fantastic player, is very powerful, and can do everything at the greatest level.'

Ibra started life at Barcelona with 11 goals in his first 14 league games, but things quickly began to unravel.

BAYERN MUNICH

Mario Mandzukic
Things were going swimmingly for Mandzukic. He joined Bayern Munich in the summer of 2012 and played a key role as they won the Treble, even scoring a goal in their Champions League final win over Borussia Dortmund.

Then Guardiola was appointed manager and everything changed. Mandzukic wasn't suited to Guardiola's style of play and though he scored 26 goals in all competitions during Guardiola's first season, the writing was on the wall.

Mario Gotze
Gotze's move from Borussia Dortmund to their rivals Bayern Munich in the summer of 2013 was highly controversial and Jurgen Klopp later acknowledged he had little chance of keeping him, because 'he is a Pep Guardiola favourite'.

The Germany international's first two campaigns at Bayern were pretty hit and miss, and it was as though Gotze never really fitted into Guardiola's style of playing.

MANCHESTER CITY

Joe Hart
England No 1 Hart had been City's first-choice keeper for eight years but Guardiola's arrival last summer ended all that.

Off the back of a poor performance for England at the European Championship, Hart was demoted by Guardiola in favour of Claudio Bravo, whose footwork was supposedly better.

Yaya Toure
It was evident early on that Guardiola had reservations about Yaya Toure's worth as well, saying that he was out of shape. The situation exploded when Toure, another club mainstay, was left out of City's Champions League squad.

The situation was worse because Toure wasn't given the courtesy of an explanation before the announcement was made and his agent, Dimitri Seluk, inflamed the situation by saying Toure had been 'humiliated' in a rant against Guardiola.