Mereka Tidak Pensiun, Pilih Latih Pemain Muda di Akademi Klub
Meet the Host of Former Premier League Stars in Development Roles
Editor : Ismail Gani
Translator : Novita Cahyadi

PUBLISHED: Senin, 13 November 2017 , 22:44:00 WIB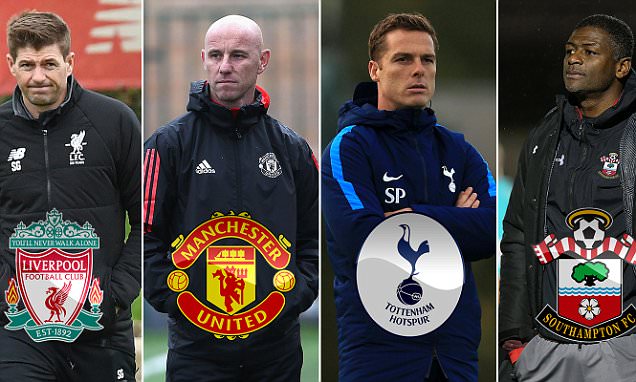 Kiri ke kanan: Steven Gerrard, Nicky Butt, Scott Parker, dan Radhi Jaidi (Foto2: MailOnline)
PECANDU bola di Inggris lebih senang melihat pemain dari klub idolanya berasal dari akademi klub. Hal ini meningkatkan hubungan dengan klub dan memberi peluang anak-anak bermimpi menjadi pemain hebat suatu saat kelak.

Namun siapa yang menjadi teladan bagi bintang akademi Inggris? Klub mana saja yang memilih pemain veteran untuk menyampaikan pesan ke generasi berikutnya?

Sportsmail telah 'mengintip' klub-klub di Liga Primer yang mempekerjakan mantan pemain untuk mengajar bintang akademi mereka.

Liverpool
Hanya ada satu mantan pemain Liverpool yang terlibat dalam struktur akademi mereka. Memang adil untuk mengatakan, bagaimanapun, itu adalah keputusan yang besar. Gelandang ikonik Steven Gerrard menjadi manajer usia 18 (U-18) di musim panas saat ia melihat untuk mengukir karir sebagai manajer. Gerrard mengangkat piala Liga Champions pada 2005 dan juga memenangkan Piala Liga dalam tiga kesempatan dan Piala FA dua kali sebagai pemain untuk klub berjuluk The Reds, satu-satunya klub yang diwakili di Inggris.

Manchester United
Manchester United memiliki tradisi pengembangan pemuda yang luar biasa. Salah satu alumni mereka yang paling terkenal adalah Kelas '92, dan masuk akal seorang anggota kelompok tersebut akan bertanggung jawab atas akademi tersebut. Nicky Butt ditunjuk untuk peran itu pada Februari 2016 dan telah sukses, membawa sejumlah pemain muda seperti Scott McTominay. Butt membawa MU memenangkan Liga Primer enam kali, Liga Champions, dan Piala FA tiga kali saat bermain untuk United.

Southampton
Southampton mendapatkan reputasi yang baik untuk melatih pemain muda selama beberapa musim terakhir. Salah satu yang memiliki andil besar adalah Radhi Jaidi, asisten manajer di bawah usia 23. Dia bermain untuk klub berjuluk The Saints antara 2009 hingga 2012, sebuah periode yang membuat mereka melompat dari Liga Satu ke Liga Primer. Juga di klub tersebut adalah Danny Butterfield, yang bekerja sebagai pelatih U-18. Butterfield juga memenangkan dua promosi tersebut namun bertahan beberapa musim pertama di Liga Primer.

Tottenham Hotspur
Siapa yang lebih baik belajar dari daripada mantan pemain pemain terbaiknya? Tottenham Usia 18 memiliki kesempatan itu untuk pelatih Scott Parker, yang bermain untuk klub tersebut pada 2011 hingga 2013. Dia tampil 50 kali di White Hart Lane. Mereka juga memiliki ikon di jajaran mereka di Pat Jennings, yang bekerja sebagai pelatih kiper untuk akademi tersebut. Jennings memenangkan Piala FA, Piala Liga dan Piala UEFA dengan Spurs saat tampil bertanding 472 kali seperti dilansir MailOnline.
EVERY supporter in the land likes seeing players emerge from the academy and pull on a first-team shirt. It gives fans a connection with the team and lets kids dream about walking the same road.

But who sets the example for England's academy stars? Which clubs turn to veteran players to pass on the best messages to the next generation?

Sportsmail has taken a look at the clubs in the Premier League employing former players to teach their academy stars.

Liverpool
There is only one former Liverpool player involved in their academy structure. It is fair to say, however, that it is a big one. Iconic midfielder Steven Gerrard became Under-18s manager in the summer as he looks to carve out a career as a manager. Gerrard lifted the Champions League in 2005 and also won the League Cup on three occasions and the FA Cup twice as a player for the Reds, the only club he represented in England.

Manchester United
Manchester United have an incredible tradition of youth development. One of their most famous outputs was the Class of '92, and it makes sense a member of that group would be in charge of the academy. Nicky Butt was appointed to that role in February 2016 and has already had success, bringing through the likes of Scott McTominay. Butt won the Premier League six times, the Champions League, and the FA Cup on three occasions while playing for United.

Southampton
Southampton have earned a well deserved reputation for bringing through young players over the last few seasons. One man helping with that is Radhi Jaidi, the Under-23s assistant manager. He played for the Saints between 2009 and 2012, a period that saw them leap from League One to the Premier League. Also at the club is Danny Butterfield, who works as an Under-18s coach. Butterfield also won those two promotions but stuck around for some of the first season in the Premier League.

Tottenham Hotspur
Who better to learn from than a former club Player of the Year? Tottenham's Under-18s have that opportunity courtesy of coach Scott Parker, who played for the club between 2011 and 2013. He featured 50 times at White Hart Lane. They also have an icon in their ranks in Pat Jennings, who works as a goalkeeping coach for the academy. Jennings won the FA Cup, League Cup and UEFA Cup with Spurs while making 472 appearances over two spells.