McLaren Tambah Perangkat Elemen Aerodinamis `Halo` untuk Formula 1
McLaren Add New Aerodynamic Element to Formula One `Halo` by Testing Out Mini-wing
Editor : Ismail Gani
Translator : Novita Cahyadi

PUBLISHED: Rabu, 29 November 2017 , 22:46:00 WIB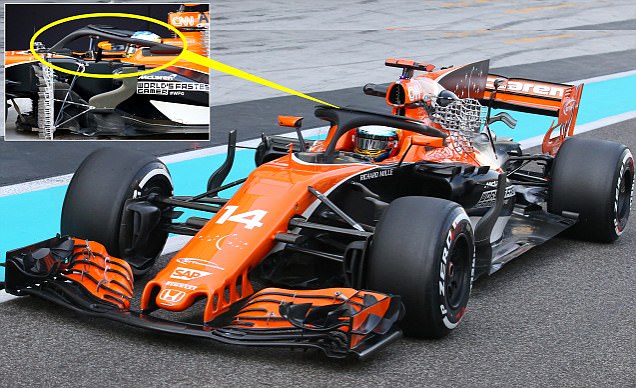 Pada pengujian ban di Sirkuit Yas Marina pada Selasa pagi, McLaren menguji coba estetika perangkat tersebut dengan menambahkan elemen aerodinamis - winglet - yang disebut-sebut belum maksimal (Foto: MailOnline)
TIM MCLAREN mengawali persiapan mereka untuk musim Formula Satu 2018 dengan menguji sayap mini pada perangkat keselamatan kokpit kontroversial yang dikenal dengan sebutan 'halo'.

Konsep tersebut akan diperkenalkan tahun depan dan, setelah berakhirnya musim 2017 di Abu Dhabi pada Minggu, McLaren sudah mulai menyiapkan mobil mereka untuk peraturan baru tersebut.

Pada pengujian ban di Sirkuit Yas Marina pada Selasa pagi, McLaren menguji coba estetika perangkat tersebut dengan menambahkan elemen aerodinamis - winglet - yang disebut-sebut belum maksimal.

Fernando Alonso mengusung McLaren untuk menguji coba di sekitar sirkuit Abu Dhabi dan perbedaan yang mencolok adalah tampilan baru ke mobilnya.

Membandingkan mobil Alonso dengan Renault dan Force India - keduanya juga menggunakan 'halo' - terbukti bahwa McLaren melakukan improvisasi terhadap konsep tersebut.

Mereka memasang sayap di atas perangkat untuk membantu aerodinamika mobil, dan tim ingin mendapatkan performa terbaik dari penantang 2018 mereka.

Pekan lalu, Force India mengungkapkan kepada Sportsmail bahwa dampak 'halo' terhadap mobil Formula Satu, dan perubahan yang diperlukan untuk memastikan mereka siap tahun depan seperti dilansir MailOnline.

Dan Marshall, insinyur desain senior di bidang aerodinamika, mengatakan: "Peraturan utama kami adalah pengenalan sistem pengaman halo."
MCLAREN have begun their preparations for the 2018 Formula One season by testing out a mini-wing on the controversial cockpit safety device known as 'the halo'.

The concept will be introduced next year and, following the conclusion of the 2017 campaign in Abu Dhabi on Sunday, teams have already started to get their cars ready for the new regulations.

At tyre testing at the Yas Marina Circuit on Tuesday morning, McLaren played around with the aesthetics of the device by adding an aerodynamic element —a winglet — to the much-maligned safety apparatus.

Fernando Alonso took his McLaren for a spin around the Abu Dhabi track and a notable difference was the new look to his car.

Comparing Alonso's car to Renault and Force India — both of whom also used the 'halo' — it was evident that McLaren had improvised with the concept.

They attached a wing on top of the device to help with the aerodynamics of the car, with teams looking to get the best performance out of their 2018-bound challengers.

Last week, Force India revealed to Sportsmail the impact the 'halo' will have on the Formula One car, and the changes required to ensure they are ready next year.

Dan Marshall, the senior design engineer in aerodynamics, said: 'The main regulation change for us is the introduction of the halo driver safety system.