Cewek Cantik Kini Dilarang Berkeliaran di Ajang Balap Mobil F1
Now the Grid Girls are Axed from Formula One
Editor : Ismail Gani
Translator : Novita Cahyadi

PUBLISHED: Rabu, 31 Januari 2018 , 23:38:00 WIB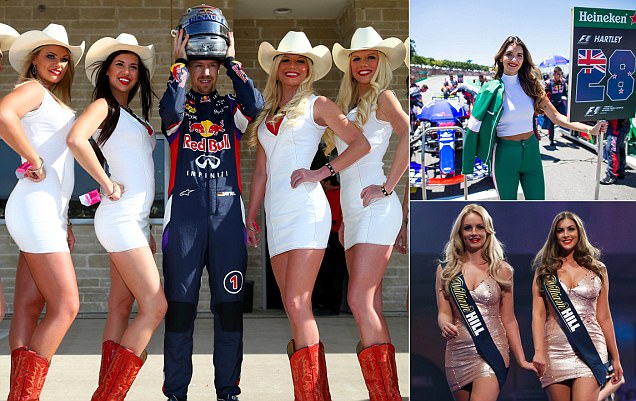 Foto2: MailOnline
TAK ADA lagi cewek-cewek cantik berkeliaran di Formula Satu (F1) mulai hari ini setelah pengelola F1 memutuskan untuk menyingkirkan mereka dari ajang balap mobil paling terkenal di seantero jagat tersebut.

Bos F1 mengatakan bahwa mereka tidak akan lagi menggunakan cewek-cewek cantik sejak musim ini yang dimulai di Australia dalam waktu dua bulan ke depan setelah dinilai tidak sesuai dengan ´nilai merek´ mereka.

Langkah tersebut sebagai implementasi dari keputusan organisasi the Professional Darts Corporation pekan lalu untuk mengakhiri kehadiran cewek cantik yang menjadi tradisi F1 untuk mendampingi para pembalap bertanding.

Dan itu terjadi setelah konflik yang terus berlanjut mengenai pelecehan seksual menyusul tuduhan yang dikenakan pada ´orang kuat´ Hollywood Harvey Weinstein yang dituding melecehkan sejumlah aktris wanita.

Perubahan tersebut juga berlaku untuk balapan lain yang berlangsung pada akhir pekan grand prix dan akan mulai berlaku dari Grand Prix Australia di Melbourne pada 25 Maret.

Sean Bratches, direktur operasi komersial F1, mengatakan: ´Selama tahun lalu kami telah melihat sejumlah area yang kami rasa perlu diperbarui agar lebih selaras dengan visi kami untuk olahraga hebat ini."

"Sementara praktik mempekerjakan sejumlah cewek telah menjadi bahan pokok Formula 1 Grand Prix selama beberapa dekade, kami merasa kebiasaan ini tidak beresonansi dengan nilai merek kami dan jelas bertentangan dengan norma sosial modern," seperti dilansir MailOnline.
WALK-ON GRID girls were axed from Formula One today as the motorsport followed the move within darts to get rid of glamour women.

F1 bosses said they will no longer use grid girls from this current season which starts in Australia in two months´ time because it is not in keeping with their ´brand values´.

The move mirrors the Professional Darts Corporation´s decision last week to end the long-established practice of women escorting male players to the stage.

And it comes in the wake of the growing row over sexual harassment following accusations levelled at disgraced Hollywood film mogul Harvey Weinstein.

The changes will also apply to other races which take place on grand prix weekends and will come into play from the Australian Grand Prix in Melbourne on March 25.

Sean Bratches, F1 managing director of commercial operations, said: ´Over the last year we have looked at a number of areas which we felt needed updating so as to be more in tune with our vision for this great sport.

´While the practice of employing grid girls has been a staple of Formula 1 Grands Prix for decades, we feel this custom does not resonate with our brand values and clearly is at odds with modern day societal norms.