Mourinho Bertemu Dua `Senior` di MU pada Forum Pelatih Elit UEFA
Mourinho Attends UEFA Elite Coaches Forum alongside Predecessors Louis van Gaal and Ferguson
Editor : Ismail Gani
Translator : Novita Cahyadi

PUBLISHED: Rabu, 30 Agustus 2017 , 23:59:00 WIB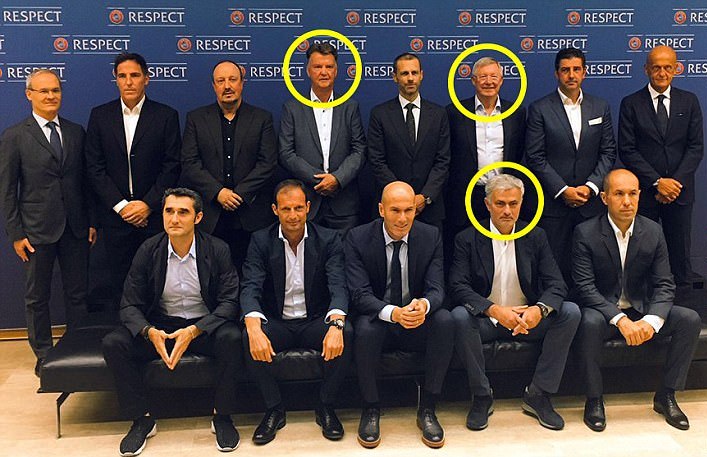 Kegiatan tersebut juga dihadiri presiden UEFA Aleksander Ceferin bertemu dengan mantan pemain termasuk Peter Schmeichel dan Xabi Alonso untuk membahas masalah yang mempengaruhi para bintang hari ini (Foto: MailOnline)
JOSE MOURINHO bukan hanya sua dengan satu tapi dua pendahulunya di Manchester United (MU) saat dia bertemu dengan Louis van Gaal dan Sir Alex Ferguson di Forum Pelatih Elite UEFA pada Rabu.

Pelatih kondang asal Portugis ini selalu berbagi hubungan yang penuh hormat dengan Ferguson, namun mungkin disambut dingin oleh Van Gaal, yang sebelumnya berulang kali dia kritik sejak Mourinho mengambil alih posisi di Old Trafford pada 2016.

Mereka bergabung dengan sejumlah pelatih elit lainnya dari seluruh Eropa termasuk bos Real Madrid Zinedine Zidane, pemain PSG Unai Emery dan Rafa Benitez dari Newcastle dalam kegiatan yang disebut konferensi tahunan ke-19.

Dengan Ferguson bertindak sebagai ketua, pertemuan tersebut dirancang untuk memberi kesempatan pada pelatih Eropa yang paling berpengaruh untuk mengungkapkan keprihatinan mereka dan bertukar pandangan mengenai isu-isu utama yang dihadapi kompetisi sepak bola Eropa.

Salah satu sosok penting yang absen pada sederet pelatih bola terkemuka adalah manajer Arsenal Arsene Wenger, yang menjadi tokoh berpengaruh di konferensi tersebut sejak lama.

Meskipun absennya tidak dapat dijelaskan, tampaknya sibuk menyikapi pasar transfer musim ini - Alexis Sanchez dan Alex Oxlade-Chamberlain keduanya diperkirakan akan hengkang - membuat alasan yang pas. Pep Guardiola sudah tidak lagi tertarik, sebelumnya berharap bisa membawa Sanchez ke Manchester City sebelum batas waktu Kamis.

Kegiatan tersebut juga dihadiri presiden UEFA Aleksander Ceferin bertemu dengan mantan pemain termasuk Peter Schmeichel dan Xabi Alonso untuk membahas masalah yang mempengaruhi para bintang hari ini.

Mereka akan membahas berbagai topik termasuk peraturan pertandingan, undang-undang sepak bola, promosi sepak bola, pendidikan dan kegiatan pasca pensiun.

Itu adalah kehadiran yang termasuk jarang bagi mantan manajer Manchester United, Van Gaal, yang belum menerima pekerjaan baru sejak dipecat dari Old Trafford. Itu adalah perjalanan yang berharga karena ia dihadirkan dengan sebuah plakat khusus atas kehadiran sebagai pelatih berbagai klub dalam 100 pertandingan Eropa di tingkat klub seperti dilansir MailOnline.
JOSE MOURINHO faced up to not one but two of his Manchester United predecessors as he met with Louis van Gaal and Sir Alex Ferguson at the UEFA Elite Coaches Forum on Wednesday.

The Portuguese has always shared a respectful relationship with Ferguson, but may have encountered a frosty reception from Van Gaal, who he has routinely criticised since taking over at Old Trafford in 2016.

They were joined by a host of other elite coaches from across Europe including Real Madrid boss Zinedine Zidane, PSG's Unai Emery and Newcastle's Rafa Benitez in what represented the 19th edition of the annual conference.

With Ferguson acting as chair, the meeting is designed to give Europe's most influential coaches a chance to express their concerns and exchange views on the major issues facing European competition.

One notable absentee from the star-studded line-up of was Arsenal manager Arsene Wenger, who has been an influential figure at the conference in years gone by.

Although his absence is unexplained, Arsenal's busy end to the summer transfer market — Alexis Sanchez and Alex Oxlade-Chamberlain are both expected to leave — makes for a fitting excuse. There was also no sight of Pep Guardiola, who is hoping to bring Sanchez to Manchester City before Thursday's deadline.

The day will also see UEFA president Aleksander Ceferin meet with former players including Peter Schmeichel and Xabi Alonso to discuss issues affecting today's stars.

They will discuss a wide range of topics including competition rules, laws of the game, football promotion, education and post-football activities.

It was a rare sighting of former Manchester United manager Van Gaal, who has yet to take on new work since his dismissal from Old Trafford. It was a worthwhile trip as he was presented with a special plaque for managing 100 European matches at club level.