Suarez `Ngambek` Gagal Cetak Gol, Berlagak bagai Hulk lalu Cabut Keluar Lapangan
Suarez Snubs Stoppage Time as Rips His Shirt and Walks Off the Pitch
Editor : Ismail Gani
Translator : Novita Cahyadi

PUBLISHED: Senin, 02 Oktober 2017 , 08:12:00 WIB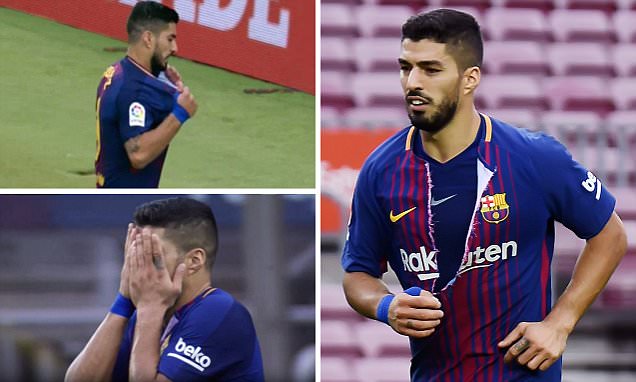 Setelah kehilangan kesempatan untuk mencetak gol keempat menjadi 4-0 pada menit pertama injury time, Suarez merobek bajunya seperti Incredible Hulk dan kemudian berjalan keluar lapangan (Foto: MailOnline)
ADA DUA menit waktu tambahan pada laga yang berakhir dengan kemenangan Barcelona 3-0 atas Las Palmas pada Minggu ... tapi Luis Suarez tampaknya menilai perpanjangan waktu itu terlalu lama.

Setelah kehilangan kesempatan untuk mencetak gol keempat menjadi 4-0 pada menit pertama injury time, Suarez merobek bajunya seperti Incredible Hulk dan kemudian berjalan keluar lapangan.

Suarez, yang sebelumnya mempunyai andil satu dari dua gol untuk Lionel Messi di Nou Camp yang kosong tanpa penonton, tampak frustrasi saat ia berjalan wajah ditekuk di luar lapangan menuju ruang ganti sementara rekan satu timnya memainkan sisa waktu pertandingan.

Aksi nekat pemain berusia 30 tahun tersebut menjadikan akhir laga yang mengecewakan setelah dimulai di tengah kondisi yang mengkhawatirkan di Catalan.

Aksi unjuk rasa dan bentrok antarwarga di seluruh wilayah Catalan setelah diadakan referendum untuk menuntut kemerdekaan dari Spanyol.

Pemungutan suara tersebut dinyatakan ilegal oleh Partido Popular yang berkuasa di negara tersebut, dan terjadi tindak kekerasan saat polisi dikerahkan untuk menghentikan warga yang menuju ke tempat pemungutan suara.

Ratusan orang terluka dan ada laporan peluru karet yang ditembakkan kepada warga yang berusaha mendekati tempat pemungutan suara.

Saat menjelang kickoff, sepertinya pertandingan akan dibatalkan, tapi karena ketegangan meningkat di depan stadion yang dipadati penonton, menjadi jelas bahwa pertandingan itu akan berlanjut tanpa penonton.

Meski Nou Camp kosong memberikan pemandangan yang langka, apa yang terjadi di lapangan adalah laga tetap berlangsung selama 90 menit.

Butuh waktu bagi Barca sampai di awal babak kedua untuk memecahkan kebuntuan Sergio Busquets, namun kemenangan mereka yang kesembilan berturut-turut di semua kompetisi tidak pernah terlihat dalam keraguan.

Messi memastikan kemenangan dengan gol pada menit 70 dan 77 sebelum memberi umpan cemerlang pada Suarez untuk menciptakan gol.

Suarez mengambil tembakan lebih awal, menyeretnya lebar dan gagal. Dia hanya mencetak dua gol dalam delapan pertandingan musim ini, setelah mengantongi 37 dari 51 pertandingan terakhir seperti dilansir MailOnline.
THERE WERE two minutes of time added on at the end of Barcelona's 3-0 win over Las Palmas on Sunday... but Luis Suarez decided that was one too many.

After missing a chance to make it 4-0 in the first minute of stoppage time, Suarez ripped open his shirt like the Incredible Hulk and then walked off the pitch.

Suarez, who had earlier set up one of two goals for Lionel Messi inside an empty Nou Camp, looked frustrated as he trudged around the outside of field towards the dressing rooms while his team-mates played out the remainder of the contest.

The 30-year-old's strange tantrum saw the game end in an amusing farce after it began amid seriously worrying scenes in Catalonia.

Ugly clashes throughout the region had been played out throughout the day as Catalonia held a referendum on independence from Spain.

The vote had been declared illegal by the country's ruling Partido Popular, and there were violent scenes as police were deployed to stop people voting.

Hundreds of people had been injured and there were reports of rubber bullets fired against citizens attempting to access polling stations.

As kickoff drew closer it seemed the game would be called off but, as tensions were rising at the gates of the stadium for fans to be let in, it became clear that the game was to go ahead without spectators.

Although an empty Nou Camp provided a rare sight, what happened on the pitch was business as usual for 90 minutes.

It took Barca until early in the second half to break the deadlock courtesy of Sergio Busquets, but their ninth straight win in all competitions never looked in doubt.

Messi made sure of the victory with goals on 70 and 77 minutes before sending Suarez through on goal with a brilliant pass late on.

Suarez took the shot on early, dragged it wide and then called it a day. He has only scored twice in eight games this season, after bagging 37 in 51 last term.