Ada Mobil di Film Braveheart... dan Enam Film Top dengan Kesalahan Fatal
There`s a Car in Braveheart.. and Six Other Movie Mistakes You Probably Never Noticed
Editor : Ismail Gani
Translator : Novita Cahyadi

PUBLISHED: Kamis, 04 Agustus 2016 , 00:12:00 WIB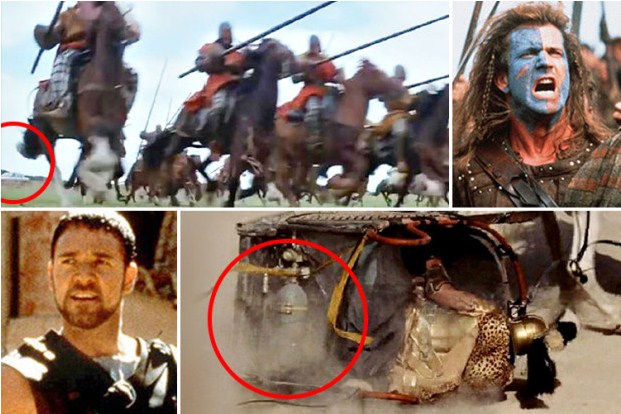 Tampak mobil putih di latar belakang adegan perang film Braveheart (atas) dan tabung gas di kolong kereta kuda di film Gladiator (Foto2: The Sun)
ANDA tidak akan pernah bisa menonton film ini dengan cara yang sama lagi.

Beberapa film yang sangat terkenal mengandung beberapa kesalahan yang sangat jelas oleh pemirsa bermata elang selama bertahun-tahun.

Berikut ini adalah tujuh film ngetop yang memperlihatkan kesalahan fatal di latar belakang adegan:

1. Gladiator
Saat pertempuran di Colosseum, sebuah kereta kuda yang ditarik membalik ke samping dan jika Anda melihat lebih dekat, Anda dapat melihat tabung gas di bagian belakang kereta.

For Your Information (FYI) - Film ini mengambil setting pada tahun 180 setelah Masehi (AD) dan tabung gas stainless steel tidak ditemukan sampai tahun 1800-an.

2. American Sniper
Ada adegan dalam film arahan sutradara Clint Eastwood di mana karakter Bradley Cooper mencoba menenangkan bayinya.

Namun sangat jelas terlihat bahwa bayinya adalah boneka plastik.

Dalam tweet yang telah dihapus, salah satu produser film menjawab, "Hate to ruin the fun but real baby #1 showed up with a fever. Real baby #2 was no show".

3. Pulp Fiction
Dalam karya klasik Quentin Tarantino, ada adegan di mana Vincent dan Jules tertangkap basah oleh seorang pria yang menembakkan enam peluru pada keduanya tapi tembakan luput. Namun ada masalah kecil.

Jika Anda mundur ke sebelum orang itu menembak, Anda dapat melihat bahwa lubang peluru sudah di dinding.

4. Braveheart
Mana yang kecepatan tenaga kudanya daripada William Wallace dan pasukannya? Mobil.

Yap, karakter Mel Gibson memimpin anak buahnya dalam pertempuran di atas kuda tapi kenapa kelihatan mobil di latar belakang.

5. Dallas Buyers Club
Film ini telah dinominasikan sebagai Film Terbaik Oscar tapi bukan itu faktanya yang paling akurat.

Meskipun menggunakan setting dekade 1980-an, Ron Woodroof (diperankan oleh Matthew McConaughey) memiliki poster dari Lamborghini Aventador di dinding di kantor daruratnya.

Padahal mobil tersebut belum dirilis sampai 2011. Ups.

6. Cobra
Sylvester Stallone menulis naskah film ini pada 1986 dan ada adegan merobek kaos singlet seorang pria.

Setelah itu terlihat mikrofon yang diikat ke dada aktor lain dengan lakban.

Entah sutradara tidak melihat atau tidak peduli, karena kesalahan yang tersisa di edit final.

7. North By Northwest
Ada adegan pada 1959 di film Alfred Hitchcock ketika seorang karakter wanita mengacungkan pistol di sebuah restoran dikemas.

Lokasi syuting diisi sejumlah figuran, termasuk seorang remaja yang tampak tidak peduli dengan adegan tersebut padahal mestinya panik.

Sebelum pistol ditembakkan, anak itu terlihat pada latar belakang menempatkan jari-jarinya di telinganya, seperti dilansir The Sun.
YOU'LL never be able to watch these movies the same way again.

Some very famous films contain some very obvious mistakes that have been picked up by eagle-eyed viewers over the years.

Here are seven of our favourite examples:

1. Gladiator
During a battle in the Colosseum, a horse drawn chariot flips over onto its side and if you look closely, you can see a gas cylinder in the back of the chariot.

FYI — The movie is set in 180AD and stainless steel gas cylinders weren't invented until the 1800s.

2. American Sniper
There's a scene in the Clint Eastwood directed film where Bradley Cooper's character tries to soothe his baby.

But it's glaringly obvious that the baby is a plastic doll.

In a since deleted tweet, one of the producer's explained, "Hate to ruin the fun but real baby #1 showed up with a fever. Real baby #2 was no show".

3. Pulp Fiction
In Quentin Tarantino's classic, there's a scene where Vincent and Jules get caught off guard by a man with a gun who fires six shots at the duo but fails to hit them.
But there's a small problem.

If you rewind to before the guy started shooting, you can notice that the bullet holes were already in the wall.

4. Braveheart
What has more horsepower than William Wallace and his merry men? A car.

Yep, as Mel Gibson's character leads his men into battle on horseback a car can be seen in the background of the shot.

5. Dallas Buyers Club
It may have been nominated for a Best Picture Oscar but it's not exactly the most accurate.

Despite being set in the 1980s, Ron Woodroof (played by Matthew McConaughey) has a poster of a Lamborghini Aventador on the wall in his makeshift office.

That certain car wasn't actually released until 2011. Oops.

6. Cobra
Sylvester Stallone went off-script in his 1986 film and ripped another guy's white singlet.

The rip exposed a microphone which was strapped to the other actor's chest with gaffer tape.

Either the director didn't notice or didn't care, because the mistake was left in the final edit.

7. North By Northwest
There's a scene in Alfred Hitchcock's 1959 movie where a female character shoots a gun in a packed restaurant.

The set is filled with extras, including one young fella who obviously wasn't a fan of loud noises.

Before the gun is fired, the boy can be seen in the background putting his fingers in his ears.