Aktor Pendukung The Fast and Furious 8 Dibikin Jengkel Ulah The Rock
Dwayne `The Rock` Johnson`s Slams Male Fast 8 Co-stars .. and Now They`re Furious
Editor : Ismail Gani
Translator : Novita Cahyadi

PUBLISHED: Rabu, 10 Agustus 2016 , 04:28:00 WIB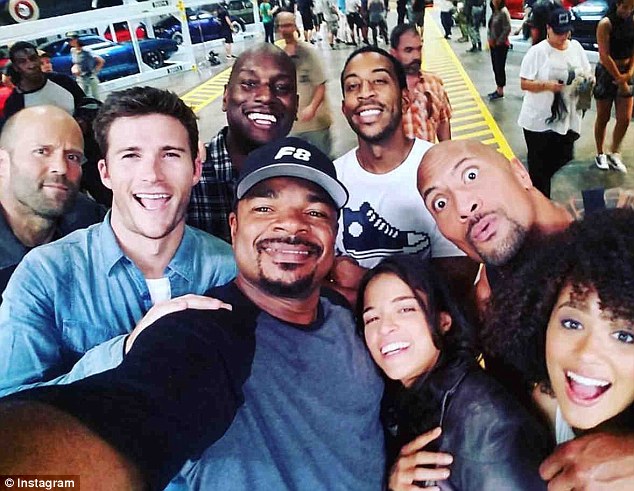 The Rock selfie bareng pendukung The Fast 8 seperti Scott Eastwood dan Jason Statham (Foto: MailOnline)
THE ROCK bikin jengkel para pendukung film The Fast and Furious 8 setelah sang aktor laga menyebut mereka tidak sebanding dengan dirinya, yang disampaikannya melalui laman Facebook pada Senin.

The Rock tak lain adalah Dwayne Johnson, 44, yang tampil bersama Vin Diesel, Scott Eastwood dan Jason Statham dalam sekuel terbaru dari Fast And Furious, mengecam rekan-rekannya sebagai tidak profesional dan disebutnya ´mirip keledai´.

Sementara ia tidak menyebut nama, sumber di lokasi syuting mengatakan para pendukung film sangat kesal, terutama karena masih ada waktu sepekan dan separuh dari mereka masih terlibat dalam penyelesaian syuting.

TMZ melaporkan bahwa para aktor pria yang jengkel membalas ulahnya dan meminta The Rock keluar dari syuting, jadi sekarang dia berbalik jadi tersangka.

Ketika syuting dilanjutkan pada Selasa waktu setempat, satu sumber mengatakan kepada TMZ: ´Ini adalah cara terburuk untuk mengakhirinya.´

Tampaknya muncul bentrokan dari ´ego ekstrim´ di antara para aktor pria sebagai bintang top di lokasi syuting dan sumber tadi memberi petunjuk bahwa mereka yang kesal pada The Rock tidak termasuk Tyrese dan Ludacris.

The Rock belum diklarifikasi komentarnya tentang hal itu sehingga banyak yang bertanya-tanya siapakah yang menyebabkan ´darahnya mendidih´.

Sumber lain mengatakan kepada TMZ pada Selasa bahwa akan ada beberapa penjelasan di media sosial terkait hal itu.

Setelah mengakhiri syuting pada Senin, The Rock mendapat pujian dari aktris Charlize Theron, Jordana Brewster dan Michelle Rodriguez, tapi dia menyebut tentang kelegaannya bahwa syuting untuk film tersebut akhirnya akan segera berakhir, seperti dilansir MailOnline.
THE ROCK´S male Fast 8 co-stars have been left stunned after the actor called them out for being divas in a Facebook rant on Monday.

Dwayne Johnson, 44, who stars alongside Vin Diesel, Scott Eastwood and Jason Statham in the latest installment of the Fast And Furious action franchise, slammed his colleagues as unprofessional ´candy asses´.

While he didn´t name names, production insiders now say that the guys are very annoyed, especially as there´s still a week and a half to go until filming wraps.

TMZ reports that the male stars of the show are ´pissed´ at Dwayne for obliquely calling them out, so now they are all suspects.

As filming resumed on Tuesday one source told the website: ´This is a hell of a way to end it´

There have apparently been clashes of ´extreme egos´ amongst the biggest male stars on set but an insider eliminated Tyrese and Ludacris from the list of suspects.

The Rock has not yet clarified his comments so the actors have been left wondering who it is who´s caused his ´blood to boil´.

Another source told TMZ Tuesday that there will be some clarification on social media later in the day.

In his post on Monday The Rock had plenty of praise for actresses Charlize Theron, Jordana Brewster and Michelle Rodriguez, but he vented his relief that filming for the movie was finally coming to an end.