Ellie Goulding Konser di Glasgow, Penontonnya Tawuran
Ellie Goulding Forced to Stop Glasgow Gig after Women Begin Stamping in the Crowd
Editor : Ismail Gani
Translator : Novita Cahyadi

PUBLISHED: Rabu, 02 September 2015 , 01:13:39 WIB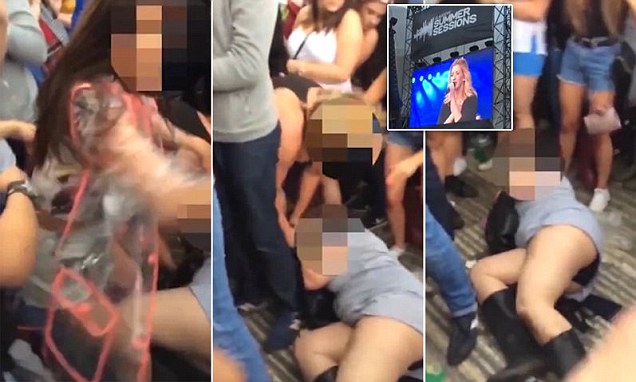 Perkelahian barulah berakhir ketika dua wanita menarik rambut satu sama lain karena lebih banyak orang yang memilih menghindar (Foto2: MailOnline)
INI ADALAH saat yang mengejutkan ketika penggemar Ellie Goulding saling pukul dan menjambak rambut dalam perkelahian pada konser di Glasgow baru-baru ini - memaksa sang penyanyi untuk menghentikan pertunjukan dan memohon mereka yang berkelahi untuk berdamai. Kenapa warga Skotlandia kelakuannya mirip penonton musik di sini ya?

Pelantun lagu Burn tampil pada konser bertajuk Sunday's Summer Sessions pada Minggu di kota Bellahouston Park ketika sekelompok wanita mulai berkelahi di tengah keramaian penonton.

Rekaman video memperlihatkan seorang gadis berbaring di tanah ketika dua wanita berdiri di atasnya - salah satunya menjambak rambutnya, dan yang lain menendang perut dan kakinya.

Kemudian rekaman menunjukkan dua perempuan bergulat sebelum seseorang sebagai gadis ketiga ikut berkelahi dan mulai mencekik lawannya yang terkulai di tanah, seperti dilansir MailOnline.

Kejadian itu mengejutkan penonton konser lainnya dan berusaha untuk melerai mereka dan terlihat salah satu wanita kembali memukuli lengan lawannya untuk melanjutkan perkelahian.

Perkelahian barulah berakhir ketika dua wanita menarik rambut satu sama lain karena lebih banyak orang yang memilih menghindar dan menjauhi tempat keributan berlangsung.

Goulding meminta mereka yang berkelahi untuk berhenti berkelahi sebelum berlanjut menjadi tawuran antar penonton.

Penyanyi ini mulai jengkel dan meminta para penggemarnya: "Biarkan saya mengatakan satu hal tolonglah saya, apakah kalian dapat berdamai dan tidak lagi berkelahi?"

'Kalau ada yang terjatuh Anda wajib membantu meskipun itu teman Anda atau bukan. Tidak ada perkelahian. Ayolah. Berdamai. Tidak perlu berkelahi. Hal itu tidak berguna."

Sekitar 35.000 orang berada di konser pada Minggu untuk melihat penampil utama Calvin Harris dengan dukungan dari Goulding dan John Newman.

Sebelumnya pada pertunjukan Sabtu menampilkan penyanyi Skotlandia Paolo Nutini, Grace Jones dan The View.

Polisi Skotlandia mengatakan total 38 orang ditangkap selama akhir pekan untuk pelanggaran ringan.
THIS IS the shocking moment Ellie Goulding fans began stamping on each other and brawling at a recent Glasgow gig - prompting the singer to stop the show and plead for peace.

The Burn singer was on stage performing at Sunday's Summer Sessions event in the city's Bellahouston Park when a group of women began fighting in the crowd.

The violent clip shows one girl laying on the ground as two women stand over her - one has a handful of her hair, and another stamps on her stomach and leg.

Later footage shows another two women grappling before a third girl enters the fray and begins stamping on one of them on the floor.

Shocked fans attempt to break up the dispute and are seen holding the girl back as she continues to flail her arms in a bid to get to the woman.

A final scuffle then breaks out with two women pulling each other's hair as more people are held back and pulled away from the fight.

Goulding went on to address the crowd after being made aware of the brawl.

The disgruntled singer told to her fans: 'Let me say one thing please for me, will you guys look out for each other?'

'If anyone falls down you help if it's your friend or not. No fighting. Come on. Peace. No fighting. There's no need for it.'

Around 35,000 people were at Sunday's event to see headliner Calvin Harris with support from Goulding and John Newman.

Saturday's line-up featured Scottish singer Paolo Nutini, Grace Jones and The View.

Police Scotland said a total of 38 arrests were made over the weekend for minor offences.