Putri Letizia dari Spanyol Bergaya Tiru Kate Middleton
Princess Letizia Looks and Dresses Just Like Kate Middleton
Editor : Cahyani Harzi
Translator : Dhelia Gani

PUBLISHED: Rabu, 04 Juni 2014 , 17:00:55 WIB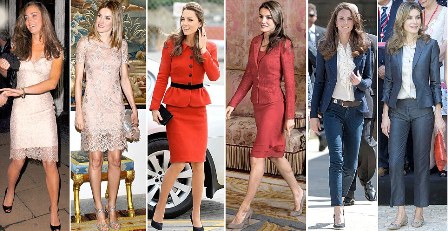 Kate Middleton yang gaya busananya ditiru Putri Letizia dari Spanyol (Foto2: MailOnline)
KETIKA Putri Letizia berusia 31 tahun ketika ia bertemu dengan suaminya, pewaris kerajaan Spanyol, Pangeran Felipe de Borbon.
Namun ketika masyarakat Spanyol terus memburu berita tentang sang putri, berita nya, tampak jelas bagaimana warna-warni masa lalu Letizia semakin jelas, seperti dilansir MailOnline.
Berita yang dilansir pekan ini menyebut dia akan menjadi Ratu Spanyol setelah ayah mertuanya, Raja Juan Carlos turun tahta, berarti perhatian sekali lagi beralih ke sang putri - dan kisah perceraiannya, operasi plastik dan aborsi yang kian meruntuhkan reputasinya.
Ssementara itu, Putri Letizia tampaknya terlihat sangat mirip dengan Duchess of Cambridge (Kate Middleton) - dengan tubuh ramping, tampil glamor, rambut hitam dan menyukai adibusana - tampaklah kemiripan keduanya secara fisik.
Tentunya, kedua ikon kerajaan berasal dari keluarga kelas menengah yang menikahi pangeran, tapi Kate, 32, tidak terlibat satu pun skandal seperti pada sosok Letizia, 41 tahun yang akan naik tahta.
Letizia lahir di Oviedo, Spanyol utara, putri sulung Yesus Alvarez, wartawans, dan istri pertamanya Maria Rodriguez, seorang perawat.
Salah satu saudarinya, Telma, adalah seorang ekonom; yang lain, Erika, tewas bunuh diri karena overdosis akibat depresi.
Letizia bersekolah di Madrid, mendapat gelar di bidang jurnalistik dan master dalam jurnalistik audiovisual, sebelum bekerja untuk surat kabar dan jaringan TVE Spanyol.
Dia adalah seorang pembaca berita dan melaporkan langsung dari Ground Zero setelah serangan 9/11 pada 2001. Setahun kemudian, dia bertemu Pangeran Felipe di lokasi tumpahan minyak di utara Spanyol.
Dia banyak terlibat kisah cinta, tetapi tidak banyak diketahui umum. Namun tahun berikutnya Letizia tiba-tiba berhenti bekerja dan beberapa hari kemudian diumumkan tentang pertunangannya.
Mereka menikah pada 2004 di Madrid - mendorong kegembiraan rakyat Spanyol meningkatnya dukungan pada keluarga kerajaan.
Ternyata hal itu tidaklah cukup, meskipun, pernikahan kerajaan berlangsung secara tradisional - karena Letizia sebelumnya pernah menikah. Suami pertamanya adalah seorang pria yang lebih tua, Alonso Guerrero Pérez, seorang penulis dan guru sastra yang sembilan tahun lebih tua.
Mereka berkencan selama sepuluh tahun sebelum menikah pada 1998, namun bercerai setahun kemudian.
Dia tidak pernah berbicara tentang pernikahan singkat mereka dan itu memutuskan bahwa dia tidak perlu pembatalan dari gereja sebelum menikahi Pangeran Felipe, karena upacara pernikahan sebelumnya di catatan sipil.
Dia dan Felipe memiliki dua anak perempuan, Leonor lahir pada 2005 dan Sofia pada 2007. Tapi Letizia langsung menuai kritik karena kaku dan sulit tersenyum pada acara resmi.
Kritik dan kecaman semakin keras ketika ia menjalani operasi di hidungnya pada 2008. Kerajaan menyatakan bahwa ia membutuhkan operasi tersebut untuk memperbaiki bentuk hidungnya.
Kemudian, musim panas lalu, dia kedapatan pergi liburan ke vila keluarga kerajaan di Majorca tanpa suami atau anak-anak.
Laporan-laporan media menyatakan ia 'semakin kewalahan' oleh pernikahan dan tugas kerajaan. Dia dikatakan ketakutan oleh sorotan - dengan beberapa alasan, hanya beberapa minggu kemudian muncul buku yang mengungkap kehidupan sang putri, yang ditulis oleh sepupunya sendiri.
Adios Princesa adalah judul dari kisah gelap hidupnya, buku itu mengungkap dugaan bahwa dia melakukan aborsi setelah hamil dengan suami pertamanya, setahun sebelum bertemu Felipe.
Buku ini juga mengatakan bahwa ia telah menandatangani 50 halaman aturan pernikahan yang menyatakan bahwa jika ia dan Felipe bercerai, dia akan kehilangan anak-anaknya.
Sementara kebenaran klaim ini tidak diketahui, satu hal yang pasti: ketika Putri Letizia naik ke tahta Spanyol, dia tidak hanya dinobatkan sebagai putri yang glamor paling, tapi kisah hidupnya paling berwarna.
SINCE Princess Letizia was 31 when she met her husband, Spain's heir apparent, Prince Felipe de Borbon.
Yet while the Spanish public may have been familiar with her news bulletins, quite how colourful Letizia's past is has only recently become clear.
News this week that she is set to become Queen of Spain following the abdication of her father-in-law, King Juan Carlos, means attention has once more turned to the princess - and the divorce, plastic surgery and an alleged abortion that mar her reputation.
Because, while Princess Letizia may look strikingly similar to our own Duchess of Cambridge - with a slim build, curtain of shiny, dark hair and fondness for sleek tailoring - it seems the resemblance is largely physical.
Of course, both royal style icons are middle-class girls who married princes, but Kate, 32, has experienced none of the scandal that 41-year-old Letizia will bring to the throne. Letizia's early days were utterly ordinary.
Born in Oviedo, northern Spain, she is the eldest daughter of Jesus Alvarez, a journalist, and his first wife Maria Rodriguez, a nurse.
One sister, Telma, is an economist; the other, Erika, committed suicide by taking an overdose while suffering from depression.
Letizia went to school in Madrid, got a degree in journalism and a masters in audiovisual journalism, before working for newspapers and the Spanish network TVE.
She was a news anchor and reported live from Ground Zero following the 9/11 attacks in 2001. A year later, she met Prince Felipe at the site of an oil spillage in Northern Spain.
He'd had numerous previous romances, but had never apparently wanted to settle down. Yet the following year Letizia abruptly quit her job and a few days later the royal engagement was announced.
They married in 2004 in Madrid - prompting much national rejoicing and an upswing of support for the royal family.
It wasn't, though, quite the traditional royal wedding - for Letizia had been married before. Her first husband was a distinctly ordinary older man, Alonso Guerrero Pérez, a writer and literature teacher nine years her senior.
They dated for ten years before marrying in 1998, yet divorced just a year later.
He has never spoken about their brief marriage and it was ruled that she did not need an annulment from the church before marrying Prince Felipe, as her original marriage ceremony had been only civil.
She and Felipe had two daughters, Leonor in 2005 and Sofia in 2007. But Letizia was soon garnering criticism for being rigid and unsmiling on official engagements.
The chorus of disapproval grew louder when she had surgery on her nose in 2008. The palace claimed that she had needed the work to fix a deviated septum.
Then, last summer, she was observed departing the traditional family holiday in Majorca without her husband or children.
Media reports suggested she felt 'increasingly overwhelmed' by the marriage and her royal duties. She was said to be spooked by the spotlight - with some reason, for only a few weeks later came a tell-all book on the princess, written by her own cousin.
Adios Princesa was a poison-pen memoir, with a whole chapter devoted to the allegation that she had an abortion after falling pregnant by her first husband a year before she met Felipe.
The book also said that she had signed a 50-page pre-nup which stated that if she and Felipe divorce, she would lose her children.
While the veracity of these claims are not known, one thing is for sure: when Princess Letizia takes to the Spanish throne, she won't only be Europe's most glamorous crowned head, but its most colourful.