Bayi Model Sampul Album Nirvana: Nevermind Sudah Dewasa, Ini Buktinya ...
Nirvana Baby Strips Off to Recreate Iconic Nevermind Album Cover 25 Years
Editor : Ismail Gani
Translator : Novita Cahyadi

PUBLISHED: Senin, 26 September 2016 , 19:12:41 WIB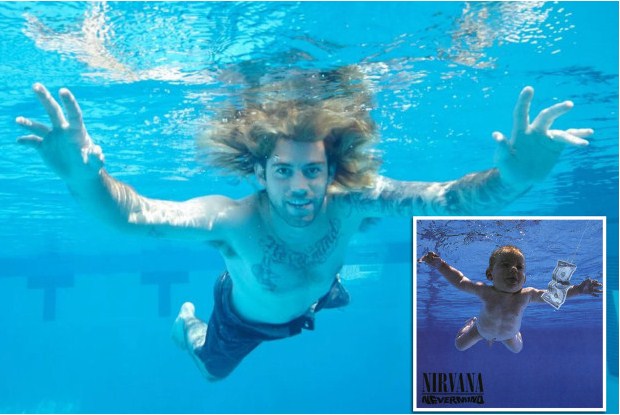 Pada 1991, fotografer Kirk Weddle meminta orang tua Spencer Elden apakah ia bisa menggunakan bayi mereka untuk pemotretan untuk band kemudian-tidak diketahui (Foto: The Sun)
BAYI tanpa pampers pada sampul album Nirvana: Nevermind direka ulang oleh sang bayi yang kini tumbuh menjadi pria dewasa guna mengenang 25 tahun album fenomenal tersebut - dan kini modelnya tidak lagi telanjang.

Spencer Elden, 25, sang model sesungguhnya ingin tampil bugil seperti dirinya ketika masih bayi untuk mengenang band grunge legendaris.

Dia bilang: "Saya sampaikan kepada fotografer, 'Saya ingin tampil bugil lagi." Namun dia pikir itu akan menjadi aneh, jadi saya memakai celana pendek untuk berenang."

Album, yang dirilis 25 tahun lalu pada hari Sabtu, berisikan lagu-lagu top seperti "Smells Like Teen Spirit" dan "Come You Are" dan hingga kini telah terjual lebih dari 30 juta kopi di seluruh jagat.

Dan Spencer menambahkan: "Ulang tahun itu menjadi hal penting pula bagi saya."

"Terasa aneh yang saya lakukan selama lima menit ketika saya berumur empat bulan dan menjadi foto benar-benar yang benar-benar ikonik hingga saat ini."

"Keren sih tapi aneh saja setelah menjadi bagian dari sesuatu yang begitu penting tapi saya bahkan tidak ingat."

Jadi kontroversial, karena Spencer lebih suka band punk asal Inggris The Clash ketimbang rocker asal Seattle, AS tersebut.

Pada tahun 1991, fotografer Kirk Weddle meminta orang tua Spencer apakah ia bisa menggunakan bayi untuk pemotretan untuk band kemudian-tidak diketahui.

Sebuah kail ikan dengan uang dolar kemudian ditambahkan dengan teknologi digital pada foto sampul album tersebut.

Pemotretan berlangsung 15 detik dan orang tuanya hanya menerima Rp3 juta.

Awal bulan ini, fotografer John Chapple membayarnya Rp3 juta lagi untuk mengulangi hal yang sama.

Elden melompat ke dalam kolam di The Rose Bowl Aquatics Center di Pasadena untuk mereka ulang foto ikonik dari sampul album Nirvana seperti dilansir The Sun.
THE NAKED swimming baby from the cover of groundbreaking Nirvana album Nevermind re-enacted the iconic image for the record's 25th anniversary — this time wearing clothes.

Spencer Elden, 25, wanted to go in the buff when he made splash to honour the legendary grunge band.

He said: "I said to the photographer, 'Let's do it naked.' But he thought that would be weird, so I wore my swim shorts."

The album, released 25 years ago on Saturday, includes songs like "Smells Like Teen Spirit" and "Come as You Are" and has sold more than 30 million copies worldwide.

And Spencer added: "The anniversary means something to me.

"It's strange that I did this for five minutes when I was four months old and it became this really iconic image.

"It's cool but weird to be part of something so important that I don't even remember."

Controversially, Spencer prefers the Brit punk band The Clash over the Seattle rockers.

In 1991, the photographer Kirk Weddle asked Spencer's parents if he could use the baby for photoshoot for the then-unknown band.

A fish hook with a dollar bill was later added digitally to the image.

The shoot lasted 15 seconds and his parents made only £150.

Earlier this month, the photographer John Chapple paid him £150 to do it again.

Elden hopped in a lap pool at The Rose Bowl Aquatics Center in Pasadena to recreate the album cover image.