Rocker Gaek Mick Jagger dan Kekasih Barunya, Selisih 44 dan 51 Tahun
Mick Jagger`s Latest Conquest: Rocker, 74, was Seeing His `New` 23-year-old Muse
Editor : Ismail Gani
Translator : Novita Cahyadi

PUBLISHED: Minggu, 05 November 2017 , 20:10:00 WIB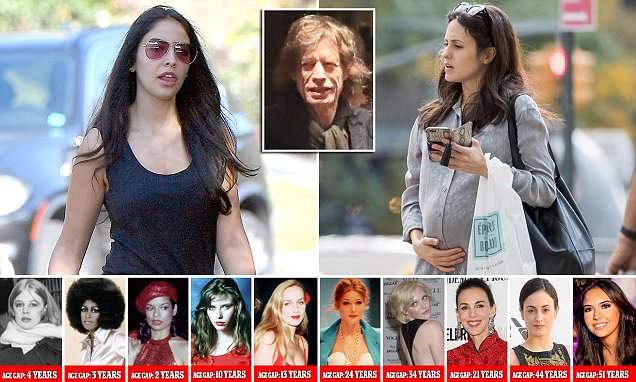 Noor Alfallah (kiri atas) bangsawan Kuwait berdarah Amerika yang usianya berjarak lebih dari setengah abad dengan Mick Jagger (tengah) dan Melanie Hamrick (kanan atas) Foto2: MailOnline
MESKI berusia 74 tahun, rocker gaek ini tetap lincah memburu wanita yang jauh lebih muda dari usianya - lebih layak menjadi cucunya - tak jauh berbeda dengan kebiasaan sejak beberapa dekade lalu.

Namun foto-foto yang terungkap akhir pekan lalu dari Mick Jagger di Paris dengan kekasih barunya menguak sebuah hubungan yang luar biasa meski dengan standar pentolan Rolling Stones.

Pada usia 23 tahun, bangsawan Kuwait berdarah Amerika, Noor Alfallah yang usianya berjarak lebih dari setengah abad dengan Jagger - dan lebih muda dari pada beberapa cucu-cucunya. Namun, selisih usia tak mengendurkan hubungan mereka, ada sentuhan sensasional lain dari hubungan mereka.

Foto-foto di atas mengungkap siapa saja wanita yang pernah dekat dengan sang rocker dari di bawah dari kiri ke kanan: Marianne Faithful lebih muda empat tahun, Marsha Hunt selisih tiga tahun, Bianca de Marcias (2 tahun), Bebe Buell (10 tahun), Jerry Hall (13 tahun), Carla Bruni (24 tahun), Sophie Dahl (34 tahun), L'Wren Scott (21 tahun), Melanie Hamrick (44 tahun) and Noor Alfallah (51 tahun) seperti dilansir MailOnline.
AT THE AGE of 74, he remains the eternal swaggering lothario of rock 'n' roll whose appetite for women far younger than himself has shown no signs of diminishing as the decades go by.

But the pictures which emerged last weekend of Mick Jagger in Paris with his latest lover revealed a relationship extraordinary even by the standards of the Rolling Stones frontman.

At 23, Kuwaiti-American heiress Noor Alfallah is more than half a century Jagger's junior – and younger even than some of his grandchildren. Yet beyond the staggering age gap, there is another sensational twist to the story.

Over the past five decades, Jagger has been with, from bottom left, Marianne Faithful, Marsha Hunt, Bianca de Marcias, Bebe Buell, Jerry Hall, Carla Bruni, Sophie Dahl, L'Wren Scott, Melanie Hamrick and Noor Alfallah.